Commissary shoppers may see more fruit, vegetable options with new supplier for Japan
by
Erica Earl
Stars and Stripes
July 28, 2021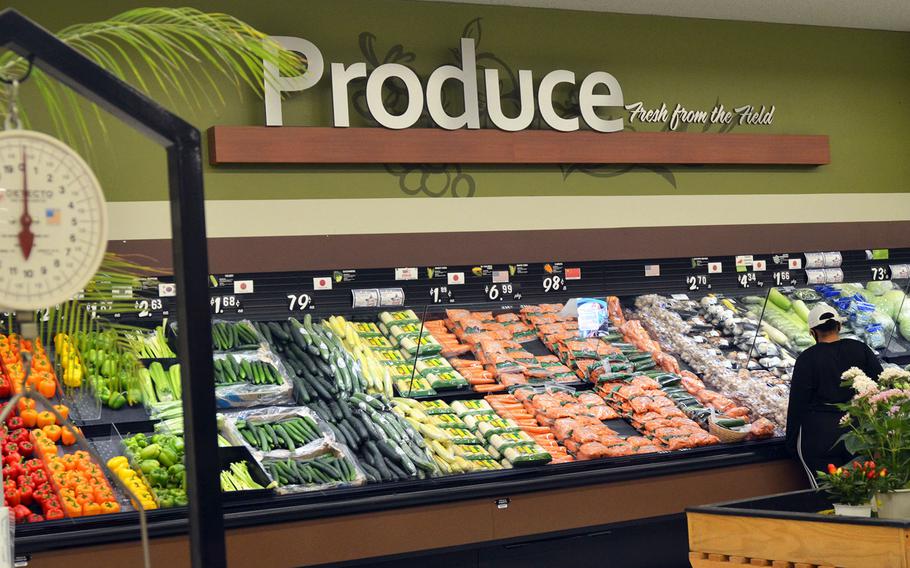 YOKOTA AIR BASE, Japan — A new produce supplier for the Defense Commissary Agency may mean more choices at base grocery stores in Japan, according to the commissary officer at the home of U.S. Forces Japan in western Tokyo.
Coastal Pacific Food Distributors, based in Stockton, Calif., on July 18 assumed the contract to supply fresh fruits and vegetables to 14 U.S. commissaries in Japan, Gene Davis told Stars and Stripes on Friday.
DeCA announced the $32.6 million contract award to Coastal Pacific in March, according to The Packer, an agricultural industry news site. The term began in May and is good for two years, with three one-year options if performance indicators are met.
Coastal Pacific already supplies deli and bakery items and sushi to commissaries in Japan, Davis said.
The new contract calls for a wider variety of fruits and vegetables such as Satsuma sweet potatoes, raspberries, blackberries, Swiss chard and yellow squash, he said.
Contracting with a company that has partnered with American bases overseas for several years will mean easier communication between supplier and vendor, Davis added.
"Coastal Pacific better understands the American consumer market while also providing local, cultural foods," he said. "It's a bigger, American-based operation that still has capabilities to source locally."
Coastal Pacific Food Distributors sources Japanese produce from Yokohama, Davis said. The company has stateside facilities in California, Washington and Hawaii, according to its website.
For the past five years, Inner Harvest Japan supplied produce to U.S. commissaries in Japan. Its contract recently expired, prompting the change, said DeCA spokesman Kevin Robinson.
"I'm not comparing one contractor with another," he told Stars and Stripes via email Monday. "What I will say is that the Defense Commissary Agency remains committed to providing our military families with safe, fresh, quality produce at the most favorable pricing for our patrons. We closely monitor our suppliers to ensure they adhere to these standards."
The commissary agency is still working on finding new produce suppliers for Guam and South Korea, Robinson said. Commissaries in South Korea contract with California-based company EKK Investments.
DeCA has spent as much as $48 million to ship $25 million worth of produce overseas, according to Davis.
He said sourcing from local farmers is the easiest way to keep costs down, but it can be challenging to find a supplier large enough to stock 14 stores that is also willing to contract with a U.S. government agency.
Representatives from Coastal Pacific Food Distributors were not available for comment this week.
Neither Davis nor Robinson would say how the Coastal Pacific contract would affect produce prices.
"Under this contract, the prices on some products may increase or decrease, depending on such things as product availability and seasonality," Robinson said.
Commodity prices and weather conditions also inform cost of produce at commissaires, Robinson said.
Most seasonal items, such as strawberries, still won't be available to purchase year-round, Davis said. Japan embargos items such as apricots, peaches, plums, pears, potatoes and cabbage from the United States.
Davis said the primary goal with the new contractor is to keep customers satisfied with a mix of familiar favorites and local produce that may be foreign to some.
"We are 5,000 miles away from your local grocery store, but we try our best to make it feel like shopping at home," he said.