South Korea's coronavirus count hits all-time high due to warship with more than 80% of crew infected
by
David Choi
Stars and Stripes
July 22, 2021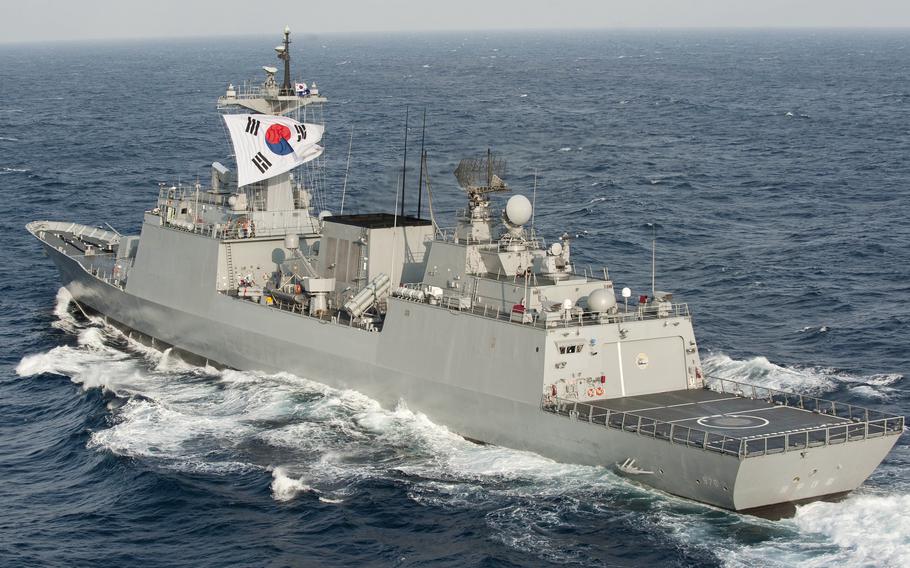 CAMP HUMPHREYS, South Korea — South Korea surpassed its record of daily coronavirus cases Thursday after accounting for hundreds of infections from an outbreak aboard a navy destroyer.
The Korea Disease Control and Prevention Agency reported 1,842 new patients, the highest daily uptick since the pandemic began in January 2020. That's up from 1,784 infections Wednesday and 1,600 infections a week earlier.
Seoul, which continued to record higher numbers than any other city in the country, reported 499 new cases, down from 604 on Wednesday.
The latest tally includes more than 250 infected crew members from the South Korean destroyer Munmu the Great. The warship, which was patrolling the Gulf of Aden off East Africa, had its mission cut short after over 80% of its unvaccinated crew was infected. The crew members were airlifted back to South Korea on Tuesday and placed in quarantine.
South Korean Defense Minister Suh Wook apologized for the incident and said he would launch an investigation.
"As defense minister, I feel strongly responsible for having the great number of those tested positive for COVID-19, because I have failed to take better care of the health of our soldiers," he told reporters Tuesday. "I deeply apologize to the service members … their families, and the people."
South Korea has reported 184,103 infections during the pandemic. More than 13% of South Koreans are fully inoculated and at least 32% of the population has received a first dose, according to the KDCA.
In light of the surge, a senior U.S. Forces Korea medical officer appeared to anticipate an increase in the number of infections in the command's community.
"If COVID starts circulating around the peninsula, it's going to affect us as well," Dr. Douglas Lougee, an Army colonel and the USFK command surgeon, said on American Forces Network Pacific radio Wednesday.
Six new cases between July 4 and 18 were reported by USFK on Thursday. All area recent arrivals to the country and placed in quarantine.
Over 80% of USFK service members and civilians are vaccinated, according to the command. There are roughly 28,500 U.S. troops station in South Korea, the majority of which are based at Camp Humphreys, 40 miles south of Seoul.
Stars and Stripes reporter Yoo Kyong Chang contributed to this report.