USS Ronald Reagan celebrates former first lady's 100th birthday with her favorite cookies
by
Alex Wilson
Stars and Stripes
July 9, 2021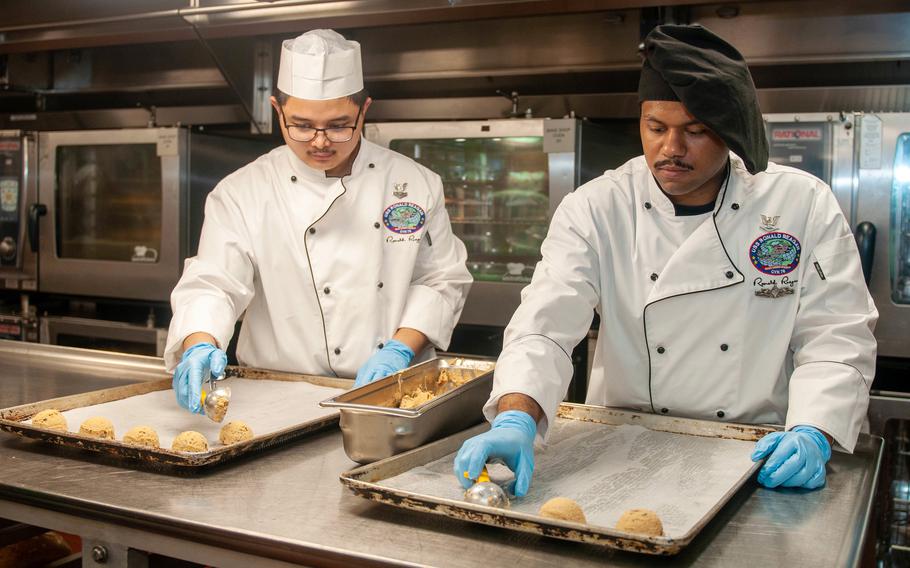 YOKOSUKA NAVAL BASE, Japan — Sailors aboard the aircraft carrier USS Ronald Reagan recently took a moment from their routines to celebrate a special anniversary with a sweet treat.
In honor of the 100th birthday of former first lady Nancy Reagan, wife of the Reagan's namesake, sailors prepared chocolate chip cookies on July 6 with a recipe provided by the Reagan Foundation's Roland Mesnier, former White House executive pastry chef.
"As our ship's sponsor, it is important that we keep the legacy of Nancy Reagan alive," Lt. Cmdr. Dawn Stankus, spokeswoman for the carrier, told Stars and Stripes in an email on Tuesday. "She was a true force in so many aspects of her life – as an actress, wife, mother, first lady and more."
The recipe was Reagan's favorite cookie during her time as first lady, according to Stankus. Reagan survived her husband and died March 6, 2016, at age 94.
To honor her memory, the ship's culinary specialists used the recipe to prepare hundreds of cookies that were served on the carrier's mess decks.
The Reagan's sailors enjoyed the cookies in the Arabian Sea, where the ship has been assisting with the withdrawal of U.S. troops from Afghanistan.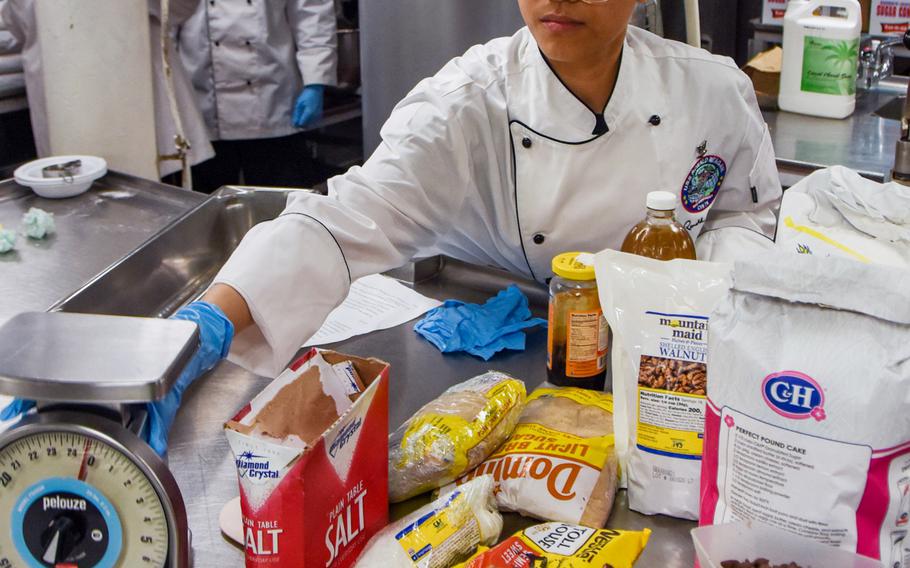 "Our talented culinary specialists recreated a treasured dessert in her memory, and this is something that all of us can enjoy together," Capt. Fred Goldhammer, the Ronald Reagan's commander, said in a statement emailed to Stars and Stripes on Wednesday.
One of the Reagan's culinary specialists, Petty Officer 2nd Class Carllouis Obieta, said in the statement that the cookies were baked at a high heat to give them a crispier texture. Aboard the Reagan five months, Obieta said it "was an honor" to prepare them in memory of Nancy Reagan.
"As a culinary specialist it is important that we help maintain the morale of the ship, and, with that, it's also important to keep the tradition and culture of USS Ronald Reagan alive through efforts like baking Nancy Reagan's favorite cookies on her birthday," said another culinary specialist, Petty Officer 3rd Class Justin Padilla.