US women's softball team arrives at Marine base in Japan for pre-Olympics training camp
by
Jonathan Snyder
Stars and Stripes
July 6, 2021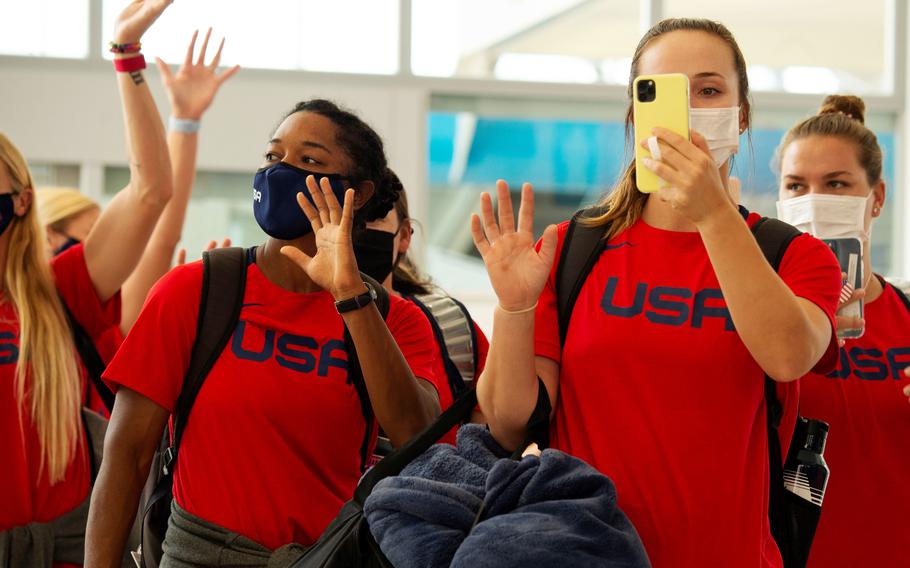 MARINE CORPS AIR STATION IWAKUNI, Japan — The U.S. women's Olympic softball team has arrived at this Marine base in Yamaguchi prefecture for training and exhibition games against local teams ahead of the Tokyo Games this month.
An entourage of about 18 people stepped into the lobby of Iwakuni airport, which shares a runway with the Marine base, on Monday afternoon, waving to a small crowd and media while adhering to social distancing.
Japan has carved out restrictions for Olympic athletes that preclude them from the usual 14-day quarantine expected of most arriving foreigners, but that also prevent them from mingling with most residents of Japan.
The softball team will soon be joined at MCAS Iwakuni by the U.S. fencing team, which is scheduled to arrive around July 13 and train until July 19 at the Atago Sports Complex' Lotus Culture Center Arena.
Iwakuni Mayor Yoshihiko Fukuda welcomed the softball team in front of reporters at the airport.
"I hope that this training camp will make the bond between the U.S. and Iwakuni stronger," he said.
The Olympians will stay at the on-base Kintai Inn until July 14.
MCAS Iwakuni commander Col. Lance Lewis also greeted the athletes Monday.
"Being able to partner with the city of Iwakuni and to be able to host the U.S. Olympic women's softball team is truly an honor and a privilege," he said at the press conference. "On behalf of all the Marines, sailors and family members who live and work aboard MCAS Iwakuni, welcome again and best of luck when you go for gold!"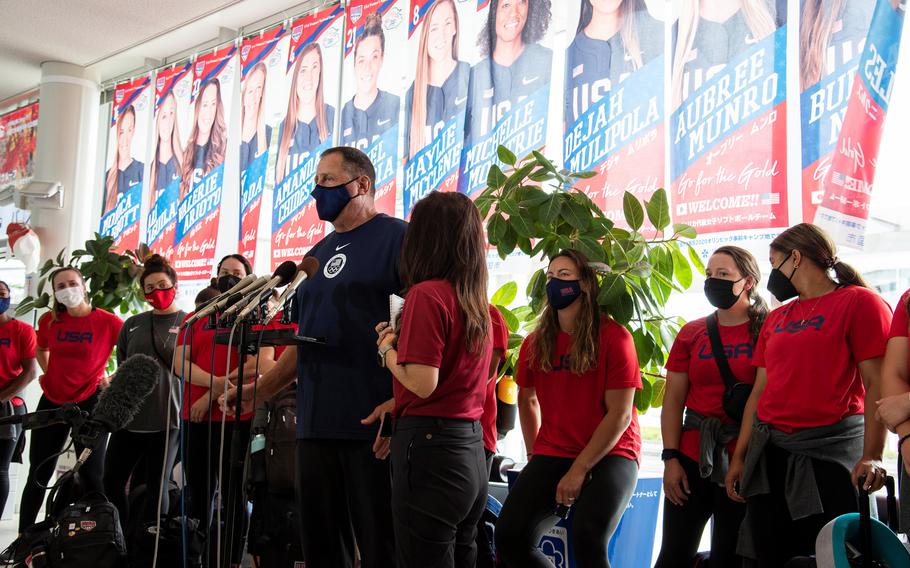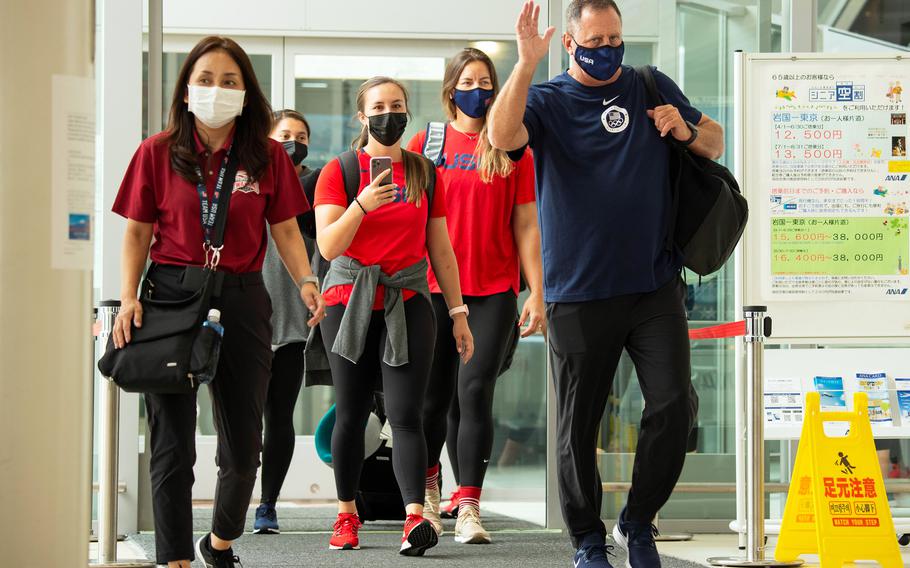 The softball team has seven exhibition games scheduled against corporate teams from Toyota, Hitachi and Iyo Bank at Atago's Kizuna Stadium, according to the Iwakuni city Sports Promotion Division. Exhibition games are planned to be open to the public.
"Not only are we going to take advantage of the great facilities that have been afforded to us, but we are very, very excited to see if your softball has gotten better in the last two years," the team's head coach, Ken Eriksen, told reporters.
Though athletes and others entering Japan to take part in the Olympics are exempt from a 14-day quarantine rule, they must follow strict testing and social-distancing protocols.
"The world being in a pandemic, we know what our limitations are in the United States," Eriksen said. "The biggest thing we want to do is respect the rules on what we are allowed to do here in Japan."
Free exhibition game tickets are available through a sign-up form on the Marine Corps Community Services Iwakuni Facebook page. Ticket quantities for the softball games are limited; tickets for fencing matches are no longer available.
The Olympics begins July 23 with closing ceremonies Aug. 8.