Air Force Ospreys draw a crowd after precautionary landing in northern Japan
by
Seth Robson and Hana Kusumoto
Stars and Stripes
June 15, 2021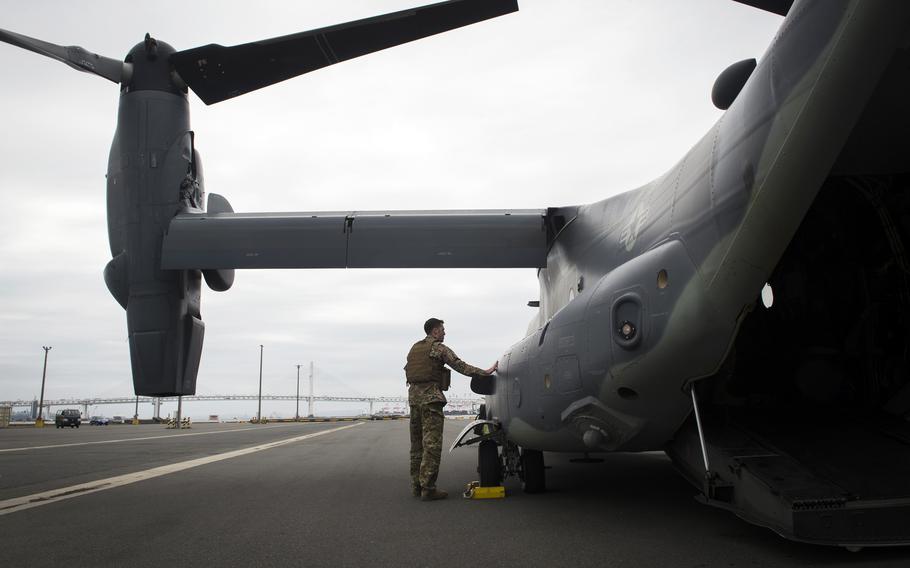 YOKOTA AIR BASE, Japan — "An issue" forced a pair of Air Force CV-22 Ospreys to land Monday at a civilian airport in northern Japan, according to Yokota's 374th Airlift Wing.
The helicopter-plane hybrids from the Tokyo base's 21st Special Operations Squadron made the precautionary landing just after 5 p.m. at Yamagata Airport in Higashine city, wing spokeswoman Kaori Matsukasa said in an email Tuesday.
"Both aircraft were conducting routine training when an issue was detected, and the decision to land at Yamagata Airport was made as a standard precaution," she said, without providing details about the problem.
A crowd gathered at the airport when the aircraft landed, the Yamagata newspaper reported Monday.
There were no damages or injuries and the incident had no impact on airport operations, a Tohoku Defense Bureau spokeswoman said Tuesday. It's customary in Japan for some government officials to speak to the media on condition of anonymity.
One of the Ospreys left the airport on Monday but the other was still there on Tuesday morning, she said.
The aircraft experiencing the issue will be assessed thoroughly before departing, Matsukasa wrote in her email.
Recent training has focused on ensuring aircrew proficiency, she said.
Meanwhile, the Marine Corps has identified a problem that prompted a UH-1Y Venom helicopter to land in a private field on Tsuken Island in Okinawa prefecture on June 2.
The pilots chose to land because a mechanical issue on the aircraft — assigned to Marine Light Attack helicopter Squadron 169 out of Marine Corps Air Station Futenma — was causing speed fluctuations in the engines that they couldn't correct manually, 1st Marine Aircraft Wing spokesman Maj. Ken Kunze said in an email Tuesday.
"The maintainers on the ground determined that the main drive shaft should be replaced out of an abundance of caution," he said. "Five days after they landed they were able to fly the aircraft back to Futenma where it was determined to be fully operational and safe to fly."
Logistics, weather and an analysis of data from the aircraft by service representatives in the U.S. were factors that contributed to the delay in returning the helicopter to its home base, Kunze said.
Twitter: @SethRobson1
Twitter: @HanaKusumoto