US military reports 13 COVID-19 cases in Japan and S. Korea, including one at a school
by
Matthew M. Burke
Stars and Stripes
June 8, 2021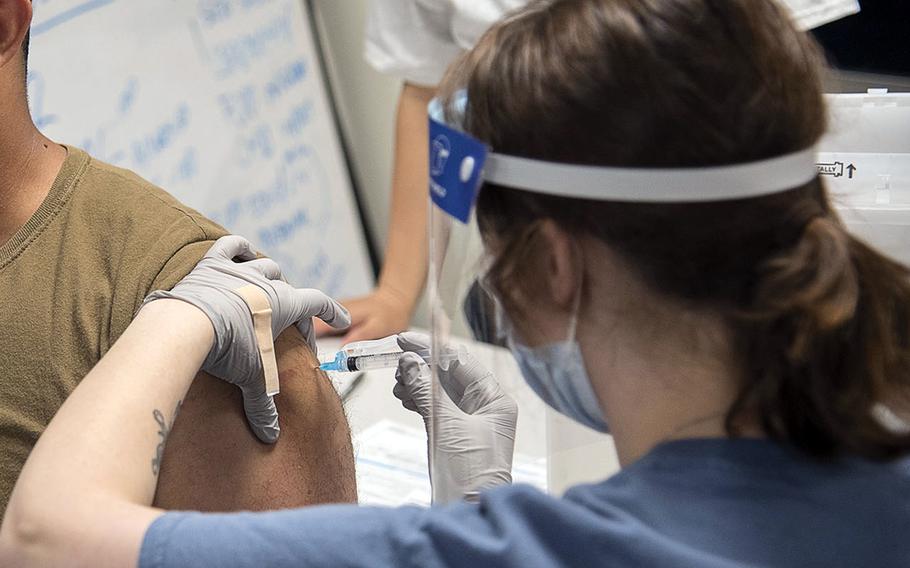 CAMP FOSTER, Okinawa – U.S. commands in Japan and South Korea reported 13 new cases of the coronavirus respiratory disease as of 6 p.m. Tuesday.
One of the new patients turned up at a Department of Defense Education Activity school at Kadena Air Base on Okinawa, according to a message Tuesday to students' families and school staff.
Contact tracing is underway, wrote Kadena Elementary School assistant principal Amanda McDonald, and students in "Ms. Kupka's class" were ordered to stay home Tuesday. Testing was offered at the U.S. Naval Hospital Okinawa for students in the class and riders of "Bus 42."
Kadena had four more people contract COVID-19, according to an official Facebook post Monday evening. Two self-isolated after developing symptoms and two were identified as close contacts of known positives.
Since Feb. 1, when vaccines became available on Okinawa, 96% of the on-base positive cases have involved those who were not fully vaccinated, the post said. Vaccines are voluntary for status of forces agreement members.
Due to the current state of emergency, which impacts 10 prefectures, including Okinawa, and lasts through June 20, the Army on the island placed some Japanese employees at Torii Station on telework, U.S. Army Garrison Okinawa wrote in a Facebook post Tuesday. This could lead to longer lines and delays for base service, the post said.
Yokosuka Naval Base, 35 miles south of central Tokyo, has had two base employees test positive since Friday, the Navy said in a statement Tuesday. Both displayed COVID-19 symptoms.
At Yokota Air Base, the home of U.S. Forces Japan in western Tokyo, five people tested positive between May 29 and June 8, the 374th Airlift Wing announced Tuesday afternoon.
One of the new patients was in quarantine after recently arriving in Japan from the United States; another was in quarantine as a close contact of a previously identified case; and the others were "identified and quarantined by Public Health according to strict Centers for Disease Control and Prevention guidance."
On the Korean peninsula, a South Korean contractor at Camp Humphreys tested positive June 4 after contact with an infected person, U.S. Forces Korea said in a statement Tuesday. The new patient last visited the Army base on June 3 and is in quarantine.
COVID-19 cases continued to fall across Japan this week. The country logged 2,078 new patients on Monday, 735 less than the same day last week, according to the World Health Organization. The current wave peaked with 7,017 new infections on May 10.
The government has counted 760,000 cases during the pandemic and more than 13,500 deaths, the organization reported.
Tokyo on Monday reported another 235 infections and three deaths, according to public broadcaster NHK. The number of new infections is 25 less than the same day last week, according to metro government data.
Osaka prefecture, the nation's second-largest metro area, reported 72 new infections Monday, its lowest tally since it logged 67 infections on March 15, a prefectural website said. The prefecture experienced its highest number of new cases in April and May, peaking at 1,260 new infections on April 28 and March 1.
Osaka's 15 deaths announced Monday was greater than the sum of Saturday and Sunday combined, NHK said.
Okinawa prefecture, now experiencing its worst phase of the pandemic, reported 104 new infections and one death Monday, according to NHK. The number of new infections is 38 fewer than the same day last week.
Japan has lagged other developed nations in vaccinating its population, and is ramping up those efforts ahead of the start of the Tokyo Olympics on July 23.
A mass inoculation center opened Tuesday at the now-closed Tsukiji fish market, Kyodo News reported. Companies and some universities also began applying for permission to perform on-site vaccinations beginning later this month.
Twitter: @MatthewMBurke1