Okinawa coronavirus surge spurs further restrictions for American troops
by
Joseph Ditzler
Stars and Stripes
May 28, 2021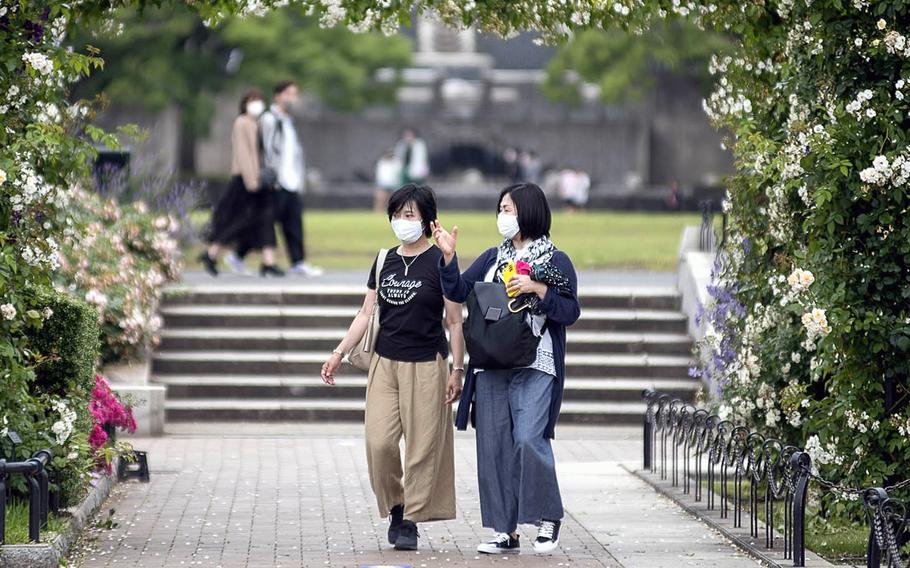 TOKYO — American military bases on Okinawa tightened their restrictions again Friday as the prefecture announced another one-day record of new coronavirus patients.
Meanwhile, U.S. installations across Japan reported four new coronavirus cases – three at Yokota Air Base in western Tokyo and one at Kadena Air Base on Okinawa.
The island prefecture reported 313 newly infected people on Friday, the highest one-day count there of the pandemic, according to public broadcaster NHK and prefectural data. Though small by comparison to other prefectures, the spring viral wave on Okinawa is creating twice the patients of a surge in August.
Only essential services are permitted between 8 p.m. and 5 a.m. for anyone attached to the Marine Corps on Okinawa, according to a Facebook post Friday by Marine Corps Installations Pacific.
Unvaccinated personnel may not dine outdoors or indoors or ride buses and monorails, according to the command.
"Data collected by both Okinawa medical professionals and our contact trace teams have linked a majority of recent cases to dining establishments," the post said.
The Marines have reported 45 cases of COVID-19, the coronavirus respiratory disease, so far this month.
Kadena made similar changes. Fully vaccinated people are barred from eating at restaurants, indoors or outdoors, between 8 p.m. and 5 a.m., according to a base Facebook post Friday. Unvaccinated individuals are prohibited from outdoor dining between 8 p.m. and 5 a.m. and from indoor dining at any hour, according to the post.
Unvaccinated people may not ride public transportation such as buses, tour coaches, trains and monorails, either, according to Kadena.
The base on Thursday evening reported one person had become ill with COVID-19 symptoms before testing positive for the disease, according to a base Facebook post.
Yokota reported that three people, all of them already quarantined, tested positive between Wednesday and Friday. One was a recent arrival from the United States; the remaining two were previously identified as close contacts of another infected individual, the base announced via Facebook.
Tokyo reported 614 new infections Friday, 35 fewer than the same day a week ago, according to NHK. Six people died of complications of COVID-19, the broadcaster reported.
Twitter: @JosephDitzler