Senators call for increased funding for poorly resourced US Southern Command
By
Stars and Stripes
March 24, 2022
---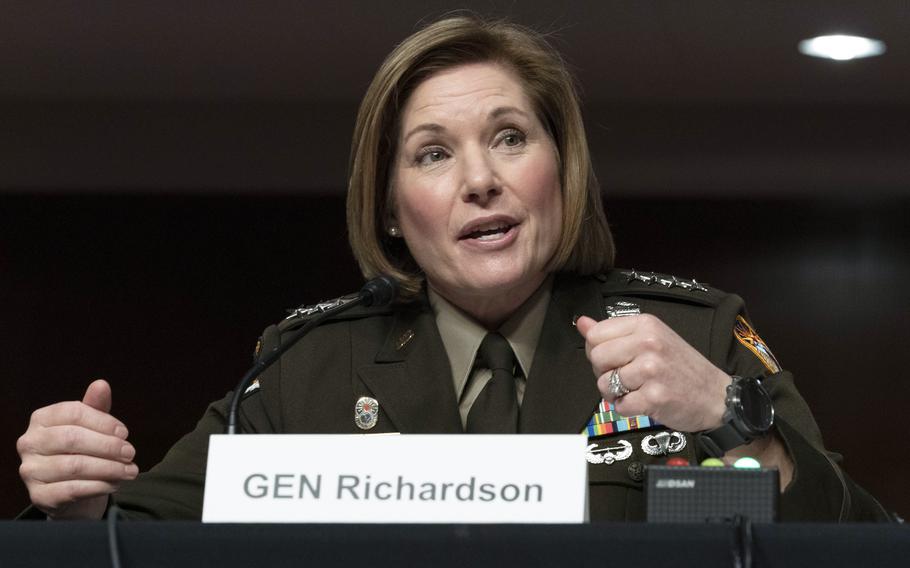 WASHINGTON — Senators on Thursday called for increased funding for U.S. military operations in Central and South America to counter illicit drug trafficking and rising influence from China and Russia, as the White House prepares to release a defense budget plan next week.
U.S. Southern Command has been notoriously under-funded, despite its proximity to the U.S. mainland, threats from transnational criminal organizations and a growing Chinese presence, Senate Armed Services Committee members said during a hearing on military operations in the region.
"I have grave concern that challengers elsewhere in the world are going to take these minimum investments and shrink them even more," said Sen. Tim Kaine, D-Va. "If that's the case, I'm going to be advocating strongly that we don't do less but we do more in the region."
The commander responsible for the area, Army Gen. Laura Richardson, told senators that she receives just 1% of the funding that the Pentagon allocates for intelligence gathering and surveillance worldwide. To make up for shortfalls in expensive equipment such as aircraft, Richardson said she relies on artificial intelligence to sort through data and enlists contractors to provide some surveillance systems.
"Since we're not given a lot of resources, we've looked for other ways of being innovative," she said.
Sen. Angus King, I-Maine, described the lack of monetary support as a "gross misallocation of resources" and asked why the U.S. cannot supply more surveillance aircraft such as Global Hawks to help detect and monitor the illegal drug trade.
"The principal attack on America right now is drugs," King said. "Two people in my state every day are dying of overdoses and yet we're treating it as if it's some kind of domestic problem or law enforcement problem… I just don't understand why this is something that we can't budget for and deal with."
More funding is also needed for cybersecurity operations in the region, Richardson said. The Pentagon's cyberspace priority is in Europe and the Indo-Pacific, leaving Southern Command with small teams that offer limited cyber defense to regional partners such as Colombia, she said.
"We do our best in terms of subject matter expert exchanges that we do with our partner nations," Richardson said. "We'll go help with an assessment of their network, we work over the shoulder, we can provide direction and subject matter expertise but we can't get on the keyboards with them and go to work with them."
Sens. Mark Kelly, D-Ariz., and Jim Inhofe of Oklahoma, the top Republican on the committee, said they will be studying the White House's defense spending recommendations to see if Southern Command gets the financing it needs.
"I want to make sure that you have the resources to tackle these challenges so I'm interested to see what the president's budget looks like," Kelly told Richardson.
Among the most pressing challenges is Chinese strategic investment near the Panama Canal and the Strait of Magellan, two waterways that are vital to maritime trade and national security, Richardson said. China has built state-owned enterprises at the entrance and exit of the Panama Canal that could be used for civilian and military purposes, she said.
China is also funding port projects in 17 countries in Central and South America and the Caribbean and has invested $50 billion in the region from 2017 to 2021, according to Richardson. By comparison, the U.S. Army Corps of Engineers averages $50 million in investments in the area per year, she said.
"These investments are very methodically thought out," Richardson said. "I worry about the access that they get in there."
China and Russia are making inroads with militaries in the region, fostering ties through joint training and other collaboration, she said. China frequently brings large groups of armed service members from the Americas to Beijing for free, yearlong professional military training, she said.
Though the training does not resemble the large, multi-country training exercises that the U.S. is known for leading, Richardson said she sees China and Russia "using part of our playbook against us."
The region is primed for even more meddling in the future due to economic instability created by the coronavirus pandemic and the powerful role of organized crime groups, drug traffickers and weapons dealers, she said.
"Transnational criminal organizations operate nearly uncontested and blaze a trail of corruption and violence that create a wedge and allows the [People's Republic of China] and Russia to exploit these countries," Richardson said.
Kaine implored his fellow senators to "look at the dollars" that the White House allocates for combating these threats and ask themselves if it is enough.
"We're not paying attention to this region, we're not paying attention to the money and diplomatic circles," he said. "We're not paying sufficient attention to them in terms of vaccine distribution and we're not paying attention to them in the military area. But other nations, especially China, are paying a lot of attention and I think we should do better."
---
---
---
---