Russian and Chinese influence is growing in Central and South America, Pentagon officials tell House lawmakers
By
Stars and Stripes
March 9, 2022
---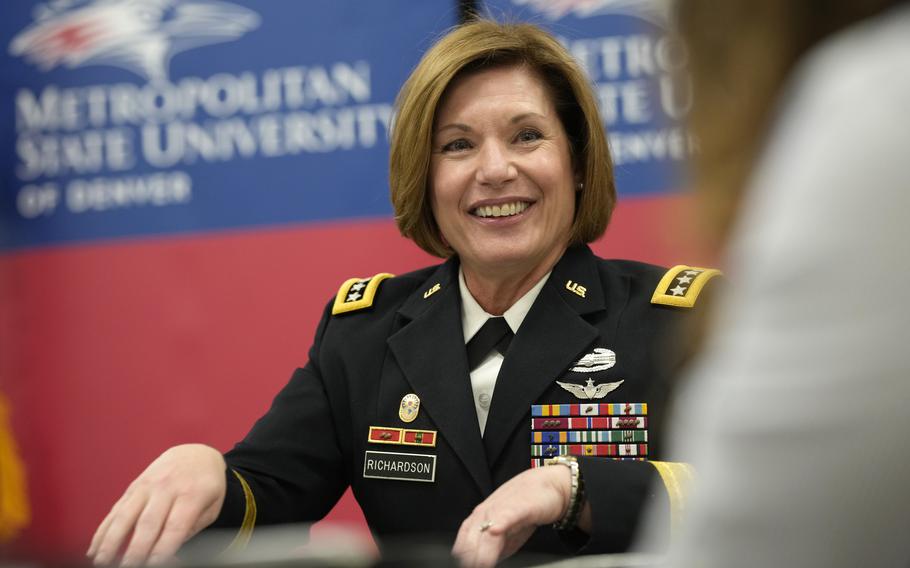 WASHINGTON — Days before Russia launched a full-scale assault on Ukraine last month, Russian officials visited their counterparts in Venezuela, Nicaragua and Cuba in an apparent effort to shore up relationships with burgeoning allies, U.S. commanders told House lawmakers on Tuesday.
Solidifying those political ties, as well as Russia's growing media presence in the region, raised alarms on Capitol Hill as the Pentagon officials detailed the tightening grip Russia and China are exerting on Central and South America.
"The threats that are overseas are also present here," said Rep. Adam Smith, D-Wash., chairman of the House Armed Services Committee. "If we are looking at an era of great-power competition then that competition is here as well."
In testimony to the committee, Army Gen. Laura Richardson, commander of the U.S. Southern Command, said Russia and China have taken advantage of the region's insecurity and instability to expand their spheres of power.
"In this hemisphere, transnational criminal organizations operate nearly uncontested and blaze a trail of corruption and violence," she said. "This has created a wedge and allows the People's Republic of China and Russia to exploit these countries."
Russia poses the most immediate threat to national security as it sows disinformation campaigns that help prop up authoritarian governments, Richardson said. State-owned media outlets such as Sputnik Mundo and RT en Español, a Spanish-language version of the Russia Today TV network, are rapidly attracting audiences of millions, she said.
"Our partners are very concerned about the disinformation leading up to their elections and election meddling," she said. "You can see it in their eyes."
The U.S. has been working with Colombia, its closest partner in the region, as well as 27 other "like-minded democracies" to counter Russian and Chinese influence on information and help defend against cyber threats, the general said. Small teams of cyber-security experts frequently travel to these countries to provide training, Richardson said, and the U.S. regularly sends over technology to boost their cyber defenses.
Still, patches of vulnerabilities remain and more needs to be done to identify key infrastructure that could come under attack, said Air Force Gen. Glen D. VanHerck, commander of the U.S. Northern Command and North American Aerospace Defense Command.
"We need to do better," Richardson said. "Other countries want to work with us, they all want assistance with their networks and making sure they have protected networks."
The Pentagon expects Russia to become a physical menace in the region as well. In October, the Russian Defense Ministry announced its nuclear-powered submarine, the Severodvinsk, carried out a second successful launch of a hypersonic missile. Within five years, Russia's Navy will grow into a "persistent, proximate threat to the homeland," VanHerck said.
China is lagging behind Russia's maritime capabilities by 10 years, he said, but its mammoth infrastructure investments in Central and South America will give it a dangerous foothold in the area long before then.
The Belt and Road Initiative, a global investment strategy that China adopted in 2013, has poured $72 billion into regional projects since 2017, according to Richardson. Some of the largest include a $7.9 billion nuclear power plant in Argentina, a $5.6 billion highway in Jamaica, a $5 billion energy refinery in Cuba and $6 billion in projects near the strategically important Panama Canal, which is the greatest concern to defense officials.
"This region is rich in resources and the Chinese don't go there to invest, they go there to extract," Richardson said. "Without U.S. leadership, negative [People's Republic of China] influence in this region could soon resemble the self-serving, predatory influence it now holds in Africa."
For fragile democracies in Latin America and the Caribbean whose economies have been battered by the coronavirus pandemic, these investments are vital, she said. The U.S. has also provided funding for projects in the region, including $250 million from the Defense Department in the past five years, but it is no match for China's colossal expenditures, Richardson said.
Rep. Salud Carbajal, D-Calif., said Latin American countries might be hesitant to foster deeper financial ties with the U.S. due to past experiences.
"We are all very aware that the U.S. has a mixed history in Latin America — the Iran-Contra affair comes to mind," he said. "That has led to distrust and the need to reset relationships."
Countering Chinese and Russian influence will take closer cooperation with partners such as Colombia as well as more investment in undersea surveillance capacity and hypersonic and cruise missile defense, VanHerck said.
The U.S. is also keeping an eye on how its southern neighbors react to Russia's unprovoked invasion of Ukraine. Cuba, Nicaragua, Bolivia and El Salvador all joined China in abstaining from a United Nations vote last week condemning Russian aggression in Eastern Europe.
"We are watching very closely," Richardson said. "Our domain awareness is absolutely essential so close to the homeland."
---
---
---
---