AFRICOM carries out first strike in Somalia since Biden took office
by
Chad Garland
Stars and Stripes
July 21, 2021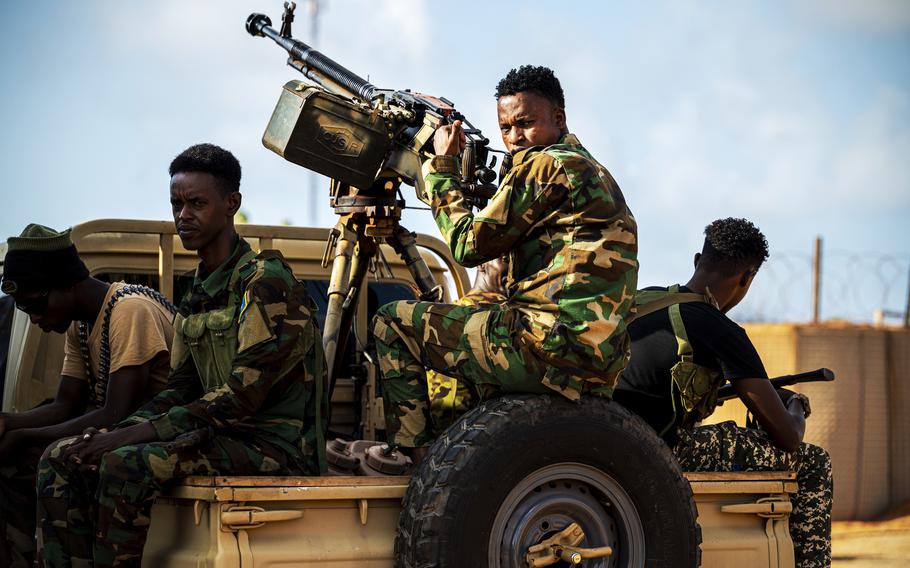 A U.S. airstrike conducted to support Somali troops under attack from militants Tuesday marked the first such intervention under President Joe Biden's administration, officials and news reports said.
U.S. Africa Command carried out the single strike against al-Shabab militants near Galkayo in Somalia's central interior, Defense Department spokeswoman Cindi King said in an emailed statement to media outlets.
The al-Shabab fighters were attacking members of the Danab, a Somali commando force trained and advised by Americans, The New York Times reported, citing King's statement.
"There were no U.S. forces accompanying Somali forces during this operation," King told the newspaper. "U.S. forces were conducting a remote advise-and-assist mission in support of designated Somali partner forces."
The Biden administration had limited drone strikes outside active war zones when the president took office Jan. 20 so the White House could develop its own rules for the airstrikes and commando raids in places like Somalia and Yemen, the Times reported. 
The number of strikes in Somalia had been increasing in recent years, as the al-Qaida-aligned militants continued to wage a guerilla war that began more than a decade ago.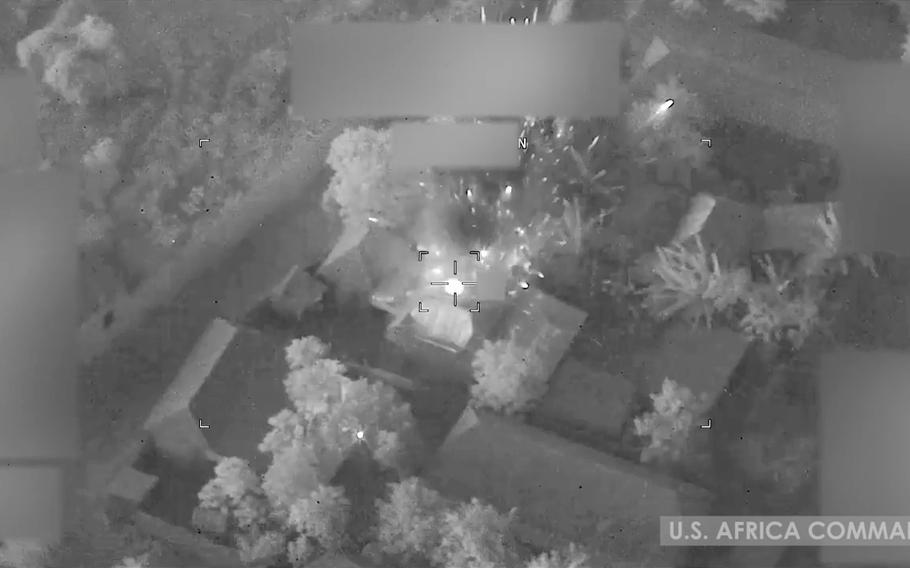 While President Donald Trump had set broad rules for strikes in some countries and delegated authority to commanders in the field to carry them out, the Biden administration requires requests to be routed through the White House, the newspaper reported. 
Similar rules were in effect under most of President Barack Obama's administration. They were loosened in the final months of Obama's presidency when as U.S. forces in Iraq assisted in the grueling battle to liberate Mosul from the Islamic State group.
Tuesday's strike was the seventh in Somalia this year, AFRICOM spokeswoman Kelly Cahalan said in an email Wednesday. 
The last previous strikes were carried out Jan. 18 and 19, just days after the U.S. military completed its withdrawal of some 700 troops from the country under Trump's orders. The U.S. conducted 63 strikes in 2020.
AFRICOM has continued to send teams into Somalia on a rotational basis to train security forces.
Last month, military officials were preparing a proposal to send a special operations contingent back into the country amid fears the militants have been gaining ground, the Times reported, citing unnamed Pentagon policymakers.
Galkayo is a divided town that straddles a border between rival clans and sits on a major smuggling route used by militants. 
Fighting there was delaying AFRICOM's assessment of the airstrike, King told the Times. 
The command did not have further details to provide about that assessment on Wednesday, Cahalan said in an email to Stars and Stripes. She also declined to discuss specifics of the aircraft that conducted the strike.
"We have a range of capabilities that allow us to carry out these airstrikes where required," Cahalan said. "It is important to preserve operational advantage and not signal to these terror elements when, where, and the various means available to disrupt them."