DODDS-E soccer - Day 2
Upsets abound in DII as eliminations begin
by
Rusty Bryan
May 19, 2011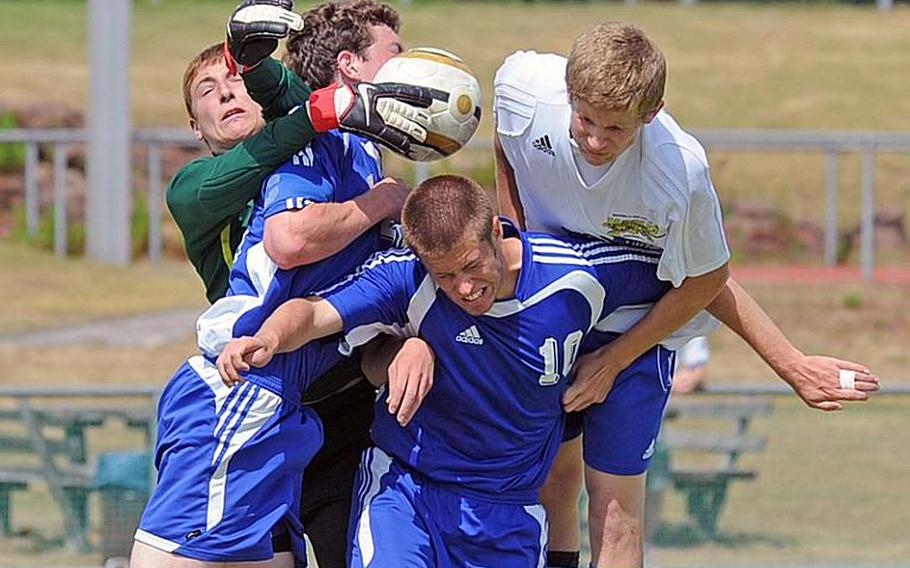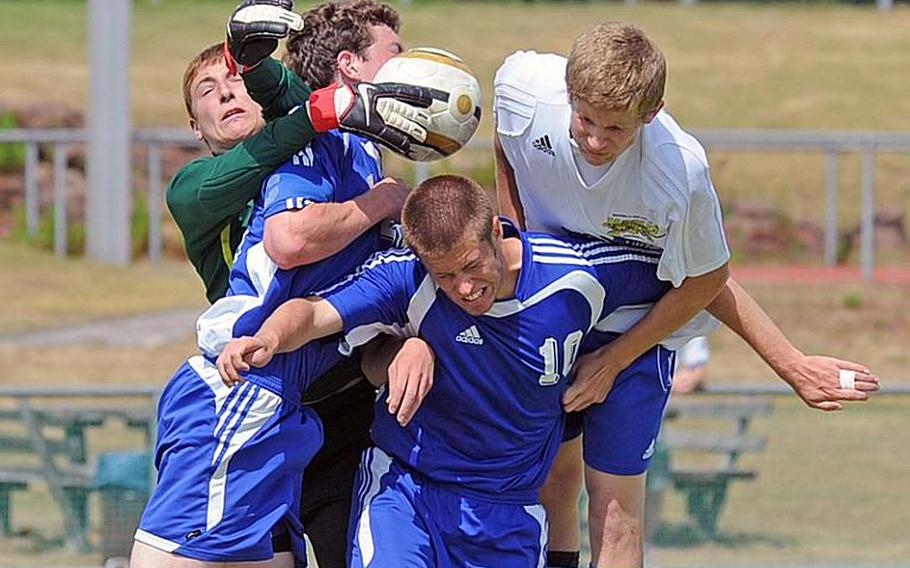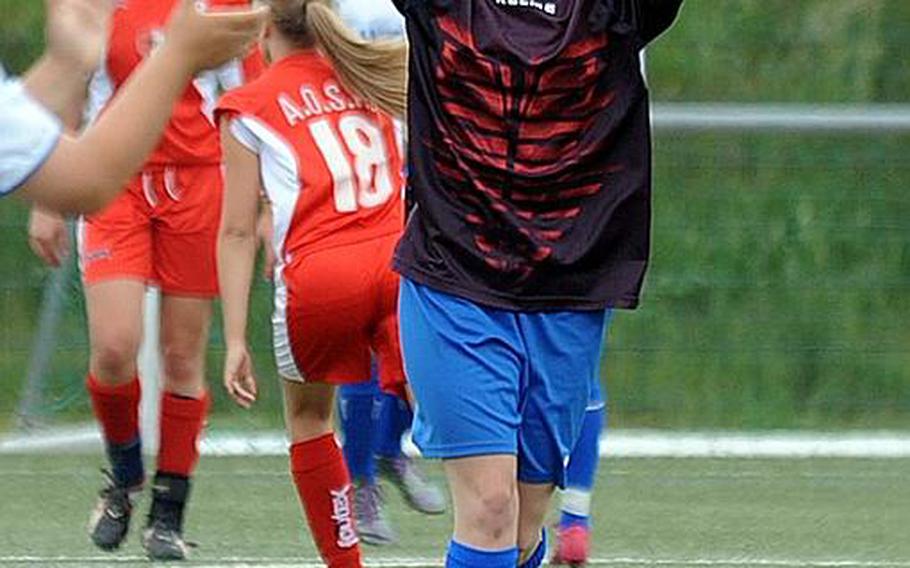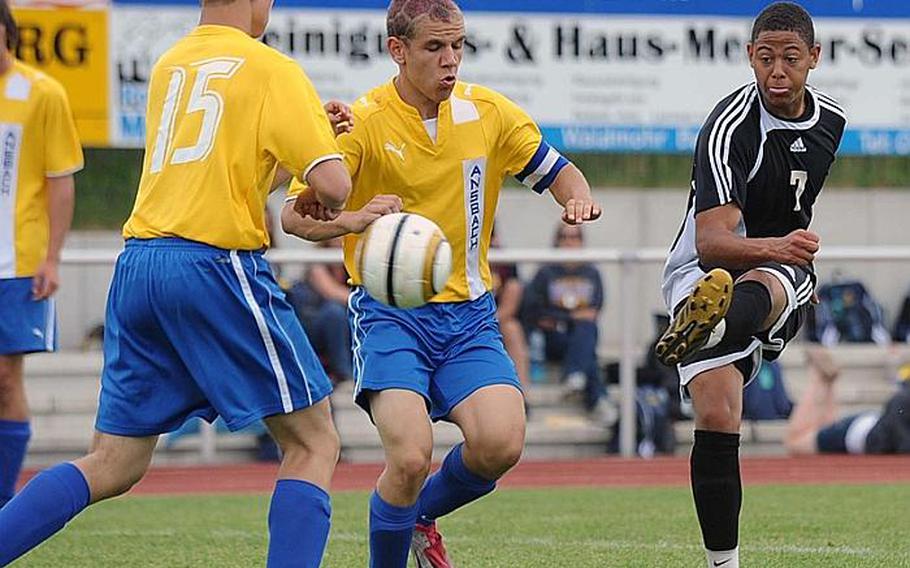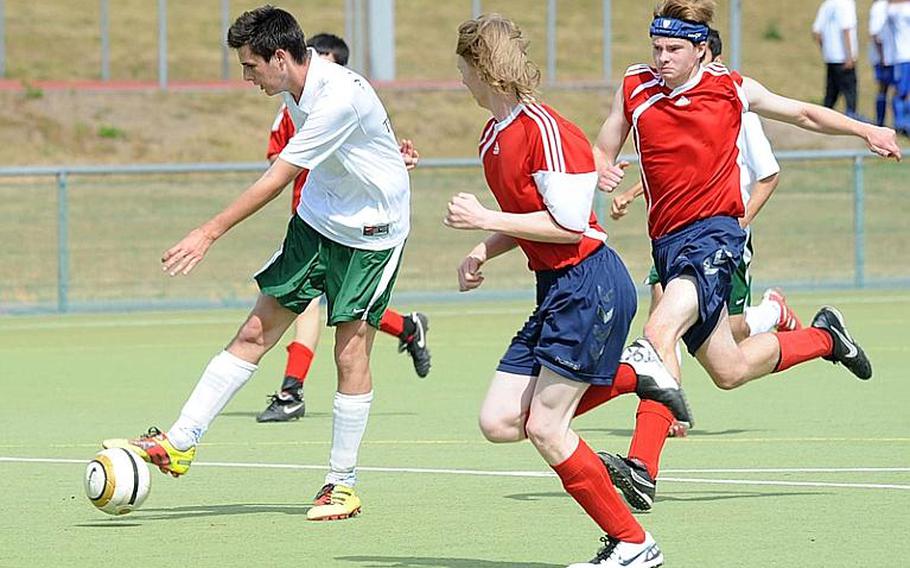 WALDMOHR, Germany — Sven Livingston thumped home the lone goal of the game, and goalkeeper Paul Alix and a physical Bitburg defense made it stand up for a 1-0 victory over Naples that eliminated the No. 3-seeded Wildcats from the 2011 European boys Division II soccer tournament on Thursday."I love my defense," Alix said after he had blanked the potent Naples offense. "They played great."No. 12 Bitburg, 2-7 overall coming into Thursday's game, advanced to a quarterfinal game Friday against top-seeded defending champion American Overseas School of Rome. Naples, the only team to have downed AOSR this season, went 1-2 in the European event, also losing a pool-play game to Hohenfels, 5-2, on Wednesday.Naples, which ended the regular season 5-1-1, presents a major challenge to any opponent in the form of 6-foot-4-inch junior striker Nigel Alexander, whose throw-ins in the attacking zone carry into the penalty box, and whose agility and aerial game play havoc with opposing defenses. According to Rivera, marking Alexander was the key to beating the Wildcats."We scouted them on film," Rivera said. "We knew if we stopped him, we'd stop their offensive machine."The job of stopping Alexander fell to junior Brandon Roesch who kept on Alexander without let-up."I never let him get too far away," Roesch said. "I tried to keep him on a short leash."Bitburg wasn't the only low seed to survive Day 1 of knockout play. The No. 14 AFNORTH boys hooked up their Turkish Connection to topple Hohenfels 2-1.Oguzhan Yabici set up Martin Heinrichs for AFNORTH's first goal, and Gorkem Ercan bent it like Beckham from a corner kick into the Hohenfels net to propel the Lions into Friday morning's quarterfinals."We call ourselves 'The Turkish Connection,' because we're Turkish," Ercan said with impeccable logic and a smile toward Yabici.The Lions, perennial soccer powers in part because of the decidedly European cast of their student body, shrugged off their 0-6-1 season and a 6-0 blowout loss in pool play Wednesday to No. 4 Black Forest Academy, to win the first game in the 2011 tournament."This tournament's now wide-open," proclaimed AFNORTH senior sweeper Tony Norman. It is also getting more nerve-racking."There was a lot more pressure," AFNORTH defender Mack Curry, a Canadian, said in comparing Wednesday's game, which merely determined who would play whom in the knockout openers, to what was on the line Thursday. "It was a lot more intense.""Intense" accurately describes Thursday's D-II boys games, which also saw second-seeded Bamberg and No. 5 Baumholder exit the competitions. Both fell in shoot-outs.No. 11 Mannheim bounced Baumholder 4-3 on PKs after the teams had tied 2-2 in regulation. No. 6 American School of Milan victimized Bamberg 4-1 on penalty kicks after those teams also tied 2-2 in regulation.In the girls' D-II event, also in its single-elimination phase, Bitburg, Black Forest Academy and Vicenza advanced on shutouts over Marymount International School of Rome, Mannheim and Bahrain, respectively. In other tournament games of note Thursday:
Division I girls• In the girls' D-I event at Reichenbach-Seegen, top-seeded Ramstein opened its pool-play schedule with a 4-1 triumph over Wiesbaden, and the defending champion Patch girls avenged a 3-1 regular-season loss to No. 2 Heidelberg with a 2-0 victory that wrapped up the pool title for the Lady Panthers.
In Friday's semifinals, Patch is to take on the No. 2 team in the pool that includes Vilseck, International School of Brussels, Wiesbaden and Ramstein. The survivor among Heidelberg, Kaiserslautern, SHAPE and Lakenheath will face the Pool A champion in the other semi.
Division I boys• Ties were the order of the day Thursday in the boys' D-I event.
Top-seeded Ramstein played its second 1-1 tie of the season against defending champion SHAPE. Also battling to 1-1 draws were No. 3 Patch and No. 6 Lakenheath, and No. 4 Wiesbaden and No. 5 Heidelberg.
Division III boys• In boys D-III play, Sigonella defeated Brussels 2-1 at Sportpark Rote Tuefel in Mehlingen as All-Europe striker Ben Jacks struck in the game's first minute and added the decisive score in the second half.
Jacks established his presence early, running onto a feed at midfield and streaking down the left side of the field. Just as he arrived at what seemed an impossibly flat angle to the left of the goal mouth, he delivered a low rocket just inside the near post.
Jacks' goals kept No. 2 Sigonella unbeaten in the boys' D-III event.
Division III girls• The D-III girls opened their six-team round-robin with top-seeded Rota dispatching Sigonella 3-1, No. 2 Brussels blanking Alconbury 3-0 and No. 3 Menwith romping past No. 4 Ankara 6-0.
Play is to continue Friday at Waldmohr, which will host the boys D-III semifinals at 3:45 and 5:30 p.m.; at the FCK Sportpark, site of two boys and two girls quarterfinal games; at Reichenbach-Seegen, where four D-II quarterfinals and the two boys and girls semifinals are scheduled, along with their D-I equivalents, and the Horst Eckel Stadion in Miesau, where the D-I girls will wrap up pool play before moving on to the semifinals.