Marksman of year
Romih setting sights on national title
by
Rusty Bryan
March 8, 2012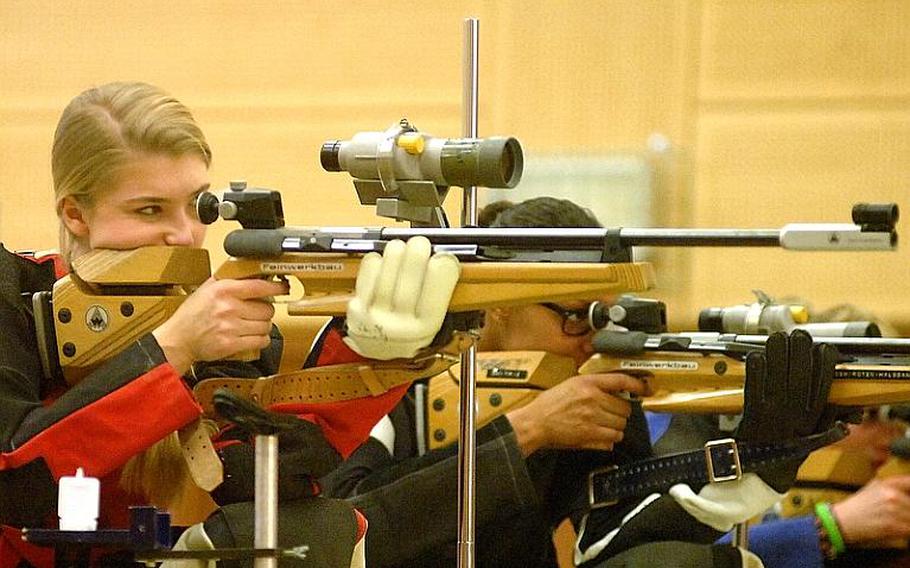 Now that she's the European champion and the Stars and Stripes' 2012 marksman of the year, Patch senior Mercedes Romih again is setting her sights on a bigger stage.
She and her European champion Patch Panthers will be traveling to Anniston, Ala., later this month for the Army JROTC and National JROTC service championships.
Patch, which finished fourth in the precision air rifle class in the all-service meet, will be defending its Army JROTC title, and if the nationals go as well as January's DODDS-Europe meet, don't expect Romih, a senior who's making her third trip to nationals, to be surprised.
"I had an idea from last year's scores that I had a chance to win," Romih said by telephone on Thursday about the European title she won by scoring 284 out of a possible 300 points. "I worked hard for it."
Romih, who also won the standing position with a 97-of-100 performance at the European championships but ceded the individual titles in kneeling and prone to teammate Maggie Ehmann (96) and Katherine Gamble of Hohenfels (99), respectively, led Patch to a 19-point team victory, 1,373-1,354 over runner-up and host Vilseck. Maximum team score is 1,500 for the precision air rifles on the 10-meter ranges used in DODDS-Europe.
"She has natural ability to understand what's being told to her and what she needs to do," Patch coach Raul Pinon in explaining Romih's prowess in the sport. Added Pinon, who'll be taking his first Panthers' team to nationals after replacing long-time coach Jack Wayne: "She's a good thinker and good decision-maker."
Romih, who said she's looking forward to a military career after college, has been shooting competitively for just three years, but might have a genetic advantage in her sport.
"My father was a sniper instructor," she said.
Oddly, though, Romih said her family tie didn't provide the impetus for her to take up the sport nor her ability to master it so quickly.
"A friend persuaded me to come out my sophomore year," she said. "Jack Wayne saw potential in me and began teaching me. I'm good at concentrating and focusing."
Pinon continued Romih's instruction when Wayne retired last spring. Pinon said Romih's early-season scores in the 275-of-300 range were no cause for alarm.
"I wasn't concerned," he said. "I knew she could shoot. I made some little adjustments that helped her shoot better by letting her be who she is. She picked it up towards the end."
And how. Romih's 284 was dead-center among recent winning totals and should send her to Alabama in a relaxed state of mind. Having been there before also helps, Romih said.
"Not this year," Romih said when asked if the presence at nationals of so many skilled marksmen put too much pressure on her. "The first year was the toughest."
---
---
---