Principal, Heidelberg students talk about coach's firing during sit-in
by
John Vandiver
November 12, 2010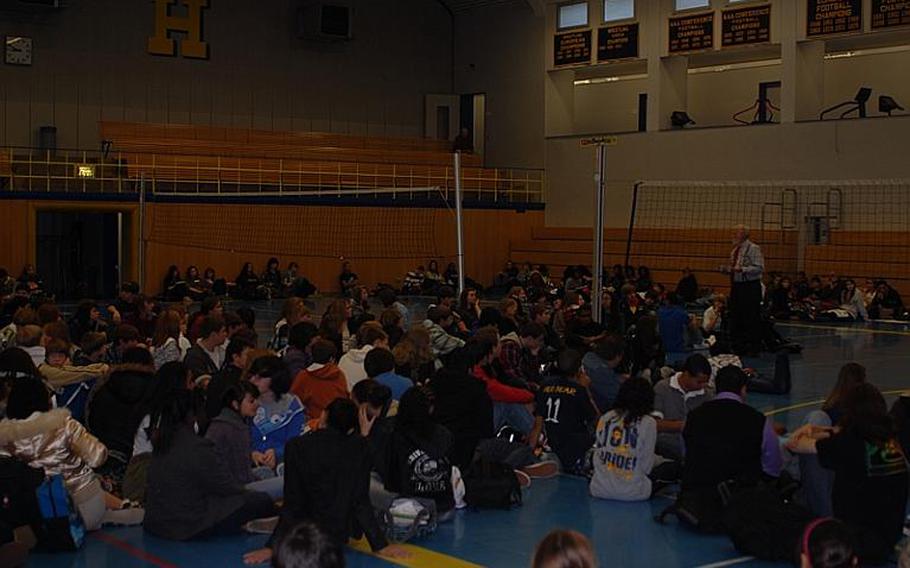 About 300 students assembled in the Heidelberg High School gym Friday morning to protest a recent decision to replace a long-serving coach whose tenure produced five football and nine basketball titles in DODDS-Europe sports.
"The students were organized, peaceful and conducted themselves in a manner which resulted in their voices being heard," said Heidelberg Principal KJ Brewer in an e-mail to parents on Friday. "The school reorganized the schedule to allow the students to gather at a time when they would not miss direct instruction."
Brewer stated in the e-mail that the school administration accepted a parent's letter and a petition signed by 127 students in support of former coach Brad Shahan. Student leaders also had the opportunity to speak during the "sit-in."
On Monday, Shahan was informed by Brewer that his coaching career at Heidelberg was finished. Shahan, who announced the decision to fellow coaches in a Tuesday e-mail, has declined to comment on the decision, but did say that Brewer's ruling applied to both football and basketball, which Shahan has coached since 1990.
In an e-mail to Stars and Stripes on Friday, Brewer said that teacher Ron Merriwether was named as the school's basketball coach this year.
"Decisions regarding next year's fall sports programs will take place in the early June 2011 time frame," Brewer wrote.
In a later e-mail he wrote: "All applicants will be considered for the position."
Brewer has not responded to repeated phone calls seeking comment on the coaching controversy. A Stars and Stripes reporter was present at the school Friday but was not permitted to attend the session with the students.
Brewer's decision to make a coaching change followed weeks of controversy over the ending of an Oct. 9 football game against Wiesbaden in which Shahan was accused of refusing to field his team during the closing seconds, leading to a DODDS ruling that Heidelberg had to forfeit the game for unsportsmanlike conduct. Angry Heidelberg parents fought the decision and the victory was eventually reinstated. Heidelberg went on to cap a perfect season with a Division I title Nov. 6.
Still, questions persisted about Shahan's conduct during the disputed game. In a memorandum overturning the forfeit, Nancy Bresell, director of Department of Defense Dependents Schools-Europe, said the forfeit process was not followed properly, but she did not vindicate Shahan of the unsportsmanlike charge that prompted the original ruling.
---
---
---
---