Patch rallies _ twice _ to down Wiesbaden
by
Mark Patton
April 21, 2012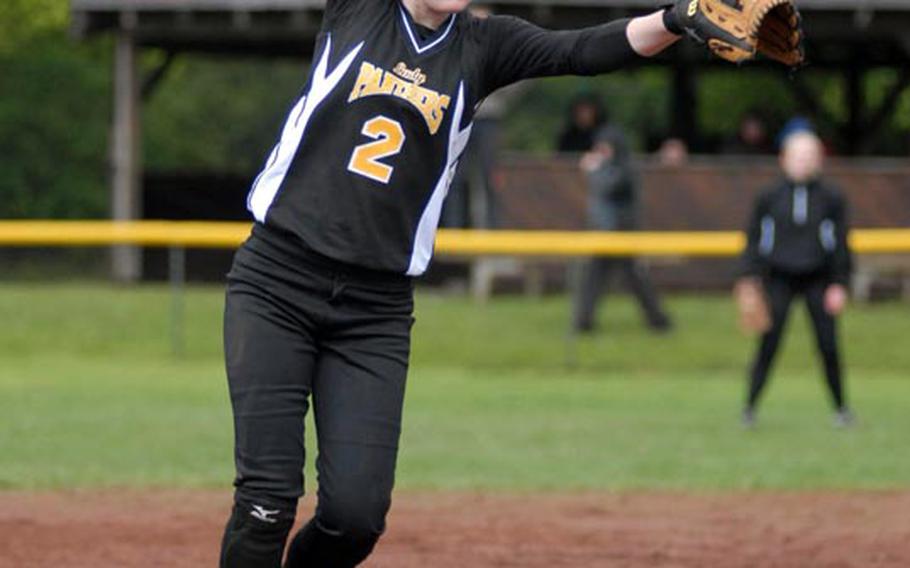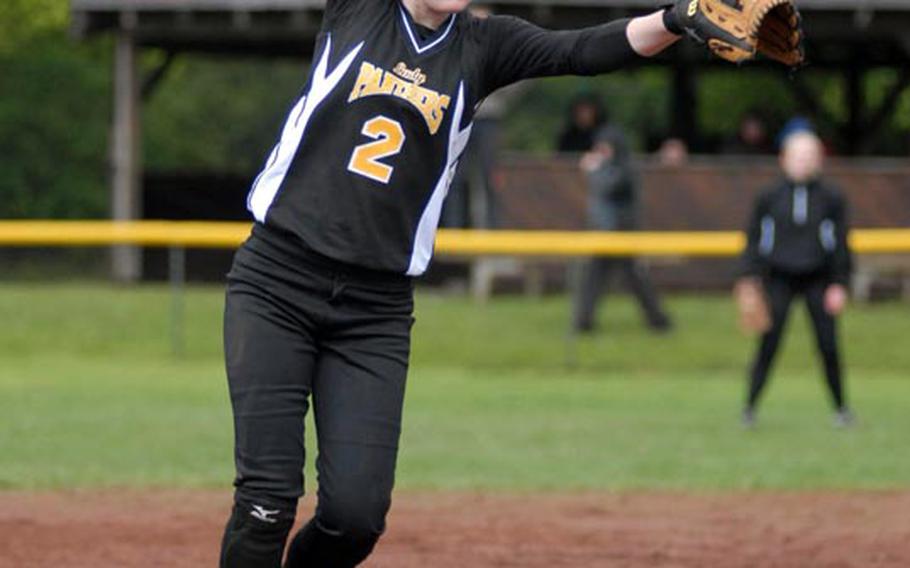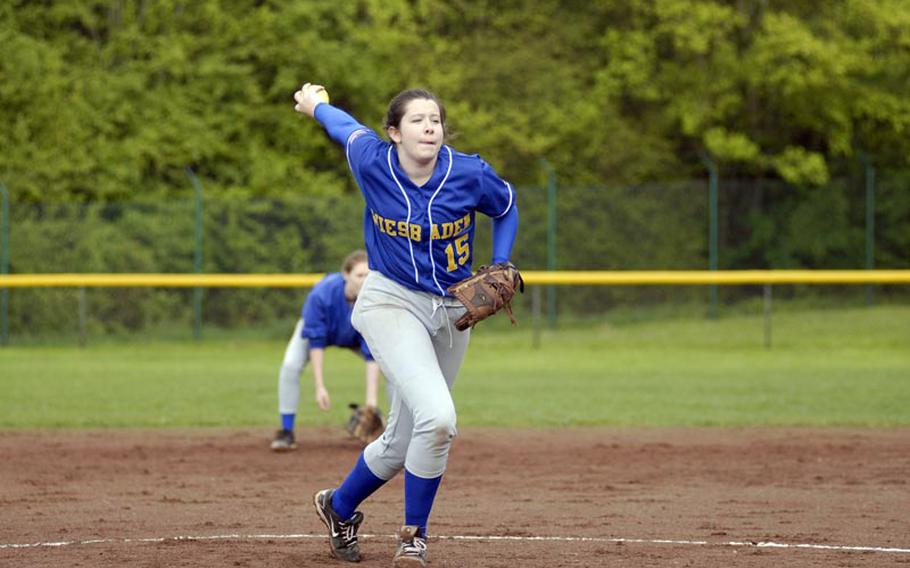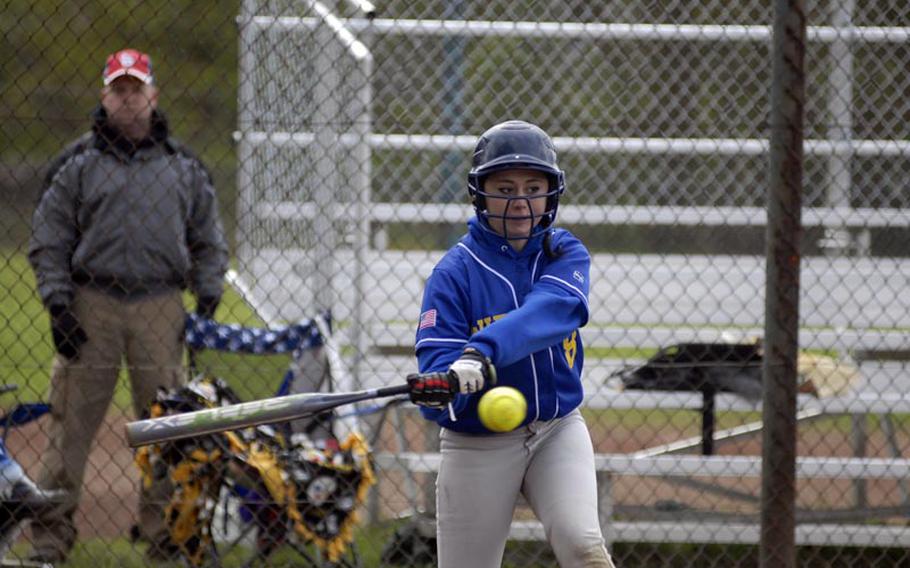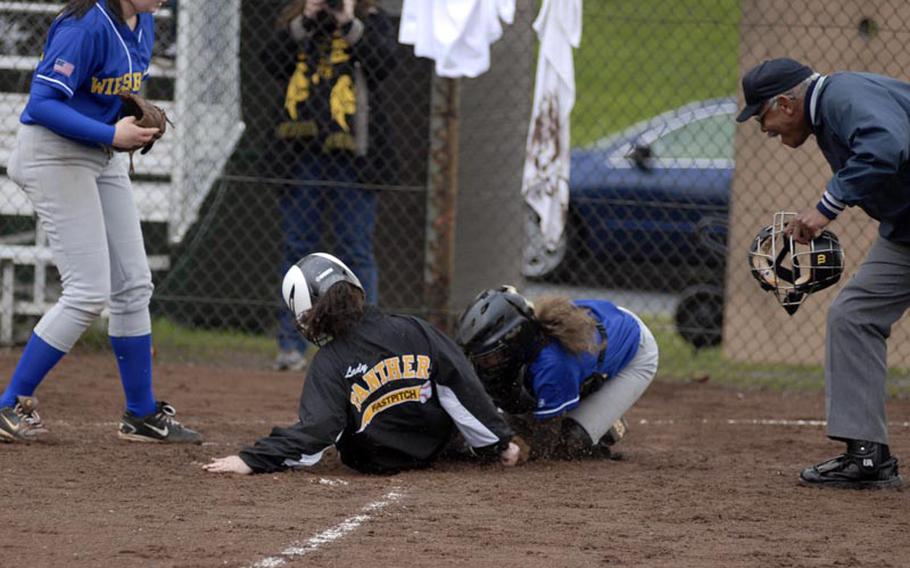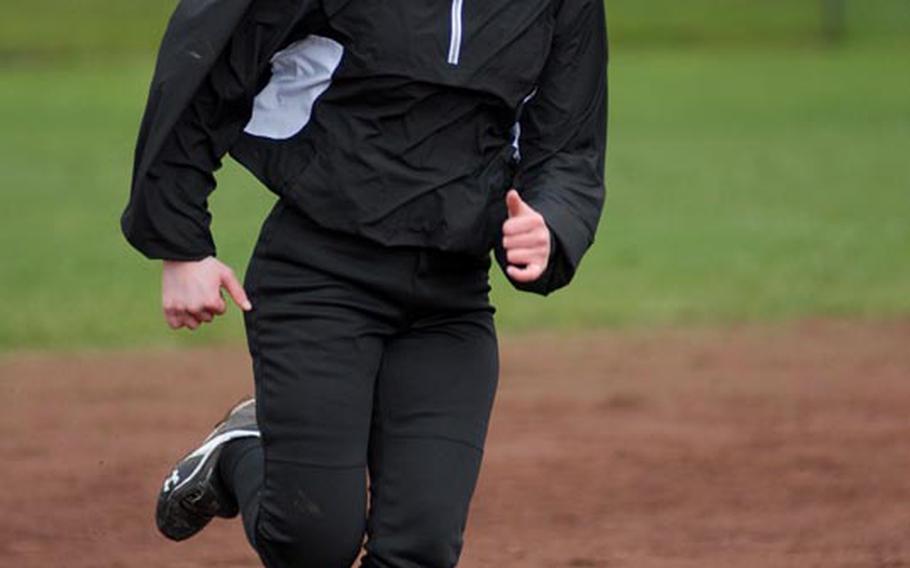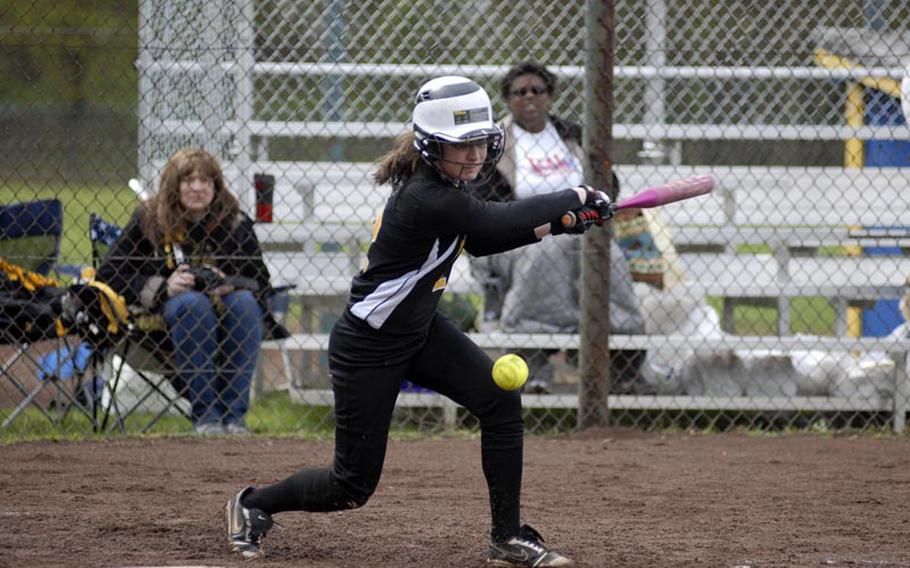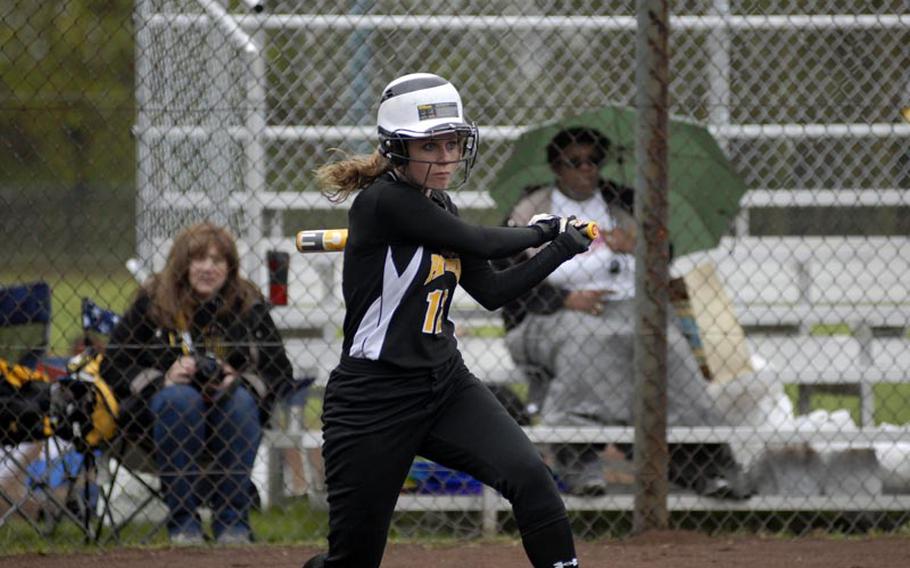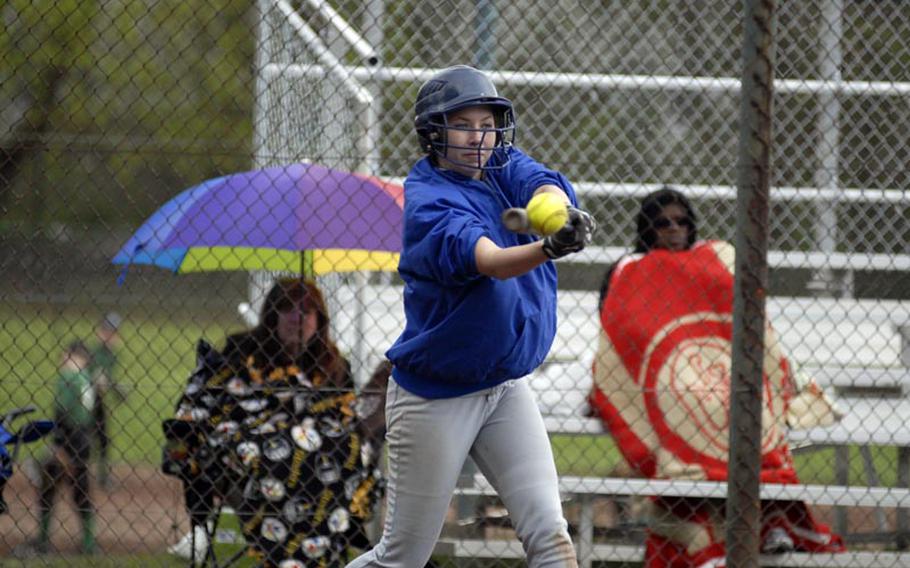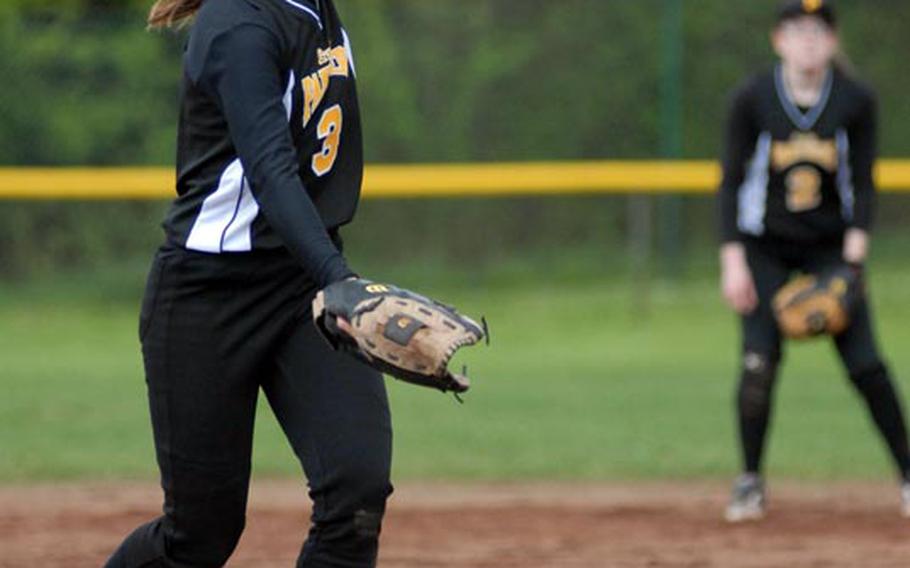 WIESBADEN, Germany — The defending DODDS-Europe Division I softball champs had to put on their rally caps Saturday during a doubleheader to escape the scrappy host squad from Wiesbaden.
The Patch Lady Panthers used 10-run innings in both games to sweep the Lady Warriors, 18-10 and 19-11, and remain unbeaten in their 2012 campaign.
During the first game, as the teams battled to stay dry and warm during periods of rain and chilly wind, Wiesbaden's All-Europe senior ace, Apryl Jackson, kept the Patch bats at bay as she battled out of first- and third-inning jams. Patch had the bases loaded with just one out both times, but left runners stranded.
Patch, playing without star sophomore pitcher Amber Marvin, relied on the arm of junior Katelyn Tingey to keep the score even headed into the third. That's when Wiesbaden junior Kirsten Velsvaag belted an RBI double that cleared the center field wall after one bounce, igniting her club.
The Lady Warriors took a 9-4 lead to the fifth inning. Patch's bats woke up and cut the Wiesbaden lead to two heading into the sixth and final inning.
"Our whole team got pumped up and we started getting our bats going," said winning pitcher Tingey, who also went 2 for 3 at the plate.
Just how pumped up? Patch rallied to score 10 times to put the game out of reach.
Jackson, who was battling a blister during the game, said despite the loss, it was a good test for where her team stood for Europeans.
"I just think we got down on ourselves with a couple of mistakes we made," Jackson said.
Patch's All-Europe third base senior Shannon Wright said she was hoping for more of the same from her team in the second game, minus the last-inning comeback.
Wright's wish came true to a degree, but the Lady Panthers once again had to come from behind.
Trailing 9-3 heading to the bottom of the fourth inning, Patch belted out 10 runs again.
Wiesbaden had jumped out early, with a five-run first inning, rattling Patch freshman pitcher Mikaela Cunningham, who was relieved after two innings by sophomore Paige Miller.
Miller's arm proved to be steadier, as she gave up only one earned run through the next five innings. The effort was enough to earn Miller her first career high school win.
Jackson took the loss for the Lady Warriors. She pitched complete games in both matchups and notched a staggering 300 pitches on the day.
"Patch is an excellent team," said Wiesbaden skipper Carl Johnson. "We're so young and inexperienced; we have to learn to stop the big innings."
Patch moved to 6-0 in region and overall play, while the Lady Warriors fell to 3-2 in the region and 3-5 overall.
Patch sophomore Jenny Sparks, who went 5 for 6 with a triple, 2 RBIs and 4 runs on Saturday, said she's proud of her squad and the way they performed when tested on Saturday.
"We just had to keep our chins up and play our game," Sparks said.
Other leading hitters for Patch were Lis Nantz, who went 2 for 4 with 3 RBIs in the second game and senior Jessica Rahn, who went 2 for 4 with a double.
Wiesbaden's offense was anchored by Velsvagg, who went 3 for 6 and scored six runs. In the morning game, senior Kristel Jabbusch knocked in two runs and scored twice. Jackson went 2 for 4 with a pair of RBIs and runs in the afternoon game and freshman Jackie Renzi also batted .500 during the finale.
---
---
---
---