German-American teen will showcase Garmisch ties in Olympics
By
Stars and Stripes
January 28, 2022
---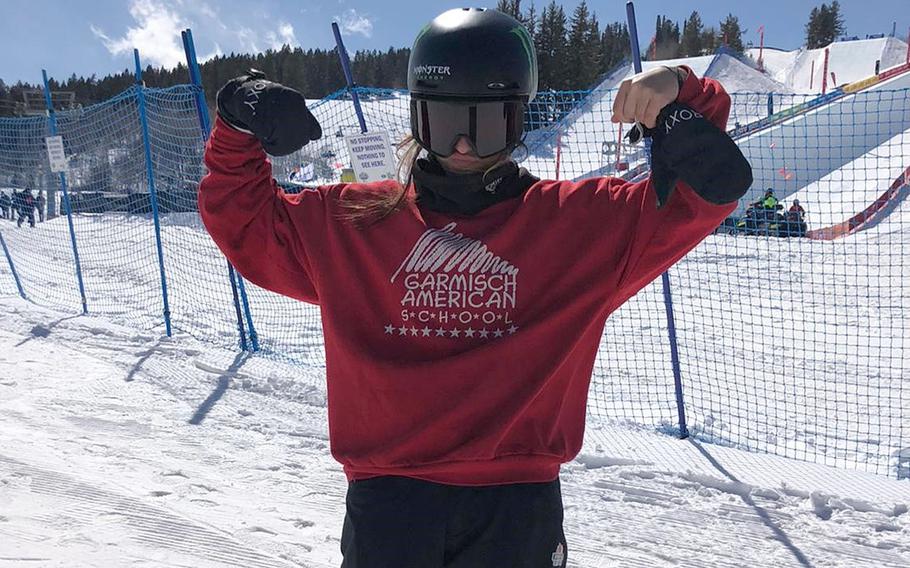 When Annika Morgan was a second grader at Garmisch Elementary/Middle School, her favorite day of the week was Wednesday.
That's because students at the school often went on field trips to the nearby mountains and engaged in various winter activities. She was initially told she was too young to go snowboarding "though I knew I could do it," she said during a recent phone interview.
By fourth grade, she was snowboarding on Wednesdays. Next month, she'll be snowboarding in the Olympics.
The 19-year-old German-American dual citizen will be representing Germany in the upcoming games in China in the Big Air and Slopestyle competitions. She'll be the only woman from her country competing in those events.
She is one at least two Olympians who went to school on base in Garmisch. Team USA bobsledder Jimmy Reed spent most of his childhood in the alpine town.
Morgan, whose father Bill still teaches at the school, originally thought she was going to be a figure skater. But following in the steps of an older brother, she decided to ditch the rink and head for the slopes.
"I just decided to focus on snowboarding and see how it goes," she said. "Figure skating is super elegant and snowboarding isn't. But it's not in a good way."
Sports was a way of life for the Morgan family growing up, she said. Her mother, Birgit, somehow managed to get two girls and three boys around to various sports events. Morgan started going to a German school after fourth grade and then switched to a nearby boarding school to finish out high school – heavily concentrating on a career in snowboarding already.
She did well in the junior ranks, eventually winning a number of events in Europe. Now performing on a circuit with the world's best, she's No. 9 on the World Snowboarding List in Big Air and ranked No. 12 in Slopestyle.
Morgan said those rankings probably don't make her a favorite to get on the medal stand. But they do mean she's a contender. She's had two podium finishes this season, once in each discipline.
"That definitely gave me a confidence boost," she said.
College is on hold for now while she preps for this Olympics and the next one. There's only one competitor ranked ahead of her — Japan's Kokomo Murase at 17 — who's younger than she is. Some are considerably older, including two-time Olympic champion American Jamie Anderson, who is 31. Anderson is also the only one in the field who has won an Olympic gold medal in the disciplines since they were first offered in 2014.
Another challenger is 21-year-old American Hailey Langland, who Morgan said is her best friend on the U.S. team.
In fact, Morgan jokingly takes credit for some of Langland's success. Seeing her friend was cold at a competition, she leant her red Garmisch American School sweatshirt to keep warm.
Langland went on to a podium finish. Morgan has considered the sweatshirt a lucky charm ever since.
---
---
---
---