New boxers find glory in ring
---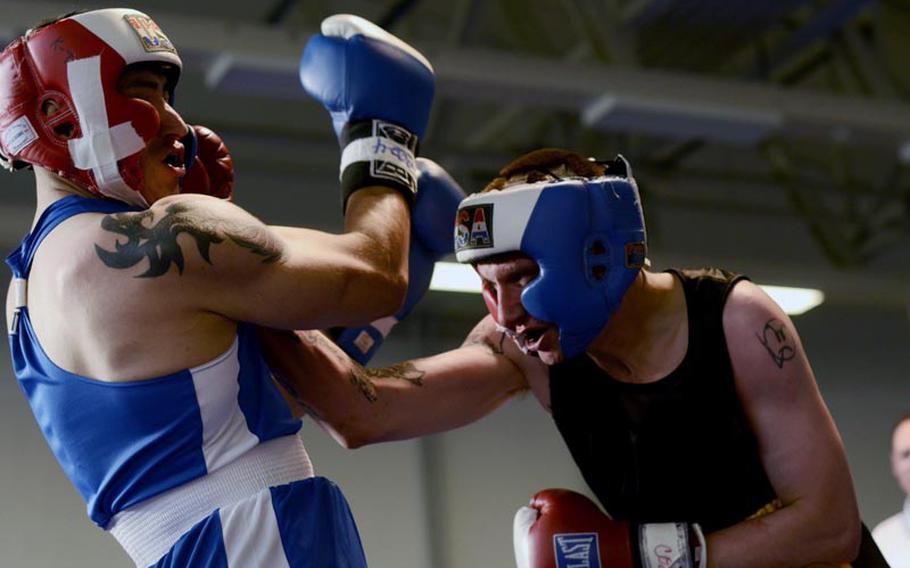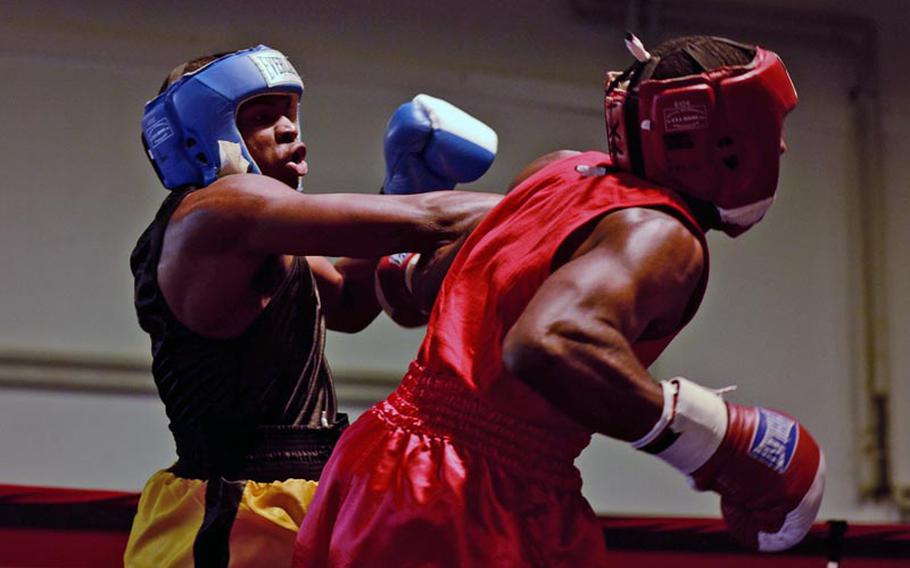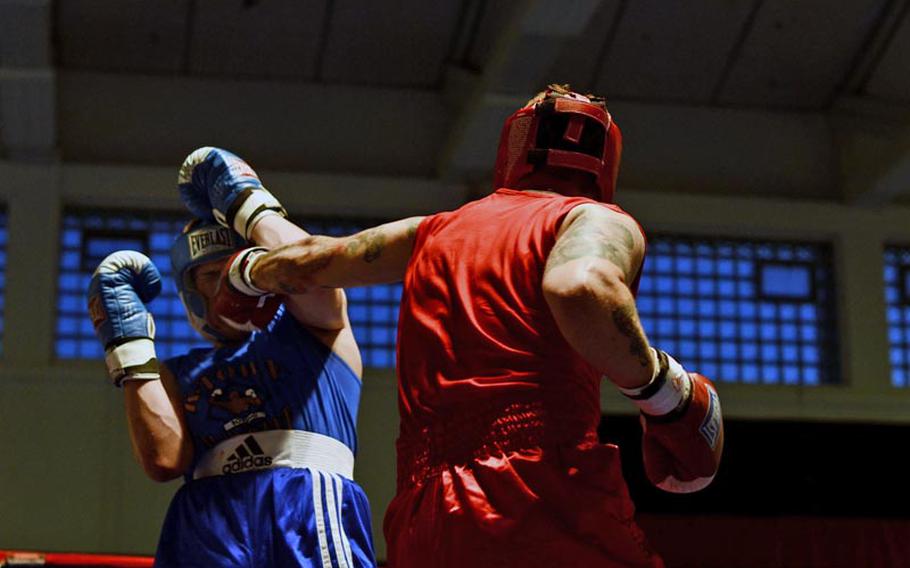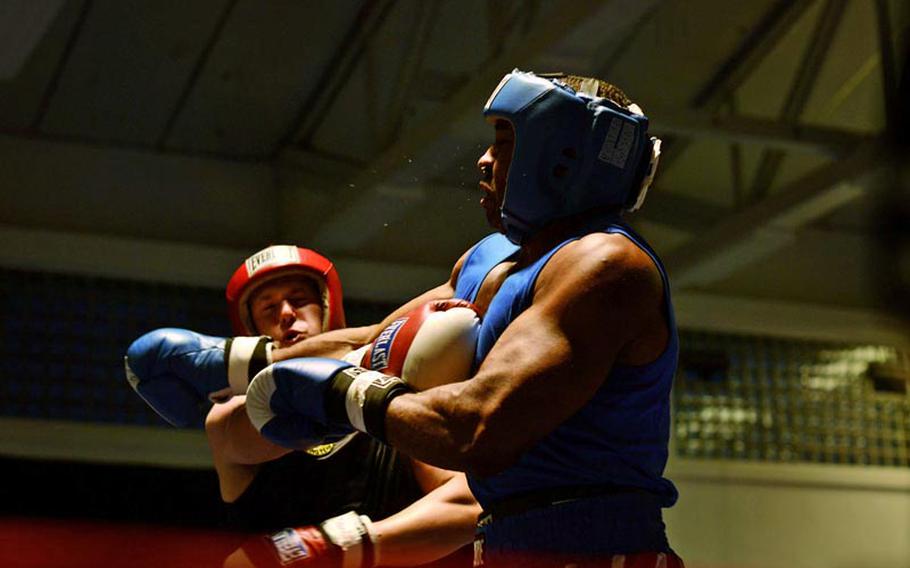 MIESAU, Germany — Saturday night was nothing less than a coming-out party for most of the 15 winners at the Miesau Boxing Invitational. No fewer than 11 of Saturday's champions were fighting for the first time, and two more claimed their first career victories.
"I loved it," said Hohenfels super heavyweight William Wyatt, voted the tourney's best boxer, after the referee ended his bout against Spangdahlem's Alexander Weaver at the 1 minute, 40 second mark of the first round. "I'll definitely do it again."
Wyatt's bout was the last of 15 scheduled six-minute bouts, and he sent the crowd home after displaying an authoritative jab and the ability to combine it with straight rights that had Weaver in trouble from the start.
Wyatt opened aggressively and knocked Weaver down for a mandatory eight-count just 20 seconds into the first of the scheduled three, two-minute rounds, then connected again to have Weaver, bleeding from both nostrils, take a standing eight-count in the second round. When the ringside medical staff was unable to stop the bleeding, the referee awarded the victory to Wyatt, who's been honing his boxing skills for all of two weeks.
Wyatt was part of an 11-man and two-woman team brought to the bouts by Hohenfels coach Marvin Ayala. Ayala oversees the group that reports to the Hohenfels gym at 6 a.m. daily, and ends its day by working with a German boxing club in nearby Regensburg in the evenings.
Four Hohnefels boxers – Wyatt and his fellow first-timers light heavyweight Jerrola Jackson and super heavyweight Tyler Cagliero, along with welterweight Corey Culley – earned gold Saturday, but Grafenwöhr, which brought nine boxers to the tournament, ended up taking the team title when six of them struck gold.
Welterweight Erasmo Alaracon got the victory parade started for Graf when he stopped Roberto Rivas of Sembach at the 14-second mark of Round 2.
Like Wyatt, Alarcon was boxing in his first career bout.
"It was awesome," Alarcon said of the experience, which came two weeks into his boxing career.
Graf's other five champions – middleweights Song Im and Luis Trevino, heavyweights Christian Keene and Phillip Smith and super heavyweight Anthony Santiago – also were appearing in their first official bouts. Im, Trevino and Keene won by referee's decisions; Smith, who displayed a stiff left jab against his shorter opponent, and Santigao showed impressive boxing skills in stopping their foes.
"He hit me in the nose with a jab right away," Santiago said after dispatching his opponent, Nicholas Heinen of Hohenfels, at 1:10 of a furious Round 1. "It hurt. I didn't want that to happen again, so I went after him."
Although Grafenwöhr crowned six champions, the team might have drawn most of its inspiration from light heavyweight Brandon Wooldridge, who lost a 3-2 verdict to Aviano's Wilbert Dixon.
Wooldridge, who took up boxing after losing his left leg above the knee in Iraq in 2004, boxed aggressively while moving, mostly forward, with an artificial leg in place of his missing limb.
"He moved just fine," an said an admiring Dixon, who boxes with an Italian club in Pordenone, Italy, and claimed his first official victory in three bouts. "I had to fight him just like a normal fighter. I knew I'd have to respect him."
Miesau InvitationalMIESAU, Germany – Results Saturday from the IMCOM-Europe Miesau Boxing Invitational. All bouts were novice class scheduled for three two-minute rounds (RSC-referee stopped contest):
Team standings1. Grafenwöhr; 2, Hohenfels; 3, Kaiserslautern.
MenLight welterweight (141 pounds) — Courtney White (Kaiserslautern) def. James Jones (Hohenfels) 5-0.Welterweight (152 pounds) — Corey Culley (Hohenfels) by RSC over Kevin Rice (Landstuhl) 1:58, first round; Erasmo Alarcon (Grafenwöhr) by RSC over Roberto Rivas (Sembach), 0:14, second round.Middleweight (165 pounds) — Luis Trevino (Grafenwöhr) def. Chance Claxton (Hohenfels) 5-0; Song Im (Grafenwöhr) def. Dana Nelson (Hohenfels) 4-1.Light heavyweight (178 pounds) — Tyler Diethrich (Kaiserslautern) by RSC over Charles Caradine (Grafenwöhr) 1:30, second round; Ronreco Smith (Spangdahlem) def. Kevin Shields (Kaiserslautern) 5-0; Jerrola Jackson (Hohenfels) by RSC over Jermaine O'Neil (Kaiserslautern) 1:38, third round; Wilbert Dixon (Aviano) def. Brandon Wooldridge (Grafenwöhr) 3-2.Heavyweight (201 pounds) — Benito Castillo (Kaiserslautern) by RSC over Teodoro Buno (Grafenwöhr) 1:50, second round; Christian Keane (Grafenwöhr) def. Brett Lambert (Kaiserslautern) 3-2; Phillip Smith (Grafenwöhr) by RSC over Joshua Chaires (Hohenfels), 1:17, second round.Super heavyweight (Over 201 pounds) — Anthony Santiago (Grafenwöhr) by RSC over Nicholas Heinen (Hohenfels) 1:10, first round; Tyler Cagliero (Hohenfels) by RSC over David Robinson (Hohenfels) 1:25, first round; William Wyatt (Hohenfels) by RSC over Alexander Weaver (Spangsdahlem), 1:40 second round.Best boxer — Wyatt (Hohenfels).Uncontested champions — Javier Rodrigueztorres (Stuttgart); Matthew Yard (Ramstein).WomenUncontested champions — Nancy Nogveras and Perla Pedroza (Hohenfels).
---
---
---
---