Football's back in Europe with a few twists
By
Stars and Stripes
September 2, 2022
---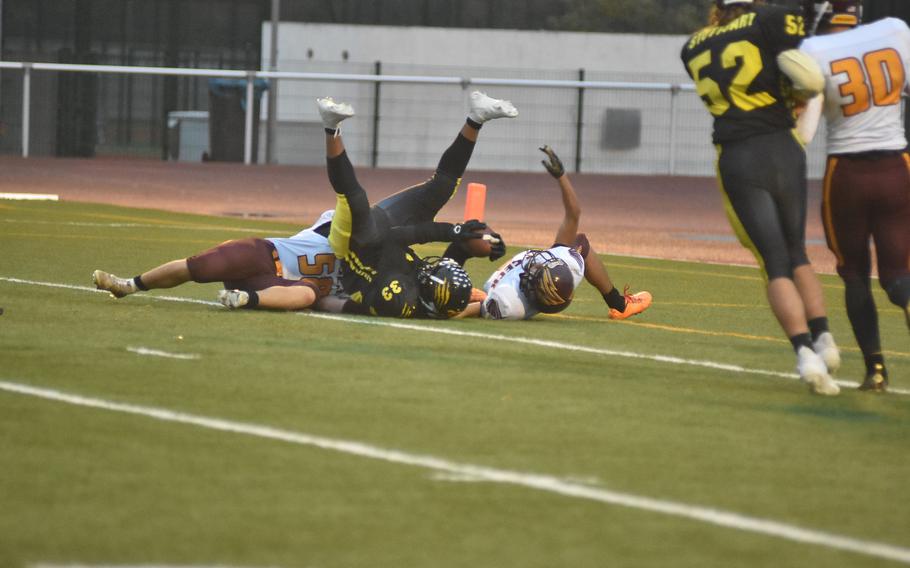 Change is afoot in the only DODEA-Europe sport where schools compete exclusively against peers from the same general enrollments.
Division I football sees two significant changes this year as the organization's six largest schools will be grouped into two conferences – American and National. Kaiserslautern, Stuttgart and Vilseck are in the former and Lakenheath, Ramstein and Wiesbaden make up the latter. Most games will go from the traditional Saturday afternoon slots to Friday nights. The exceptions are those hosted by Vilseck, which doesn't have adequate lighting.
The four-team Division II field features every team playing each other at least twice and games – including the championship – won't be played outside Italy and Spain.
Division III, which plays six-man football, is down to six teams as neither defending champion Baumholder or Hohenfels could field the required 12 players. Several schools might at least tie unofficial DODEA records by playing games in four different countries due to the spread-out nature of the division.
Semifinals in each division will be held Oct. 22 and the finals Oct. 29. The largest and smallest schools will play title games at Kaiserslautern while the top-ranked D-II school hosts the final.
A look at teams around Europe using information supplied by coaches responding to queries from Stars and Stripes:
Division I
Kaiserslautern
The Raiders return 13 players and have had 45 players at practices, which started Aug. 8.
Seniors Jayden Dayao (quarterback) and Isaiah Rodriguez (linebacker) are expected to provide leadership to a team young even by DODEA standards. Other key contributors should include juniors Connor Kelly (linebacker) and Brelan Barnes (defensive back) and sophomores Noah Worthington (receiver/defensive back), Aaron Potter (receiver/defensive back), Myles Steele (linebacker/running back), Freeman Allen (offensive/defensive line) and James Oberg (offensive/defensive line). Sophomores Logan Bell, Sevastian Quiles and Erich Fielder transferred in.
Lakenheath
The Lancers have 17 players returning and 48 on the roster. Junior quarterback Nico Marchini, senior linebacker Gavin Idelman, junior wide receivers/defensive backs Tyler Bane and Brian Miles, senior running back/linebacker Ryuu Flynn, and senior lineman Tyler Martin are all expected to be key contributors. Senior lineman Tyler Mann transfers in from the states, junior lineman/linebacker Witt Hennig moves in from Stuttgart and junior Sophia Yorko will handle kicking duties.
Due to COVID-19 restrictions, Lakenheath only played against British clubs and smaller DODEA foe Alconbury a year ago.
Stuttgart
A dozen starters return from last year's championship team and three others saw action, though the Panthers are only fielding a squad of about 35. On offense, senior Caiden Ray returns at quarterback as does Trenton Jackson at running back (also linebacker) and junior Jace Holmes at wide receiver. Jacob Lewis is expected to anchor the defensive line and fellow senior Ian Lewis is in the defensive backfield. Josh Zipperer, a senior transfer from Pennsylvania, is expected to play on both sides of the football.
Vilseck
The Falcons, who finished runner-up to Stuttgart a year ago, actually have a few more players on the varsity squad than the Panthers. But they won't be fielding a junior varsity team. Twenty of the 37 players on the roster were on last year's team, though the Falcons lost a host of key senior starters.
Vilseck might be strongest on the line, offensive backfield and at linebacker, led by seniors Owen Brewer, junior Garrett Hyten, sophomore Tameko Richardo and senior Justin Barnes. Senior Gabe Morell is the top returning defensive back. Junior transfers Junior Gonzalez and Simon Poveda will help make the defensive line a strength.
Wiesbaden
Sixteen returners head a squad of 28 players on the Warriors roster. That list includes seniors Abner Elias (receiver) and Adam Gomes (running back) on offense and senior linemen Andrew Meno and Desean Marshall and sophomore safety Munro Davis on defense. Lineman John Ruland transferred from Kaiserslautern.
Division II
Naples
The Wildcats have 16 back from a year ago among a roster of 36 players. They'll depend a lot on seniors Matteo Toliver (running back/linebacker), Gary Oliver (running back/linebacker), Chris White (wide receiver/cornerback), Marcus Wilson (wide receiver/linebacker) and Jack Thomas (line). Cameron Collins (receiver/defensive back) transferred in from Georgia after the season ended.
Vicenza
The Cougars have a dozen players return from a year ago, but will rely on twice as many first-time players. Vicenza is set to stick with a ground-first approach on offense and gang tackling on defense.
Division III
Alconbury
Seven of 16 players return from a year ago. Seniors Daniel Blackburn (running back/quarterback/defensive back), Hunter Hinsey (cornerback/quarterback) and Mateo Moore (receiver, kicking) and junior Austin Willis (linebacker/running back) head the squad, which also features two state-side transfers new to six-man football. Due to coronavirus restrictions, the Dragons only played D-I opponent Lakenheath a year ago.
Brussels
The Brigands have 10 returners from a 15-man roster. Key players include senior running back/linebacker William Pierce, sophomore running back/linebacker Sawyer Ter Horst, freshman quarterback/defensive back Wilson Stewart and senior running back/defensive lineman Jabriel Wells. Ter Horst transferred from Kaiserslautern. Brussels also features a new coaching staff.
Sigonella
The Jaguars have four players from last year's team that competed against larger teams in Italy and a new coaching staff. Jack McKown is the only senior on the 21-person roster that features 10 freshmen. Other returners include juniors Ricardo Almaguer, Isaac Amaro and Jordan Lowe.
Spangdahlem
The good news for the Sentinels? Eighteen players are on the roster. The bad? Only two played last year as 12 seniors graduated. Casey Supinger (quarterback/linebacker), Markario Drummond (running back) and Robert Leggett (receiver/defensive back) are among those to watch.
SHAPE
The Spartans don't play a DODEA schedule. The American Football International League also features former DODEA sports stalwart International School of Brussels, three Belgian club teams and two clubs from the Netherlands.
SHAPE does boast a sizeable roster of 39, including four who started last year and six others who played. Junior Brody Wellington returns at quarterback after passing for more than 900 yards and 10 touchdowns in six games a year ago. Senior Ethan Barden (slot/linebacker) and Thomas McCabe-Hefner (line) and junior Panagiotis Kostoulas (line) also started. Sophomore Jaime Munoz-Delgado (receiver/defensive back) and transfers Keller Schutt (receiver/defensive back, Virginia) and Will Bush (line, Naples) will play key roles this season as well.
---
---
---
---