Stars shine as Raiders, Warriors win team titles
By
Stars and Stripes
May 21, 2022
---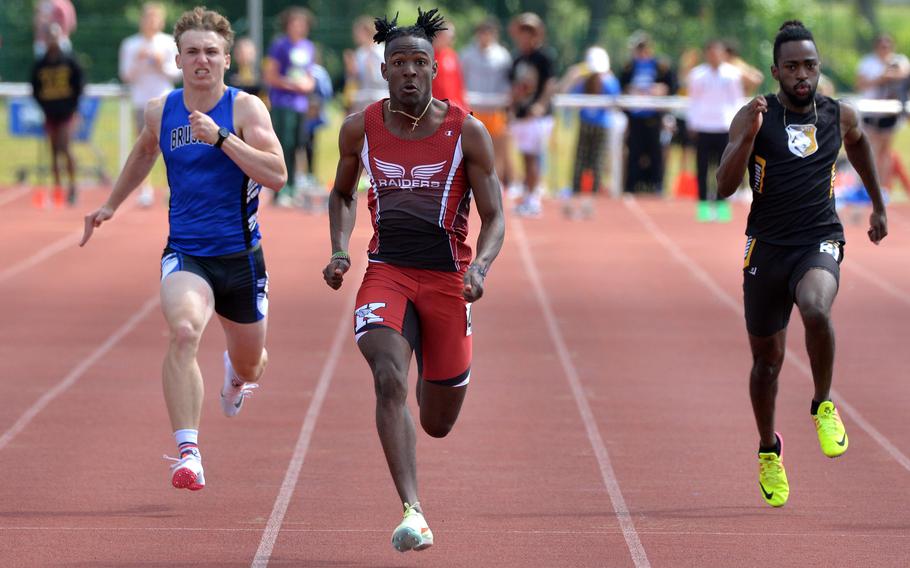 KAISERSLAUTERN, Germany – When Stuttgart was announced as Division I boys' runner-up at the conclusion of the DODEA European Track and Field Championships on Saturday, Kaiserslautern erupted in the loudest of cheers.
The team standings were so close that the Raiders didn't know they had won. The final tally: Kaiserslautern 126.5 points, followed by Stuttgart with 125. Ramstein was third with 72 points.
"It almost came down to the last race," said Kaiserslautern head track and field coach, Amy Mathews-Soto. "We really didn't know, and I think that's why you saw the reaction from the kids."
The team's tight group of seniors were freshmen in 2019, when the Raiders also won; it was pre-pandemic, the last time Europeans was held with spectators and other teams from across Europe.
"They have just been chomping at the bit to be together like this, in front of everybody, in our home," Mathews-Soto said. "It's really special."
Leading the way for the Raiders was senior Larry Haynes, who dazzled in the sprints on the way to winning individual titles in the 100- and 200-meter dashes and anchoring Kaiserslautern's winning 4x100 relay team. Haynes, a senior, was named the meet's most valuable player for the boys in running events.
The last time Europeans was held on the track, Haynes was a freshman and finished 11th.
"Coming back here to be able to get (first places) just feels good," he said.
Haynes also anchored Kaiserslautern's 4x400 relay, which came up just short against Naples in one of several thrilling races decided by less than a second.
Naples' Cameron Collins nipped Haynes at the finish, catching him down the stretch after Haynes charged ahead on the first curve.
"Mentally, I just knew I had to catch him. I couldn't allow him to win everything," Collins said, adding "he deserved it, he's a great athlete."
Collins also ran an 800 to anchor Naples' winning 1,600 sprint medley, a race that was so close instant replay had to be reviewed to determine the winner. Collins, along with Robert Oliver, Keshawn Holland, and Christopher White edged Kaiserslautern by a whisker: 3:46.43 to 3:46.49.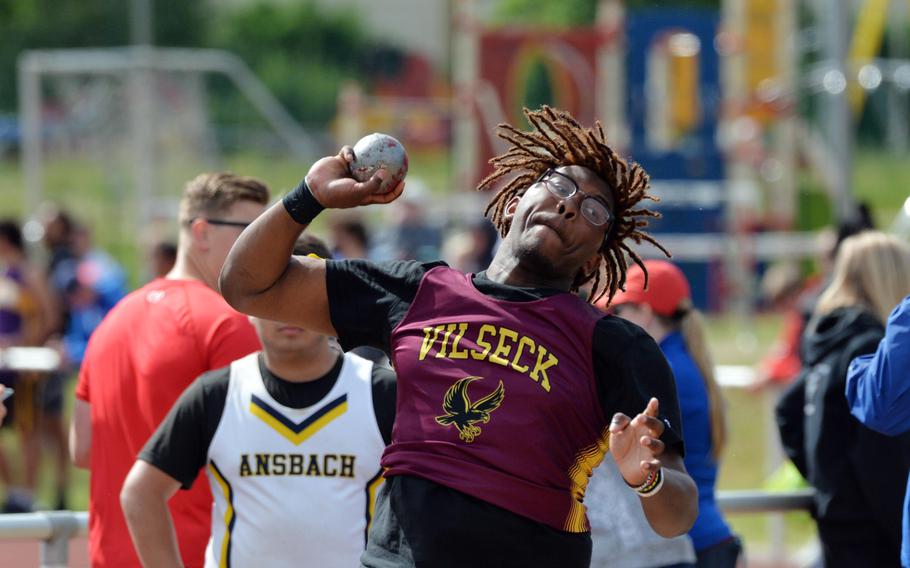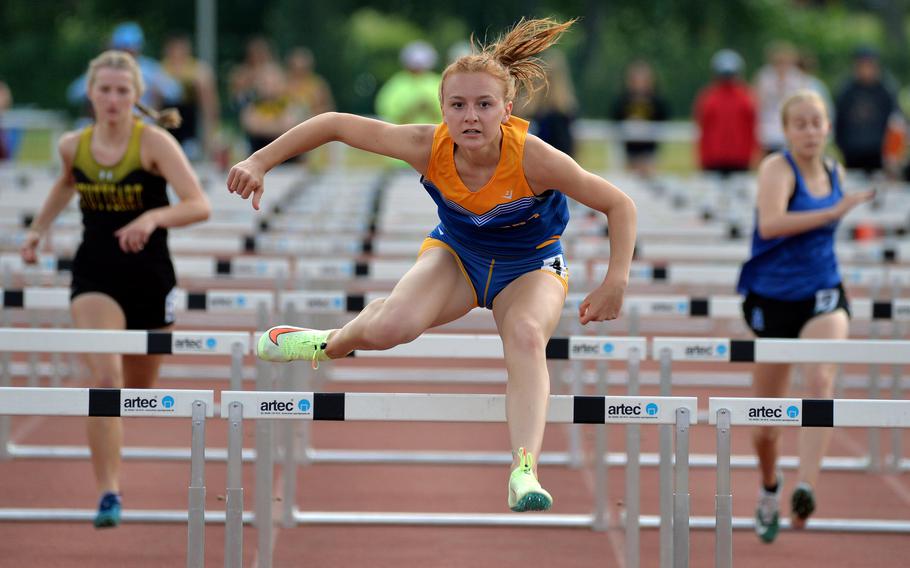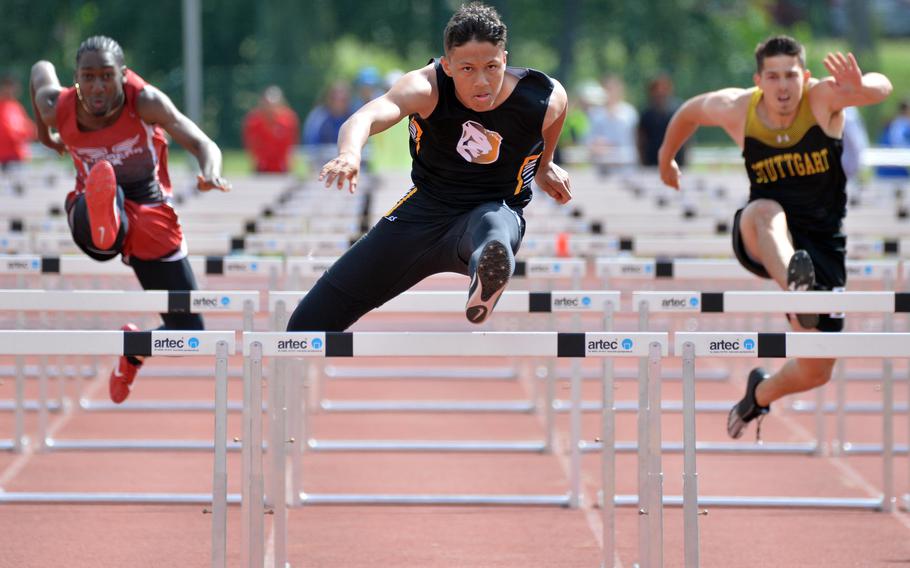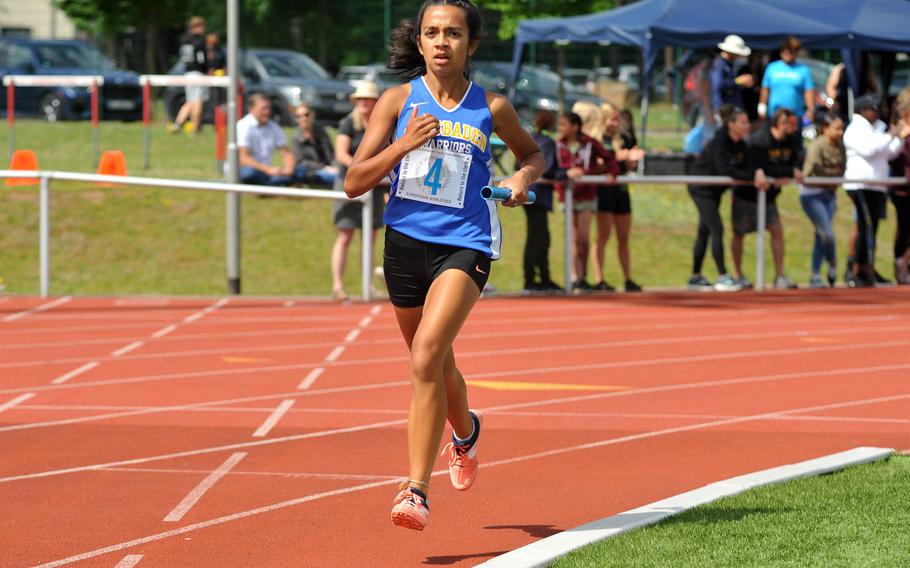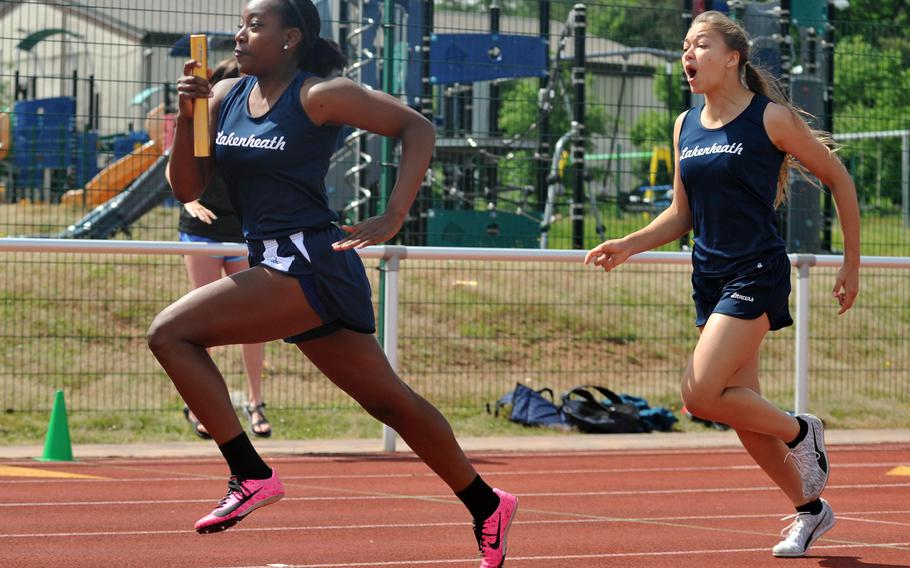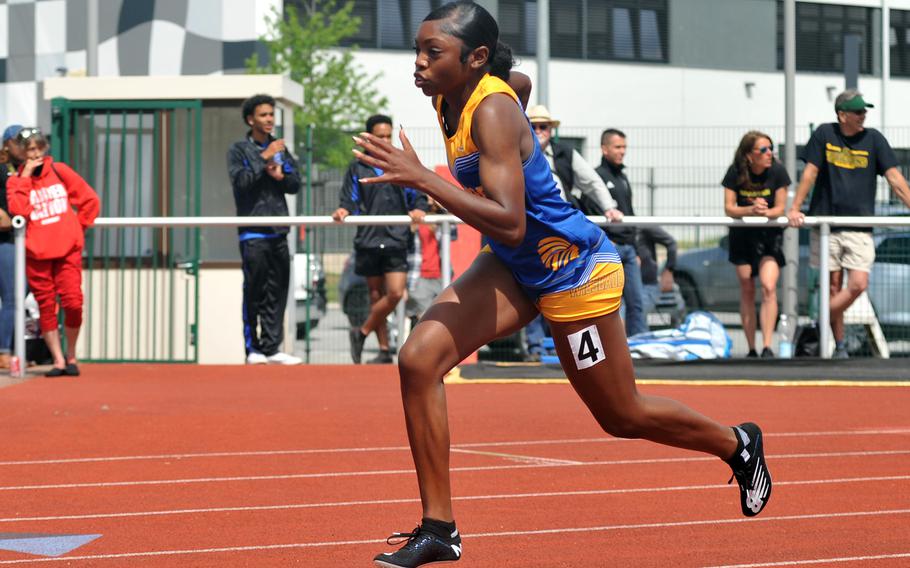 On the girls' side, Division I Wiesbaden topped the rest of the field with 104 points. Stuttgart was a distant second with 87.50, followed by Kaiserslautern with 74 points. Sophomore sensation Makiah Parker was unbeatable for the Warriors. She took the 100, 200 and 400 and anchored Wiesbaden's winning 4x400 relay team.
Parker was especially dominant in the 400, where she was the only runner to get under one minute. Her time of 58.92 fell short of the 2018 European record of 57.28 set by Kaiserslautern's Jada Branch.
"I felt pretty good," Parker said of the 400, despite not having fresh legs; it was her seventh race in two days, including Friday's preliminaries.
Parker was named the meet's MVP for the girls in running events.
Wiesbaden junior Ava Stout also had a stellar meet. She won the 100 and 300 hurdles and was part of the Warrior's winning 4x400 relay. In the 300, her time of 46.94 was nearly four seconds ahead of Stuttgart's Cassidy Warren.
The Warriors showed their versatility with a surprise win in the girls' 3,200 relay. The team of Kendall Kaloostian, Madeleine Strabala, Bryce Watts and Diba Bhuiyan catapulted from the fifth seed and knocked nearly a minute off their qualifying time to clock 10:43.66.
Stuttgart's Ella Bishop closed the gap on Wiesbaden, running anchor for her team. But she couldn't catch Bhuiyan before the finish line.
Bishop came back later in the day to win the 3,200 in 12:04.59.
The Lakenheath girls took the 4x100. Sonja Dexter, Ciara Butcher, Shovonda Jones and Makayla Whitfield clocked 51.74, putting together what they called a perfect race to edge Sigonella.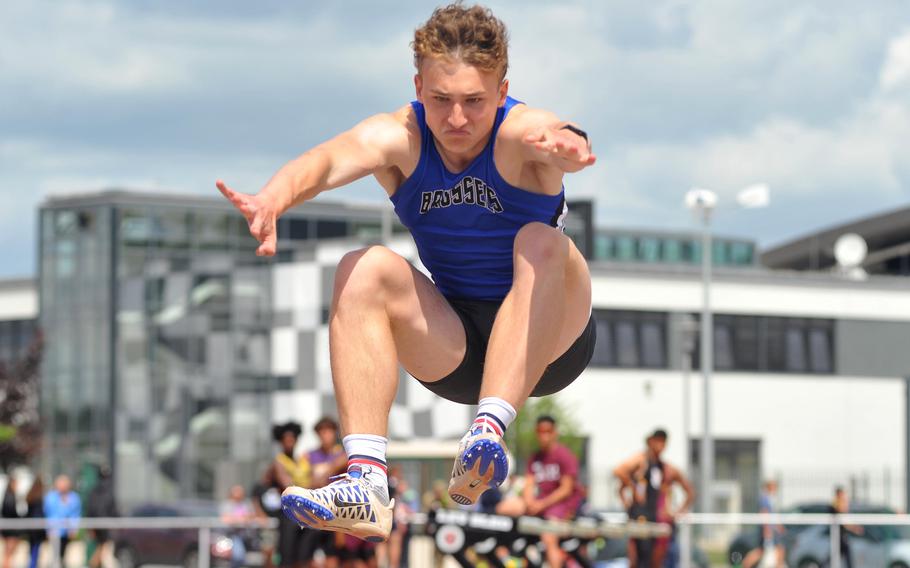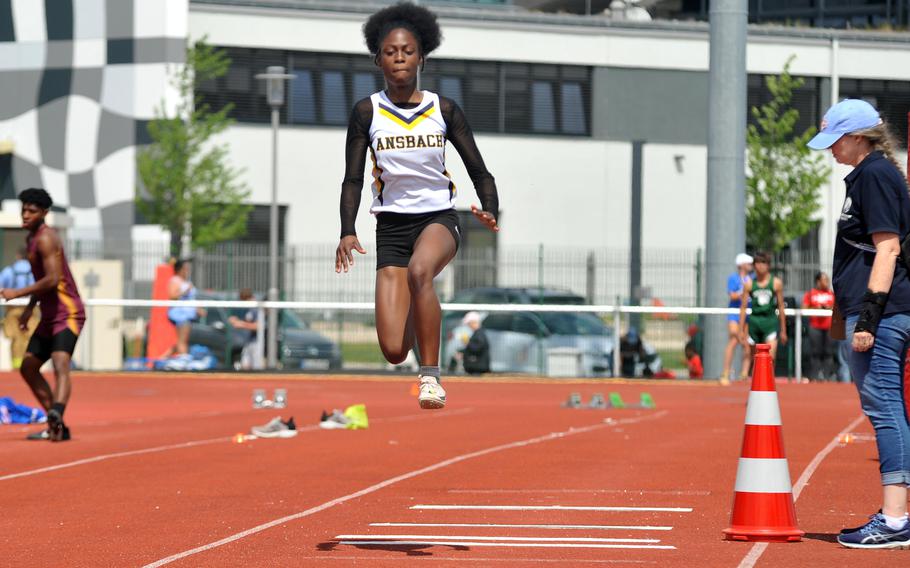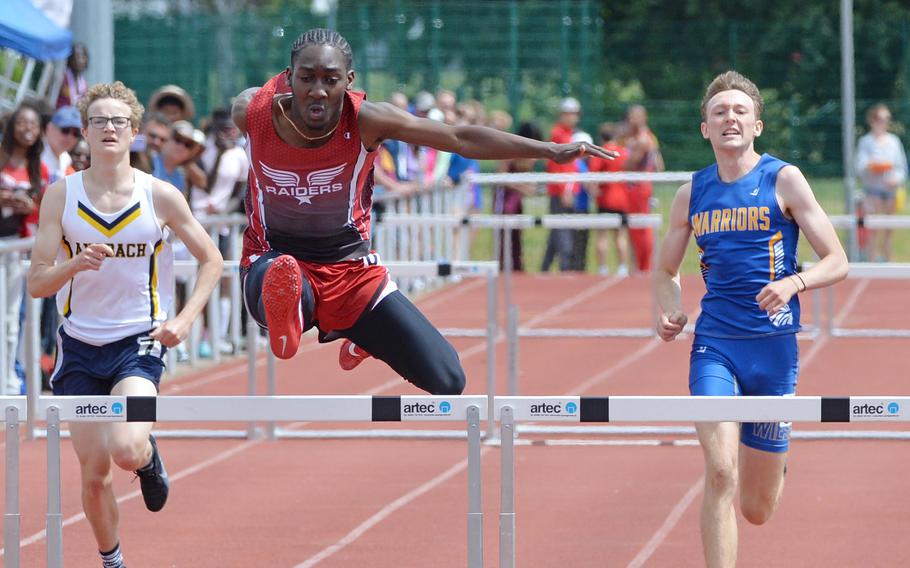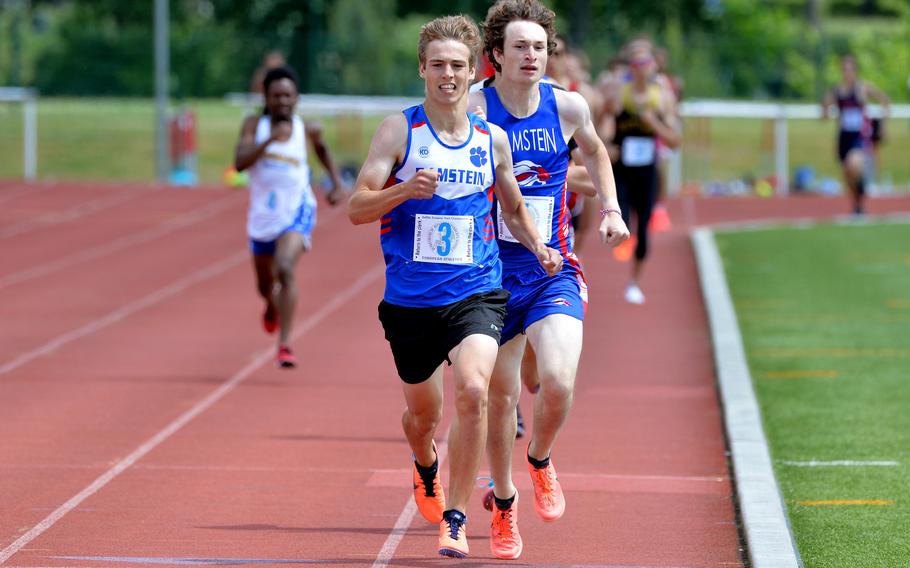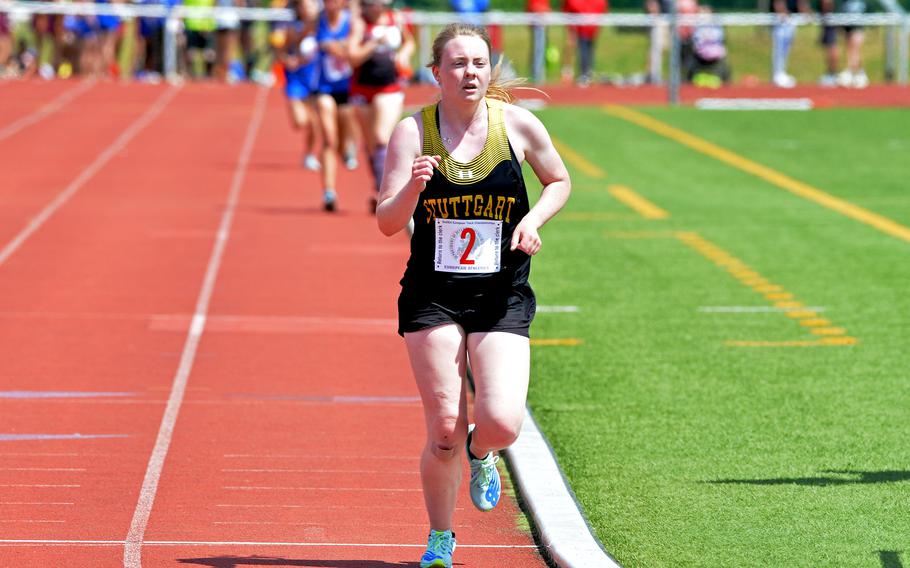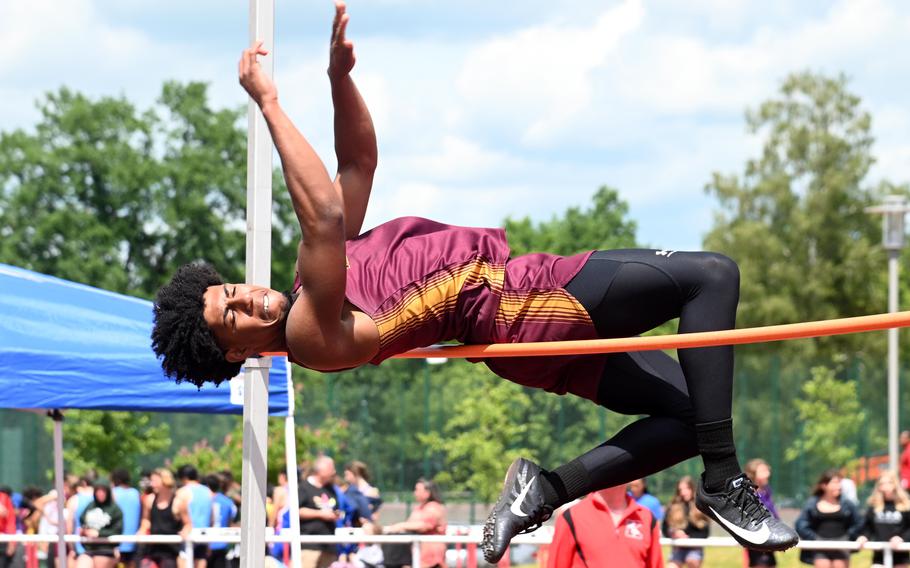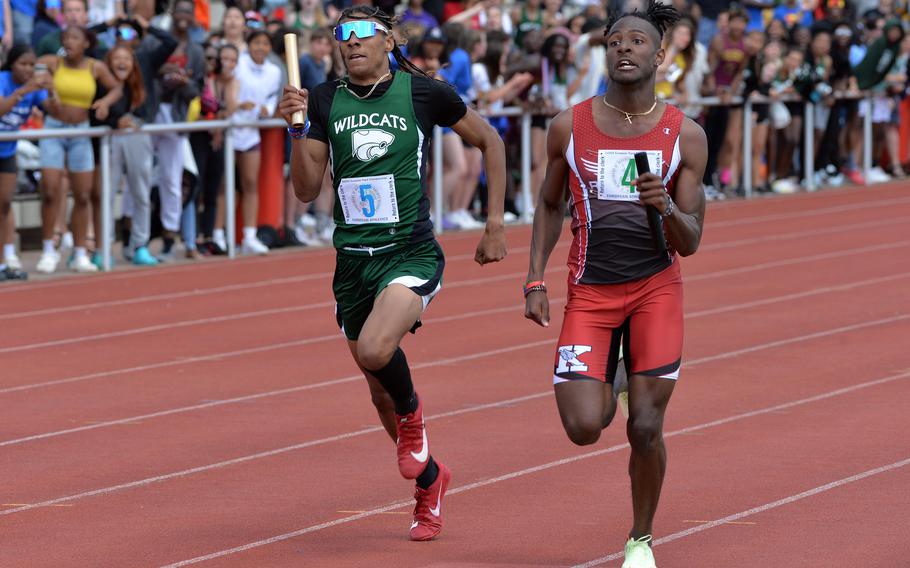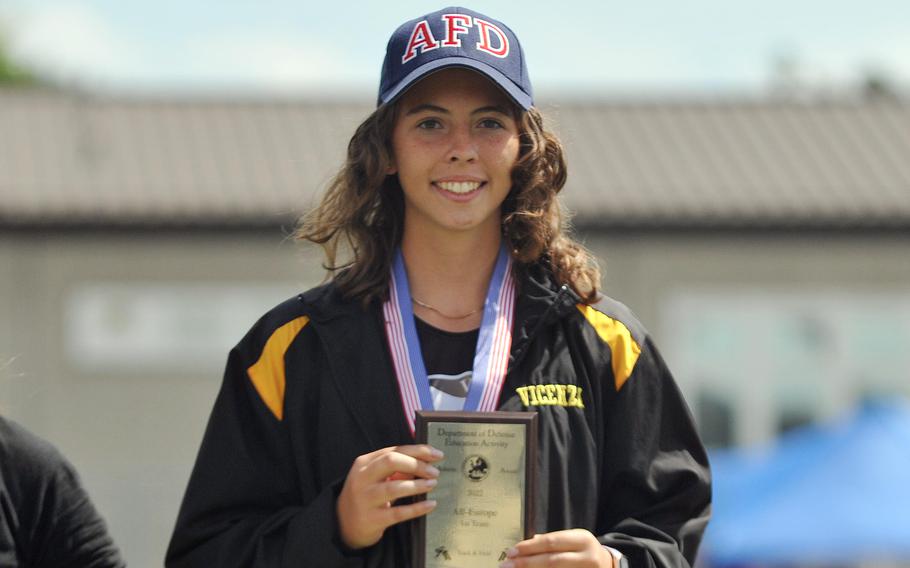 Ansbach's Tamia McLaughlin added to her medal collection with a win Saturday in the triple jump, a day after she won both the long jump and high jump. She also finished third in the 200. She earned MVP honors for girls in field events. Her performance helped boost Ansbach to the Division III girls' team title.
Brussels' William Pierce garnered the MVP for boys in field events. The junior won the triple jump and long jump and finished second and third in the 200 and 100, respectively.
The only European record to fall during two days of competition belonged to Wiesbaden's Elijah Smith in the 3,200. After setting the new mark of 9:44.64 on Friday, in a race that came down to the last 100 meters in a ferocious sprint with Stuttgart's Carter Lindsey, Smith's finishing kick was tested again Saturday in the 1,600. This time, Kaiserslautern's Brandon Seyler was the challenger. Smith held off Seyler's late charge to win by less than a second in 4:31.64.
"It was tough," Seyler, a junior, said after the race. "I thought I could get Elijah on the last 200 but he was too good."
Ramstein senior Gideon Zaugg slugged it out with Smith and Seyler in the 1,600 and 3,200. He faced them again in the 800, where he finally found his winning stride. Zaugg ran a 2:00.82 for gold, beating teammate Max Furqueron by less than a second.
"This is what I've been looking forward to back since middle school," Zaugg beamed after the race. "It's a dream come true."
The 800, he said, is his favorite race, "the best mix of sprint and distance there is."
In the 400, Stuttgart's Donald Wilson won a close race in 51.63 to edge Kaiserslautern's Kevan Williams.
In the boys' 110 hurdles, junior Zach Denton won by several strides in 15.39 seconds in his first year running for Vicenza. He was also second in the long jump.
The outcome of the boys' 300 hurdles was a lot closer. Kaiserslautern's Jerrell Thomas beat teammate Diamond Simons, 42.90 to 43.22. Simons, who won preliminaries on Friday in 42.74, took it in stride.
"He may have gotten first but he didn't beat my time," Simons joked with Thomas. "It was fun. We had a good time."
Vicenza's Jewlya Arrington added a European title to her resume after winning the discus a year ago at the Far East championships in Asia.
Arrington's winning toss of 101 feet, 9 inches was more than 10 feet farther than runner-up Sage Barnes of Kaiserslautern. Barnes won the shot put Friday.
Other new faces on the podium were newcomers to field events.
Baumholder senior Jovan Velasquez cleared 6-1 to win the high jump in his first outdoor track season. A basketball star for Baumholder, Velasquez chose the high jump because "it correlates to basketball and I like to jump."
Vilseck's Cam'ron King won the shot put and took bronze in the discus, about six weeks after he first tried the throws. The 6-3, 265-pound former sprinter decided to take advantage of his growing frame. "I was getting a little bigger, I just thought, 'I'm a big dude, I might as well throw,'" he said.
The Baumholder girls took first in the sprint medley after Kaiserslautern was disqualified for impeding another team during a baton exchange, officials said.
Aviano's girls and Naples' boys won the Division II title, while Baumholder won in the Division III boys category.
---
---
---
---