Opening day of track starts with surprises, predictable wins
By
Stars and Stripes
May 20, 2022
---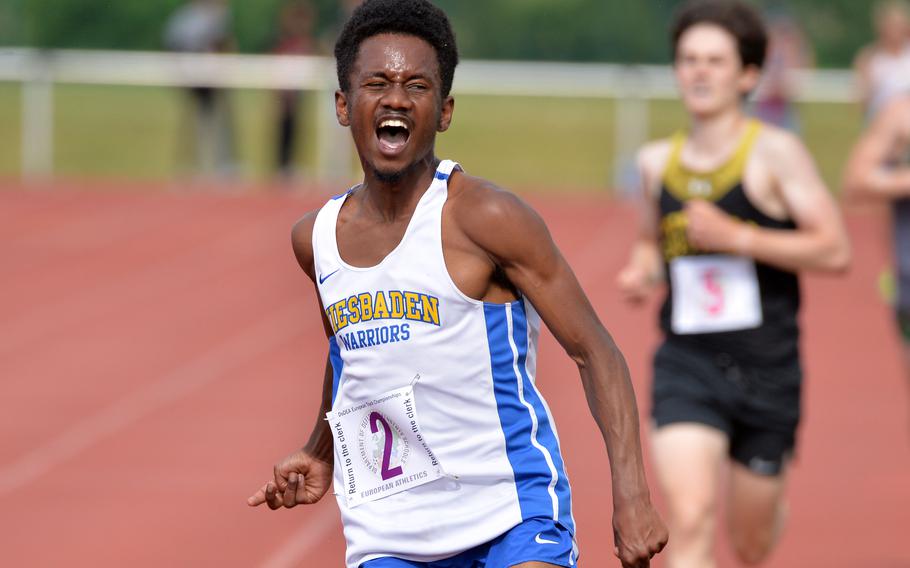 KAISERSLAUTERN, Germany – It felt like old times at the Kaiserslautern High School stadium Friday with the return of the DODEA European Track and Field Championships.
Athletes got to experience the thrill of competition against the best in Europe in front of crowds of cheering spectators for the first time in two years.
Few wasted the opportunity. Wiesbaden senior Elijah Smith looked to be running at a miler's pace when he charged into the lead in the 3,200-meter run with just over four laps to go. He nearly was. Smith set a new European record with a time of 9 minutes, 44.64 seconds, eclipsing the 2019 record set by Ramstein's Dashiell Rogers by nearly five seconds.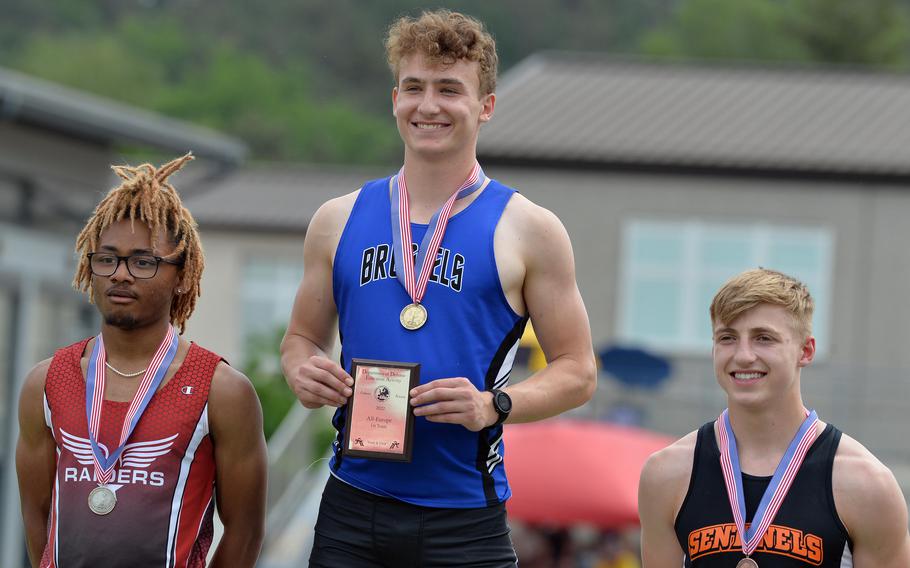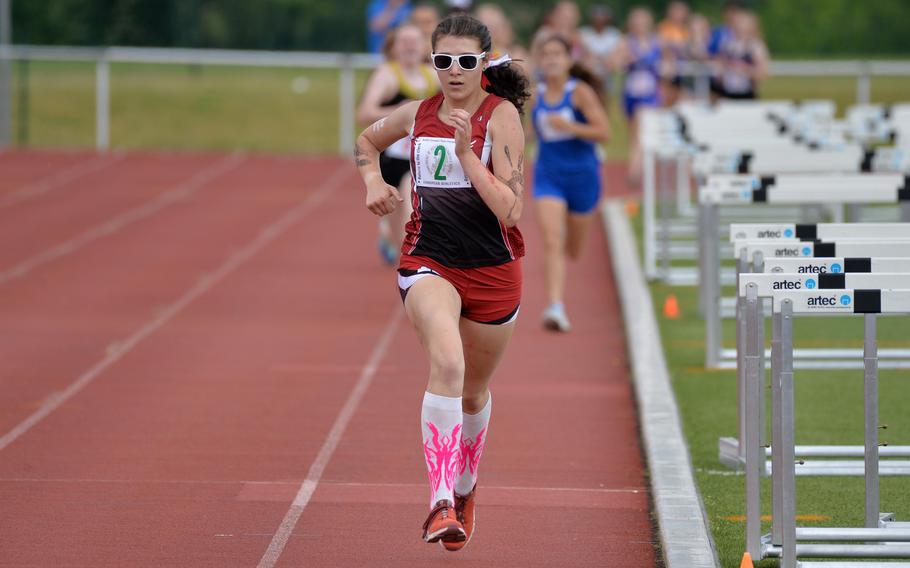 Smith held off a late surge by Stuttgart's Carter Lindsey, who also dipped two seconds under the record, finishing less than three seconds behind. The two battled it out down the final straightaway, with Smith unwilling to yield another title to Lindsey, the reigning DODEA European cross country champion. In last year's cross country championships, Smith took an early lead but couldn't hang on and finished third.
"He tried to kick at the (last) 200," Smith said of Lindsey. "I was ready to roll."
Kaiserslautern junior Piper Parsells was also ready to roll Friday. The junior won both the 1,600 and 800 for the Raiders. Her 1,600 time of 5:21.25 set a new school record, meet organizers announced. In the 800, Parsells posted a 2:25.78 to outpace Sigonella's Amelia Cantwell and Stuttgart's Ella Bishop, who ran 2:31.26 and 2:31.41, respectively.
For Parsells, the younger sister of former DODEA-Europe cross country and track and field champion Grant Parsells, the day was her first real European track meet, she said. Last year, the championships were virtual and two years ago, the meet was canceled.
"It felt really good," she said of competing.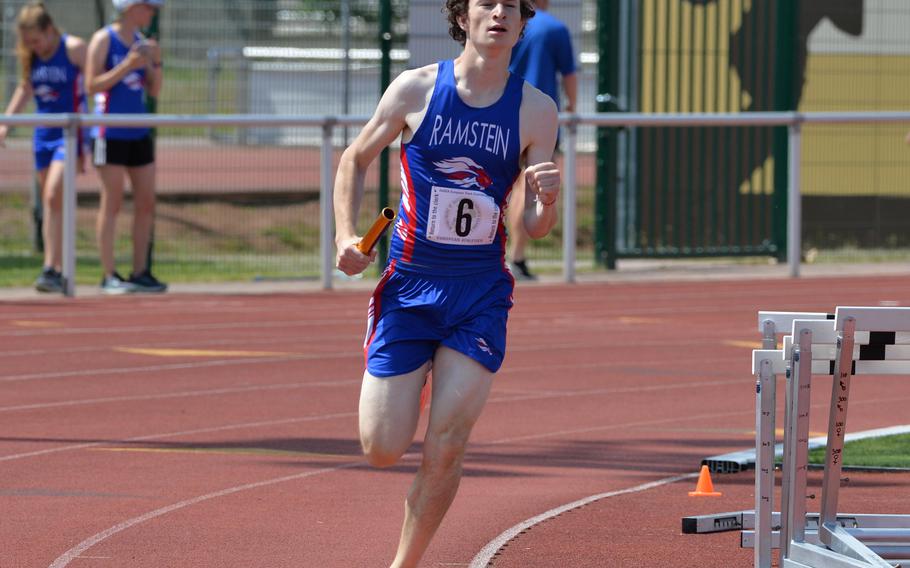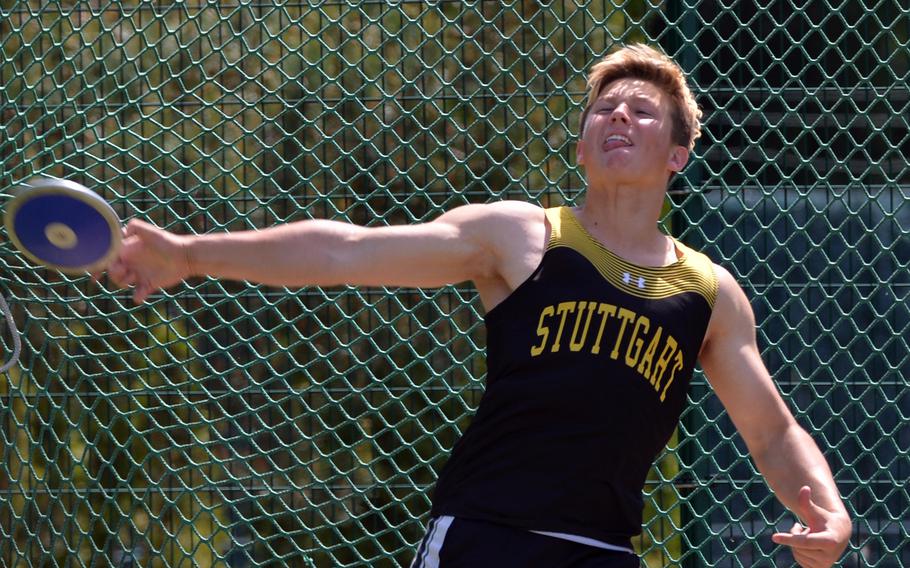 Ramstein fell about two seconds short of a Royal school record in the boys' 3,200 relay. But seniors Jacob Hutton and Gideon Zaugg and juniors Evan Brooks and Max Furqueron were thrilled to have won the relay in 8:17.94, slashing nearly 20 seconds off their seed time and dominating the rest of the field. Runner-up Stuttgart ran 8:35.09, finishing 10 seconds ahead of Aviano.
"We did it last year (for the virtual championship) and we were 100% planning on doing it this year, but I did not think we were going to beat everybody by that much," said Brooks, who opened up a big lead for Ramstein on the second leg.
In the field events, Ansbach junior Tamia McLaughlin¬¬¬¬ grabbed a pair of wins, taking first in the high jump and the long jump. Her long jump victory was extra sweet, as she leapfrogged all the way back from about eighth place in preliminary jumps to nail the winning distance on her second jump in the finals.
"My first three jumps weren't my best," she said. "I came into finals wanting to win."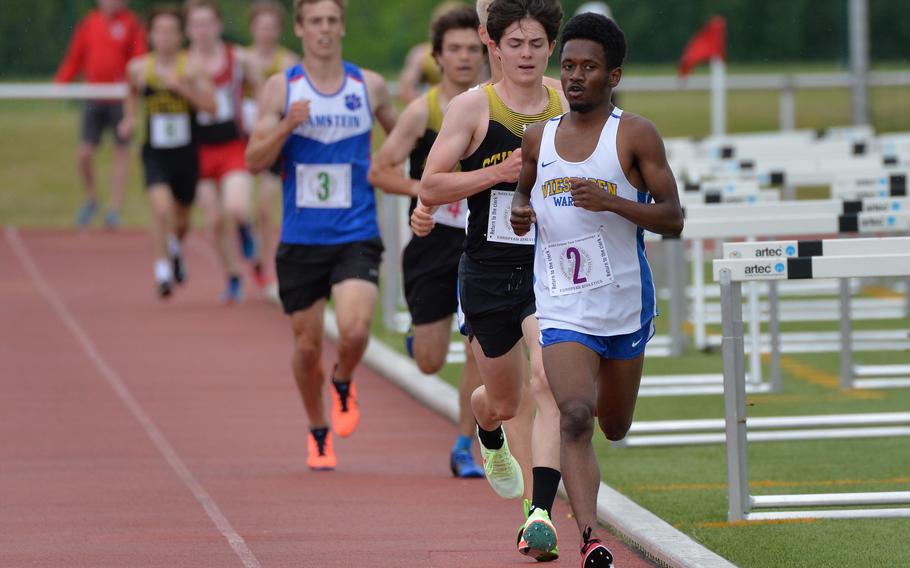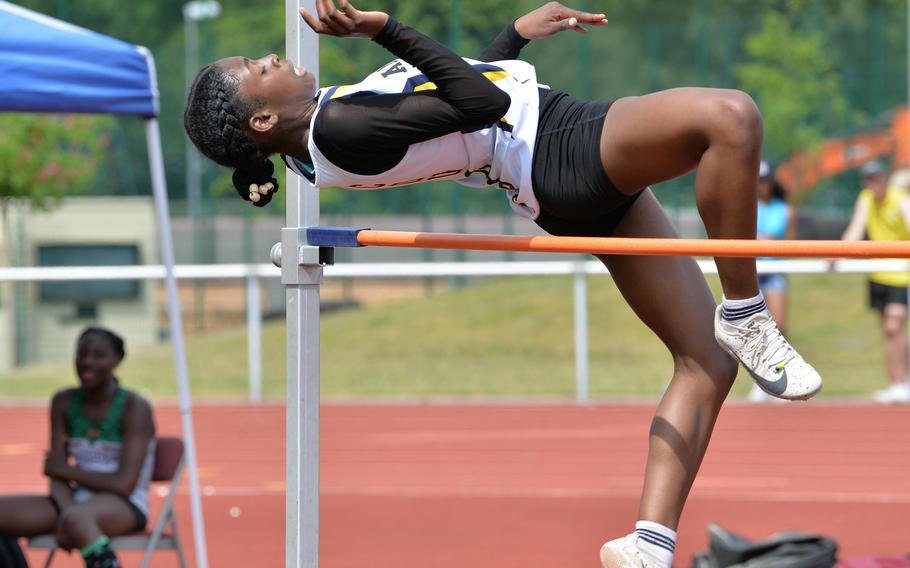 Stuttgart's Jack Gruver also did some leapfrogging, from last year to this year, in the discus throw.
The sophomore finished 18th last year at Europeans in the discus. On Friday, his toss of 118 feet, 1 inch earned him a European title. He wasn't expecting it, with the likes of top seeds Ramstein's Daniel Herbin-Hervig and Kaiserslautern's AJ Evans among the competition.
"I've been practicing really hard all year," Gruver said. "I had a good spin and a good release, which really helped me a lot."
In the girls' shot put, there were no such surprises. Top-seed Sage Barnes of Kaiserslautern tossed a personal record of 31 feet, 7.5 inches for the win. She was pleased to hit those marks despite warm temperatures, in which she typically doesn't throw well, she said, as it can be tough to get a good grip when sweating on the shot put.
"I'm happy to have won on a good day for me," she said.
Brussels junior William Pierce won his first European triple jump title with a leap of 44 feet, 2 inches.
"It feels great to be back," he said, after collecting his medal. "I love the competition. I love all the teams being here and just the environment."
Competition begins again at 10 a.m. on Saturday, for the last and final day of the championships.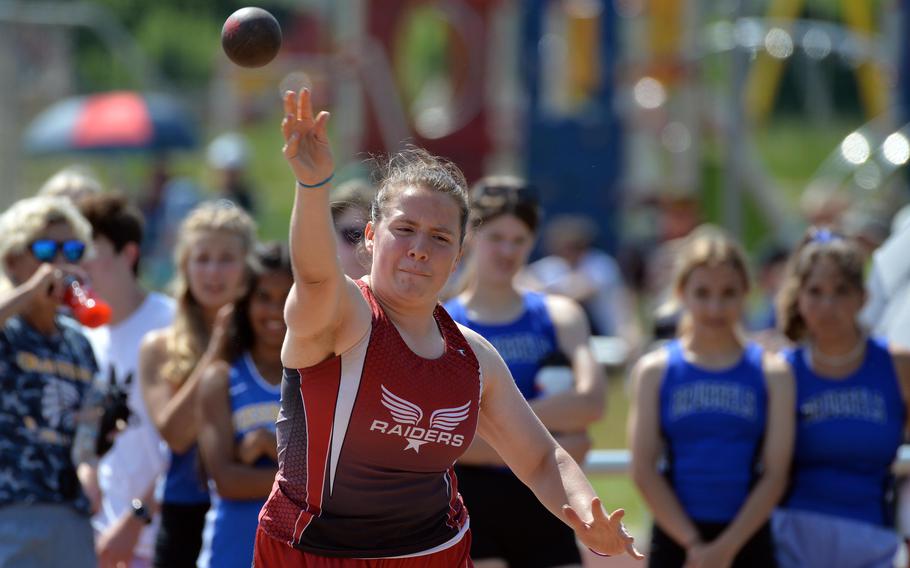 ---
---
---
---