'A good day of wrestling' sets up some eagerly awaited DODEA-Europe matchups
By
Stars and Stripes
February 11, 2022
---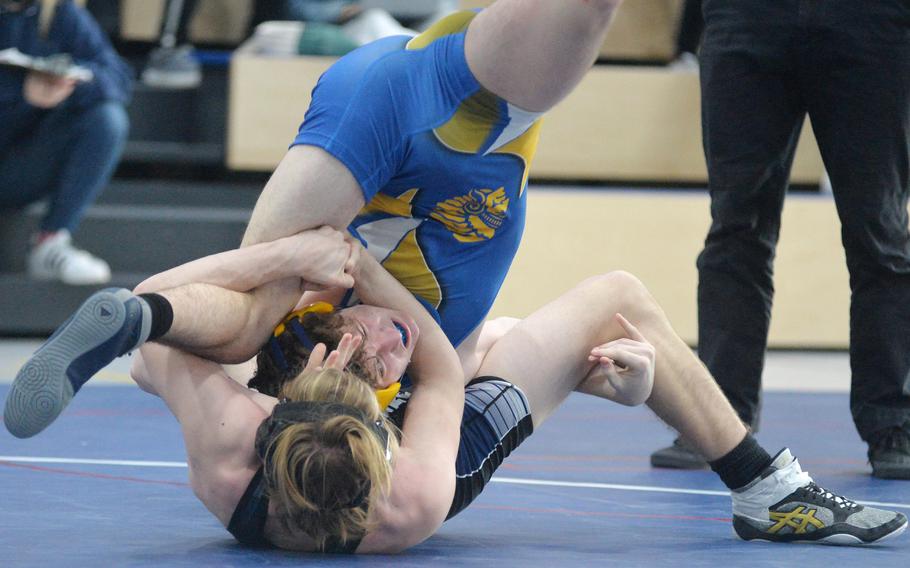 Perhaps the biggest surprise Friday in DODEA-Europe's Wrestling Tournament in Germany was a bracketing quirk that set up a semifinals rematch of two top 132-pound wrestlers who some had been hoping to see square off for the championship.
After the first day of wrestling Thursday, both SHAPE's Zack Call and Spangdahlem's Brenden Castillo were seeded on the same side of the bracket in the 132-pound weight class, meaning that if they didn't get eliminated in preliminary rounds Friday, the best one of them could hope for Saturday would be third place.
Meanwhile, in the upper weight classes, the stage was set for another much-anticipated matchup that would pit a returning 175-pound champion from a "rebuilding" Division I team against an eager Division III athlete who helped build his school's tiny team.
Pending the results of the semifinals round Saturday, Stuttgart senior Christian Just could face Brussels' William Pierce. Just was a Europe champ as a sophomore in 2020, where Pierce placed fifth as a freshman.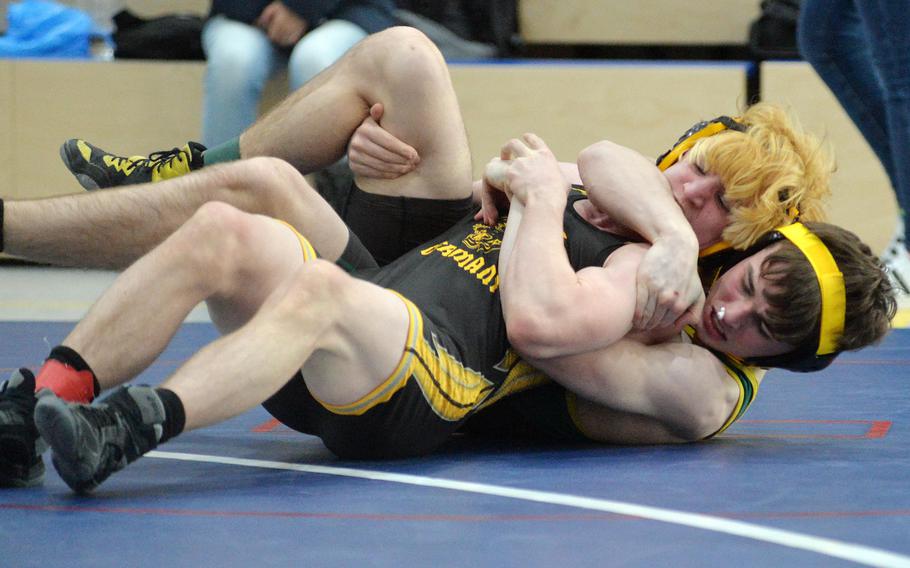 Pierce started the season as essentially the coach for the Brussels team, he said. His principal gave him about four weeks to recruit five teammates so they could have a wrestling squad this year. It went down to the wire, with the sixth member joining the day before the deadline.
"His passion for the sport is pretty infectious," said his father, Scott Pierce, who's on the coaching staff alongside his wife Rebecca Pierce and Andrew Langenstein.
During the regular season, truncated this year by COVID-19 concerns, Pierce picked the brains of other DODEA-Europe coaches, his parents said. He also got help from Jeff Byrd, a soldier in Brussels who volunteers as a coach.
In the first round Friday, Pierce pinned Hohenfels' Stephen Falk. He battled to a 6-1 decision over Wiesbaden's Cesar Meier in his second. He'll face Ramstein's Andrew Hanson in Saturday's semis at Ramstein.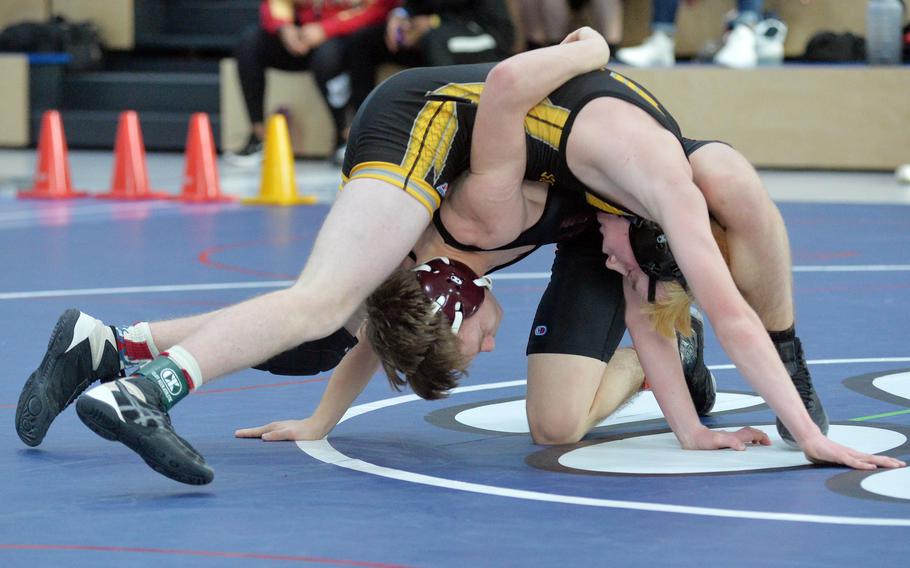 Pierce said he was excited by the prospect of facing Just, pending the semifinal results. The Stuttgart senior got a bye in the first round Friday and pinned Kaiserslautern's Aidan Zollman in the second. He faces Vilseck's Garrett Hyten in the semis.
Just, along with SHAPE's Call and Spangdahlem 138-pounder Carson Hicks, are possibly the best three wrestlers in Europe, Ramstein assistant coach Chad Horne said.
Castillo, who placed fifth at the 2020 championship, is among the wrestlers Stuttgart assistant coach Frederick King said are "exciting to watch." King said the semifinal bout between him and Call was one he was looking forward to watching.
It'll be the second time Call and Castillo have gone toe to toe this season. It's likely to be a brawl, as they wrestled to a close decision in a grueling match earlier in the year.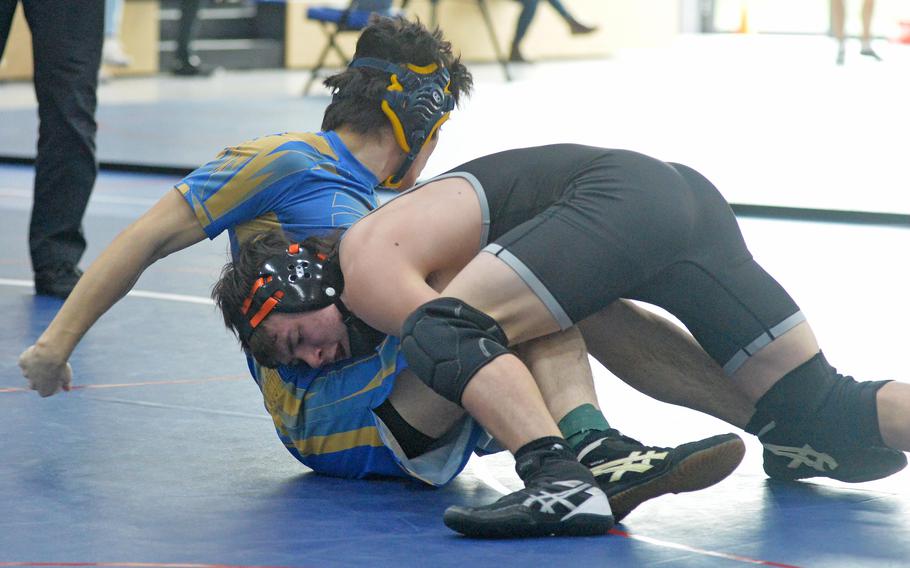 Call wrestled both Hicks and Castillo in that earlier meet, narrowly losing to the former and defeating the latter, SHAPE coach Barry Bennett said.
Castillo was wrestling up a weight class at 138 pounds at the time and Call has since dropped to 132, said Carson Hicks, who said Thursday he was looking forward to his teammate getting a chance to even the record.
Bennett said he and Spangdahlem's coach Joe Hicks lobbied officials unsuccessfully to reorder the brackets to put Call and Castillo on opposite sides so they wouldn't knock each other out of the competition before the finals.
Aside from the bracket controversy, things went about as expected, said Ramstein's Horne, who said Stuttgart's team - the top program in Europe the last decade - performed strongly. His own squad had a few disappointing losses, which he attributed to youth. But he expected those wrestlers to fight their way through the consolation rounds.
"We really haven't seen many surprises," he said. "But it's been a good day of wrestling."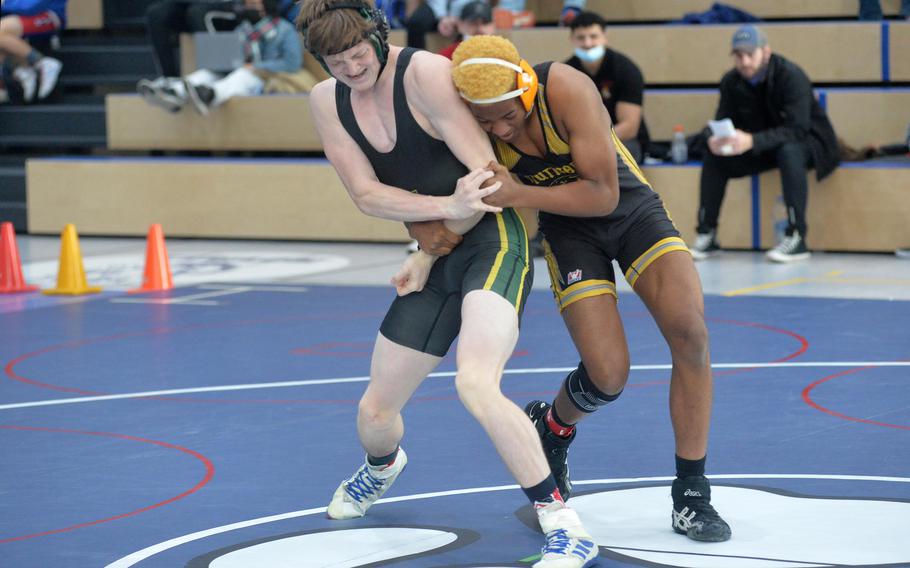 ---
---
---
---