Wrestlers take to mats to see who's best in northern Europe
By
Special to Stars and Stripes
February 10, 2022
---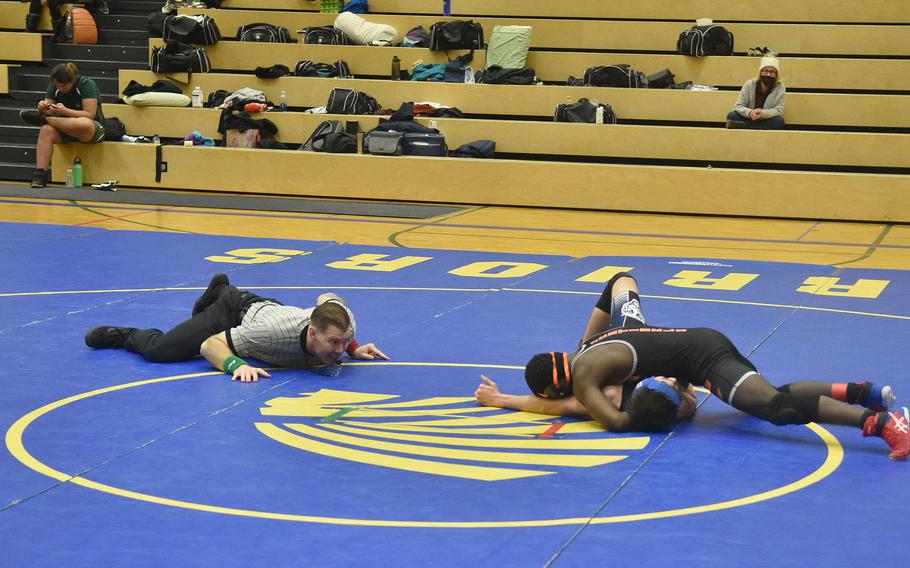 Postseason wrestling returns to DODEA-Europe for the first time in two years this week in the form of a three-day championship tournament in the Kaiserslautern Military Community.
This event, like so many others since COVID-19 took hold in early 2020, will look very different from its familiar pre-pandemic iterations.
The Wrestling Tournament in Germany will run Thursday through Saturday, rather than the traditional two days. It will be spread across facilities at Kaiserslautern and Ramstein as opposed to its former home in the Wiesbaden Fitness Center.
Most notably, it won't include all of DODEA-Europe, as Division II schools from southern Europe won't make the trip to participate. Those schools will square off in Naples on March 4-5.
Such adjustments have become routine since the pandemic disrupted the league's standard operating procedures in March of 2020. Now DODEA-Europe looks forward to an event that, given the vast cancelations that preceded it across this winter schedule, is fortunate to exist at all.
The tournament's headline is again the annual Division I battle between the Stuttgart Panthers and Ramstein Royals. The Panthers' dynasty is approaching a decade, though Ramstein elbowed its way into frame in 2020 as it forced a dramatic tie for the divisional team championship.
This week's action gets underway with preliminary matches Thursday and Friday at Kaiserslautern High School and Ramstein High School. Ramstein takes over as the lone site Saturday, hosting final preliminaries, third-place matches and a slate of 14 tournament championship matches scheduled to start at 4:45 p.m. CET.
Matches are scheduled to be streamed online.
---
---
---
---