DODDS-Europe softball
Different paths, same results for champions
by
Kevin Dougherty
May 28, 2011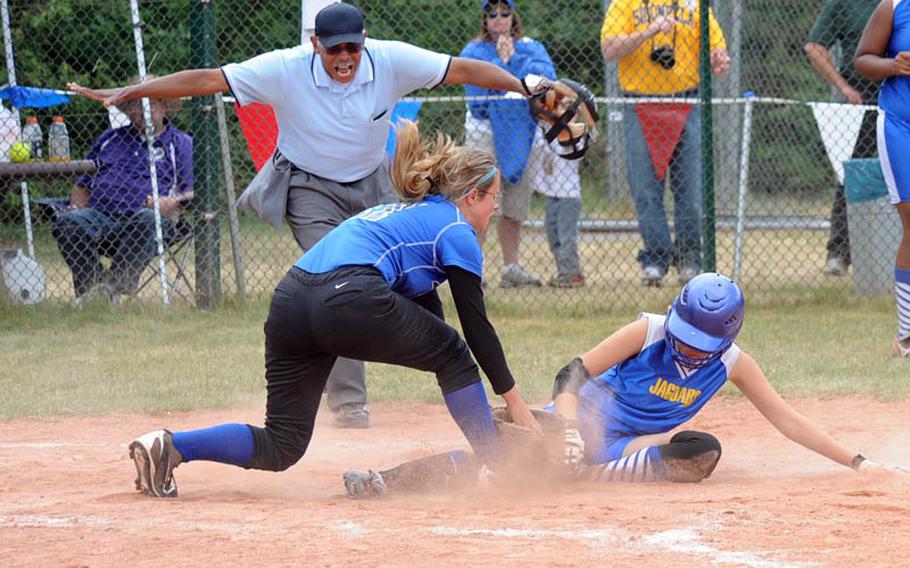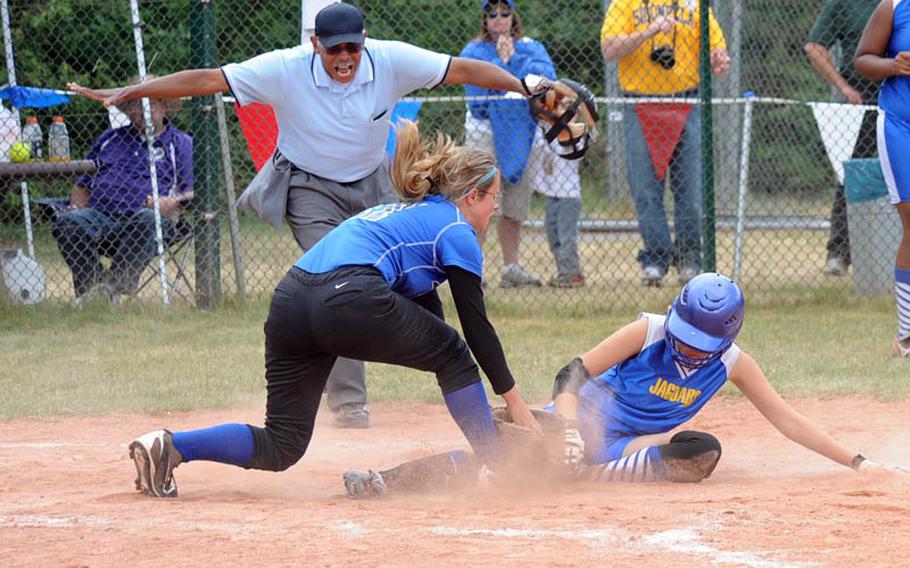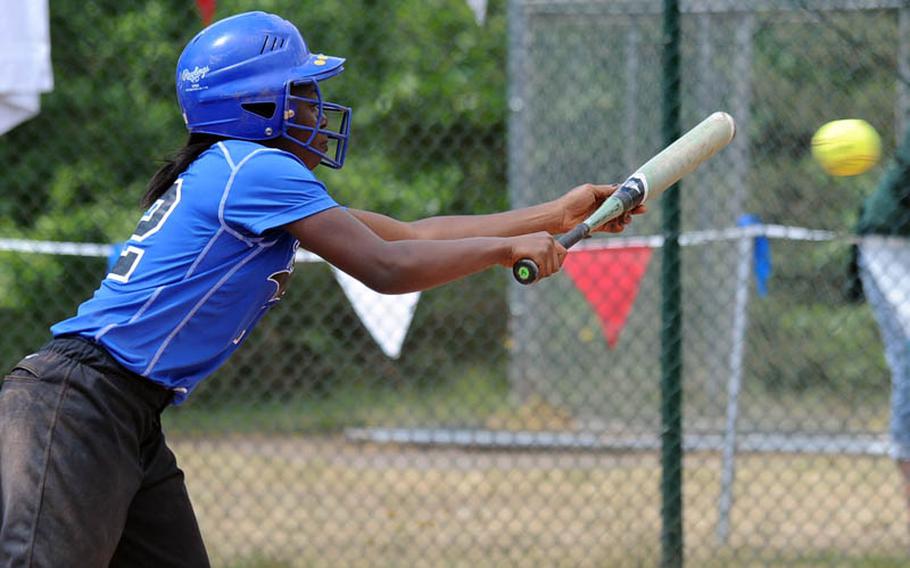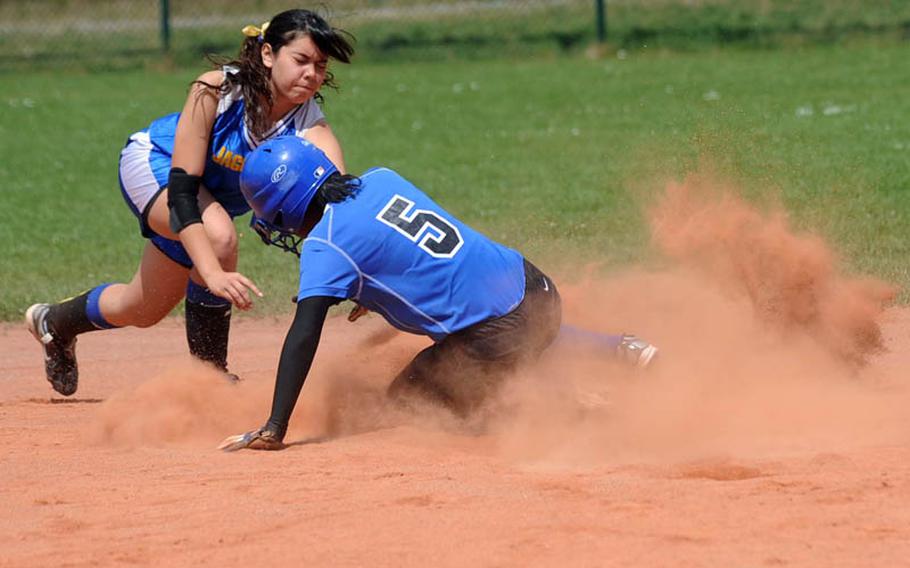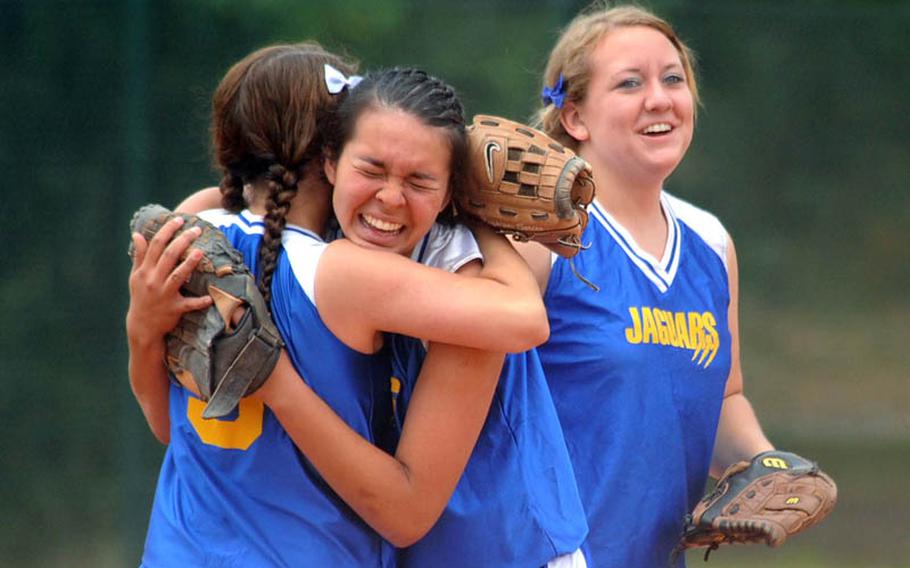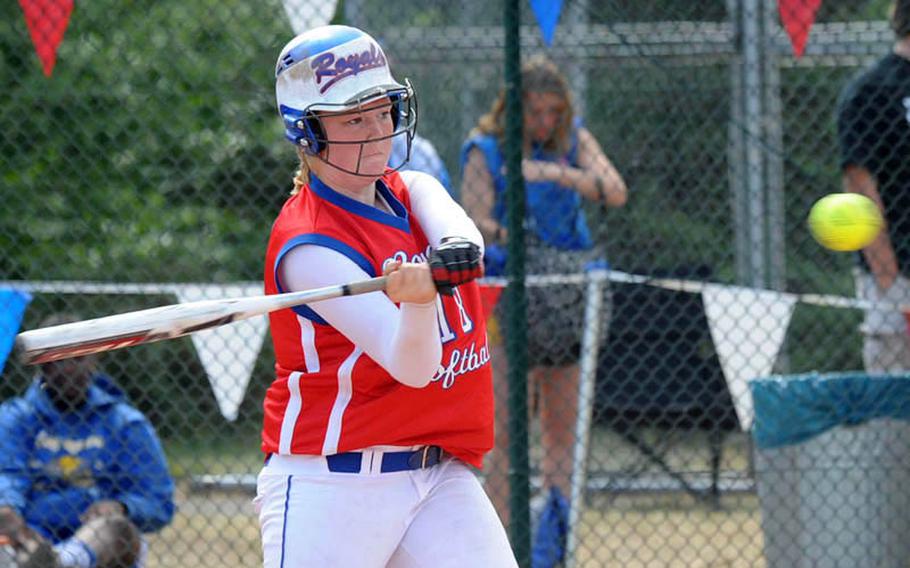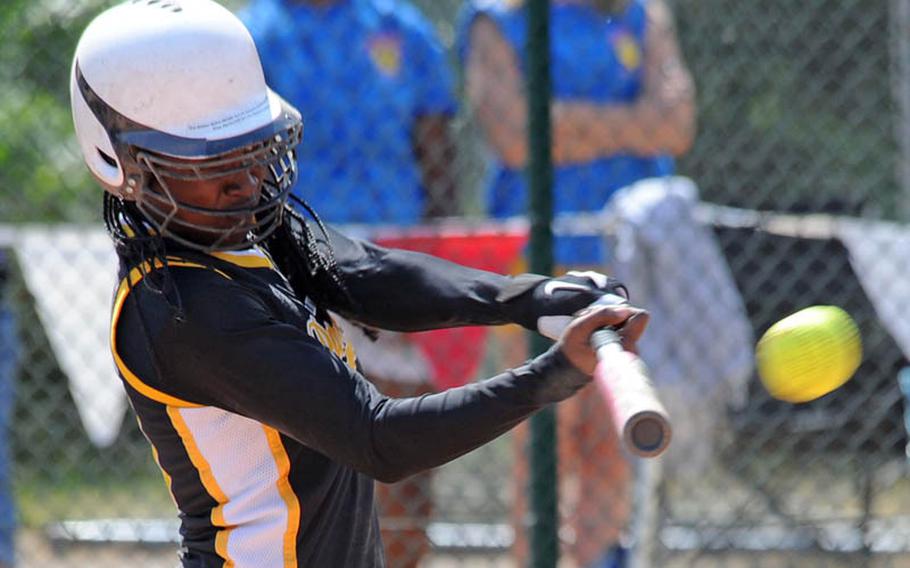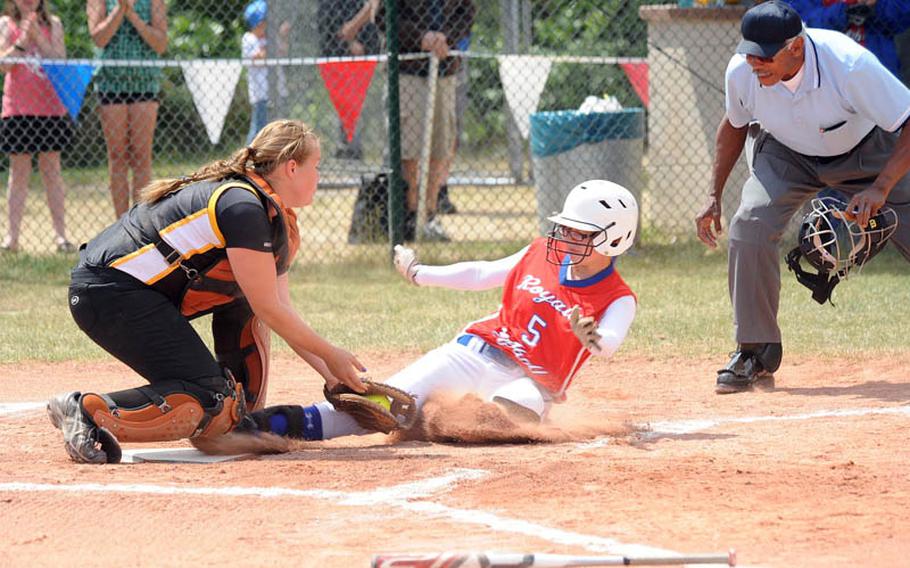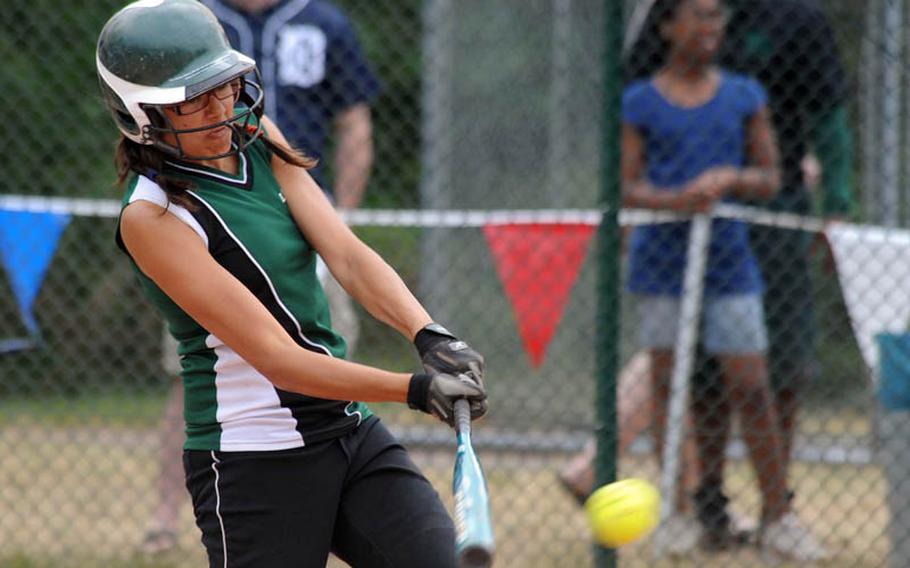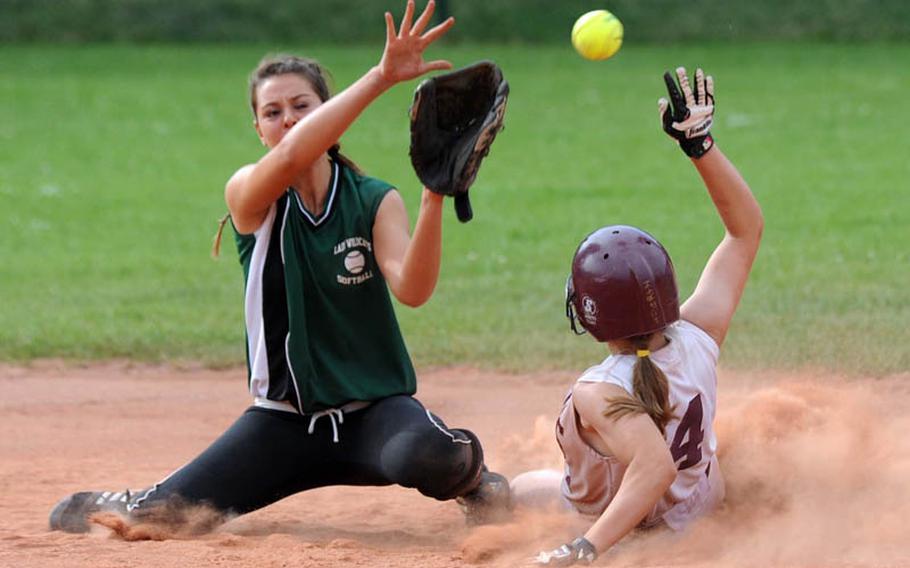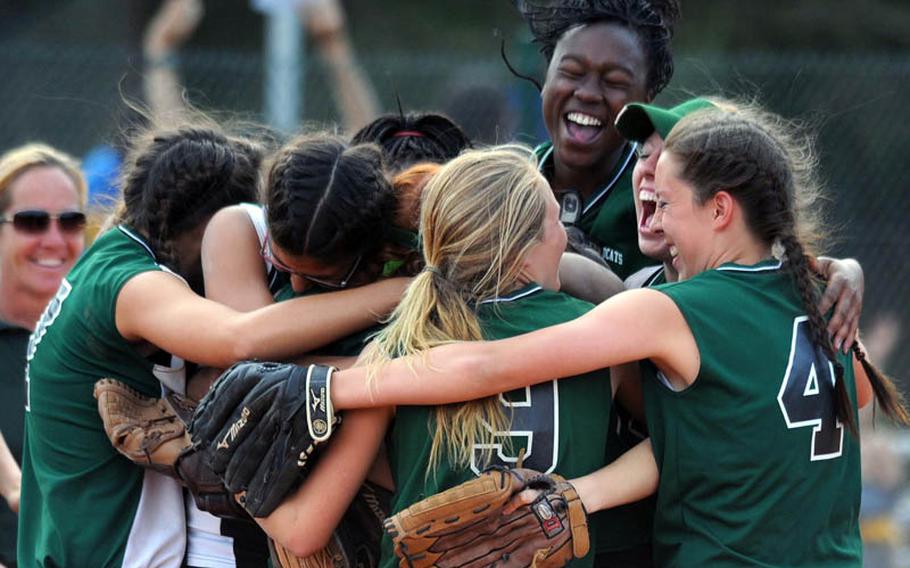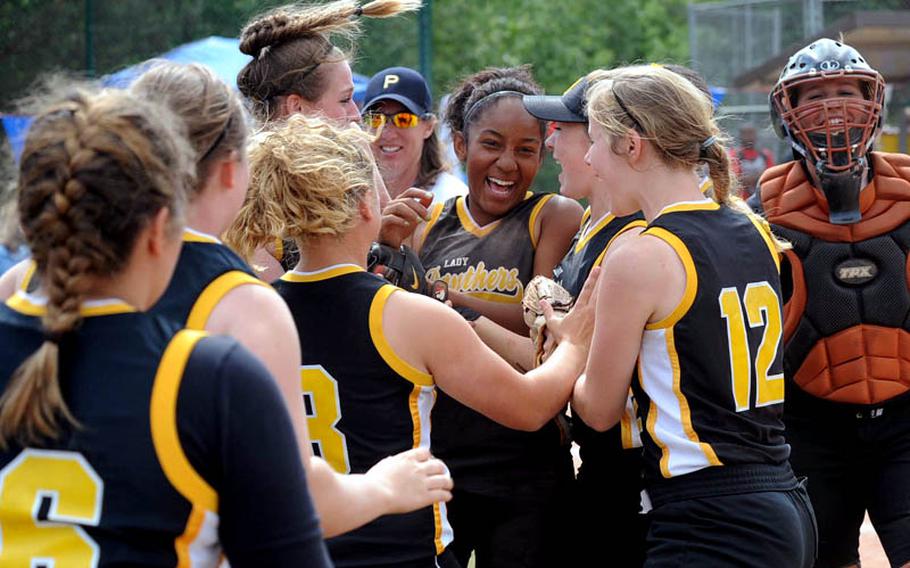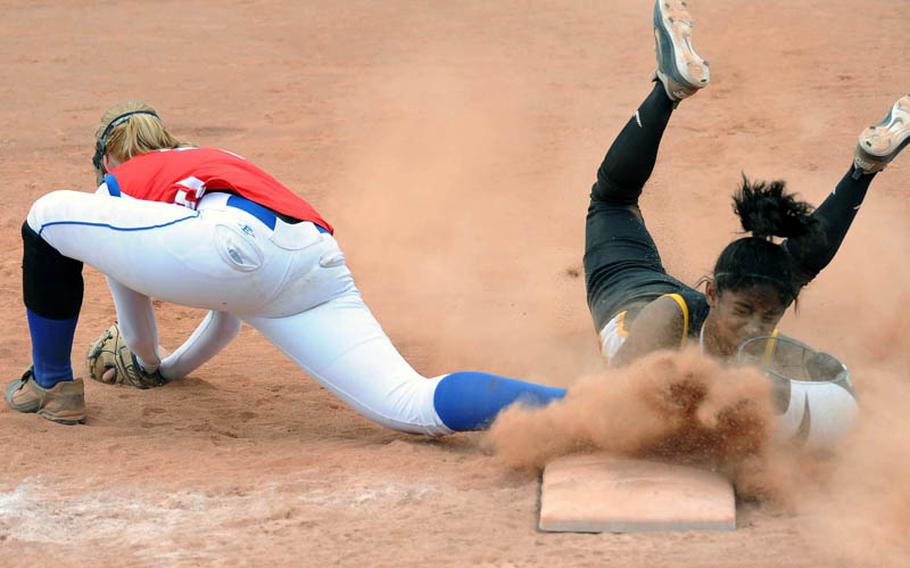 RAMSTEIN AIR BASE, Germany — Sigonella pulled it out in the last inning against Incirlik. Patch surged ahead in the middle frames to topple favored Ramstein. And Naples staked out an early lead and coasted to defeat AFNORTH.
The three divisional winners in the 2011 DODDS-Europe softball championship took different paths to victory, but in the end all three earned the right to be called champion.
• Sigonella captured the D-III championship with a thrilling, though a nerve-racking, rally to beat Incirlik 13-11, scoring five runs in the top of the sixth inning to erase a three-run deficit.
The late-game heroics were exhilarating for Sigonella but vexing for Incirlik because it was largely self-inflicted. Sigonella notched only one hit that inning, an RBI triple by Alexis Palmer that scored Chelsea Hinton from first.
Hinton was one of four Sigonella batters to walk that inning. A fifth was hit by a pitch.
Incirlik, seeded fourth in the four-team field, had held the lead since the second inning, when it tallied five runs for a 7-3 lead. The Lady Hodjas pushed across another run in the next frame and traded runs with top-seeded Sigonella in the following frame, for a 9-4 advantage.
Sigonella scored four runs on three hits in the fifth, pulling within one run. Incirlik answered with a pair of runs to set the stage for the climatic sixth inning.
After Sigonella took the lead, Incirlik mounted a threat in the bottom of the sixth when Autumn Moir reached first on an infield hit. With its clean-up hitter stepping to the plate, things looked promising for Incirlik. On the third pitch, BriAnna Bloom hit a shot to third, which was snagged by Palmer. She threw to first to double up Moir for the second out and snuff out the rally.
"My coach told me to start creeping up," Palmer said. "I just stuck my mitt out and caught it. It all happened so quickly."
• Ramstein could say the same thing. Ramstein, the No. 1 seed, entered Saturday's championship looking to extend its D-I domination, but second-seeded Patch made it clear from the get-go that a Ramstein victory was no sure thing.
"They've been winning it for too long," Patch manager Brian Tingey said of three-time defending champion Ramstein after his Lady Panthers finished off an 8-2 victory. "It's a good feeling."
Patch and Ramstein, normally prolific scoring teams, didn't register a run between them until the bottom of the third inning, when Patch got things going by scoring four times. Ramstein scored once in the top of the fourth to make it a 4-1 game, but Patch answered with a run of its own in the bottom of the fourth and two more in the fifth.
The longest hit of the game was launched by Ramstein first baseman Kathryn Enyeart, who hit a home run over the left-centerfield fence, accounting for her team's second and final run.
Among those keying the win for Patch were centerfielder Janelle Loney, who stroked two doubles and scored a pair of runs, and first baseman Amber Marvin, who went 2-4 and notched a run.
"All of our hard work has paid off," said Marvin, who pitched a pair of games during the three-day tournament.
Patch's win was especially sweet for pitcher Bianca Lopez, who tossed a two-hitter. At the plate, she had two hits, including a triple, and scored two runs.
As a freshman she played for Ramstein, when it won the first of its three straight titles. Now she has the distinction of closing out her high school career with a championship against her first team.
She attributed the win to teamwork and staying positive.
"We really, really wanted to win," Lopez said. "When we have fun, we play better."
• With Ramstein's loss, Naples now has the longest winning streak in championship games. Its 11-3 win over AFNORTH in the D-II title game, the final of three championships played Saturday, is its third consecutive title.
Naples, the top seed, scored three times in the first inning, twice in the third and five more in the fourth. By then it was 10-2 and the game was well in hand. Naples finished with 13 hits and also played good defense against second-seeded AFNORTH.
"We hit well, we hit very well," said Naples manager Stacey Scott. "This team is young and the majority (of players) is coming back next year."
Leading the way Saturday was Melody Fears, who had three hits and five RBIs, and Caitlin Eckert, named the tournament MVP for D-II. Shannon Walsh, while she went hitless in the championship game, belted five home runs during the tourney. Walsh, a junior, will return next year hoping to make it four in a row in 2012.
"We gelled as a team," she said. "We're just one family."
Both teams won semifinal contests Saturday to qualify for the title game. Naples pounded Aviano 17-2, and AFNORTH rolled past Bitburg 10-0.
Besides Eckert, the other tournament MVPs were Lopez for Patch in D-I and Sigonella's Courtney Albert, who stepped in to pitch in the third inning and kept her team in contention until its last-minute heroics.
"It's exhilarating," Albert said of the championship win. "It's just a great feeling."
---
---
---