DODDS-Europe basketball
Defending champs could find it tough to repeat
by
Gregory Broome
November 28, 2012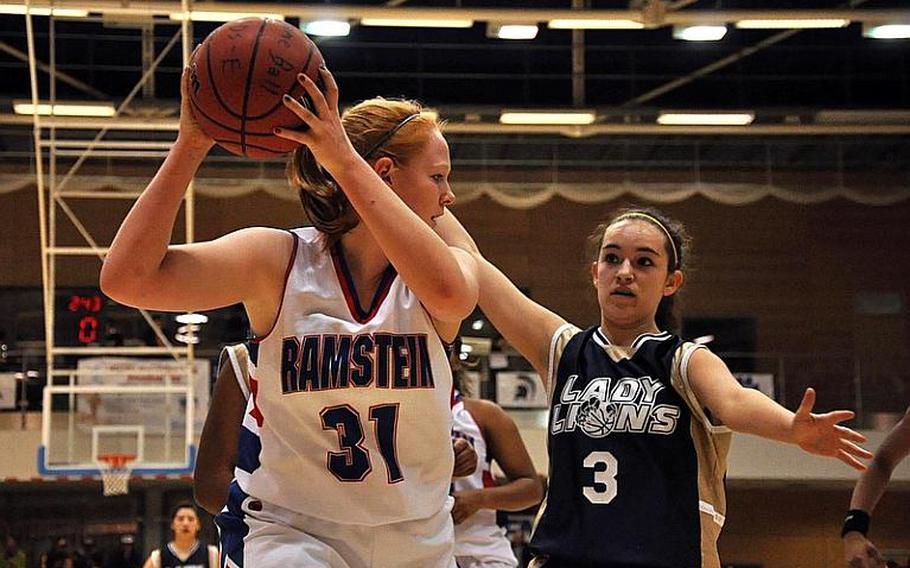 Heidelberg, the defending Division I champion in both boys and girls basketball, will face formidable challenges from its familiar rivals as the 2012-13 season dawns.
But the program's most imposing obstacles are found within its own gates.
Installations in and around Heidelberg are in the midst of a gradual drawdown; Heidelberg High School will close at the end of this school year. The school's population has dwindled as personnel are reassigned, taking their dependents with them. Many of the remaining coaches and players are unsure where they'll begin next season.
"Our futures are yet to be determined," said eighth-year girls basketball coach Jon Mittenzwey.
Forces well beyond the grasp of Lions coaches, players and administrators will address those questions soon enough. Planned obsolence looms, but there are two championships to be defended and a legacy to be cemented. Those immediate concerns are about to occupy the Lions' full attention.
"We call it 'The Last Roar," said first-year boys basketball coach Justin Bates. "The mood on campus is upbeat."
The 2012-13 DODDS-Europe basketball season tips off this weekend with games set for Friday and Saturday. Heidelberg opens Friday at Kaiserslautern and hosts Ansbach on Saturday in the school's final home opener.
Mittenzwey's girls squad enjoyed what would have made a tidy storybook ending a year ago with a 32-31 upset of Ramstein in last year's European championship game. Returning seniors Emma Roberts, Romina Fears and Kylee Miller are back from that squad, providing a core group of experienced players to offset the team's losses and a dearth of incoming talent.
"They've got knowledge of the game and have seen the system," Mittenzwey said. "So we won't have to reinvent the wheel."
The Lions boys squad, meanwhile, faces a more unorthodox situation. The nominal two-time defending champion and owner of a 26-game winning streak, Heidelberg has adopted the plucky tone of an underdog as its final season dawns.
"We look forward to the challenge," said Bates, a veteran of coaching Lions tennis and baseball. "We see some real positive things that we think we can do. We think we can turn some heads this year.
"We'd like to shock a few people."
That varies significantly from the conventional defending-champion script, but the Lions are not your typical defending champion. Graduation and the approaching base closure have claimed all but two members of last year's title-winning team, taking the entire starting five and sparing only seniors Jacob Parsons and Joseph Patrick.
Even with memories of the program's 55-43 title-game win over Ramstein still relatively fresh, Bates is reluctant to saddle his makeshift roster with championship expectations.
"We don't want to set unrealistic goals in the beginning," Bates said. "We have a long, tough road and a lot of hard work ahead of us."
In that sense, the Lions are no different than any of their DODDS-Europe rivals.
Here's a look ahead at the season:
Division IWith robust student bodies, DODDS-Europe's Division I programs are its best-equipped to absorb the loss of star players.
This year in particular, that's a very fortunate thing.
Perennial contenders including Ramstein and Patch are faced with replacing All-Europe performers. Coupled with the tenuous situation in Heidelberg, the coming season offers real hope for a large swath of teams to challenge.
"Division I, I don't think you can overlook anybody," Ramstein girls coach Carter Hollenbeck said. "You look at everybody as a high-ranking opponent. You better come and play with your A-game every single day."
The Ramstein girls will proceed without standout guard Mackenzie Crews, while DeVonte' Allen has moved on from the boys team to NCAA Division II California University of Pennsylvania. Patch is coping with the graduation of two-time Stars and Stripes girls player of the year Janelle Loney.
That could create an opportunity in both the boys and girls standings for a team like Kaiserslautern. The Raiders are a consistently winning program – the girls and boys teams won a combined 27 games in 2011-12 – and boast enough new and returning talent to make a legitimate bid for European supremacy.
Division IIThe traditional powers of Division I and the small-school upstarts of Division III have claimed their turf at polar opposites of DODDS-Europe basketball. That leaves a herd of mid-sized programs to navigate an ever-shifting middle ground.
With far-flung opponents and traditional parity in Europe's largest division, prognostication is all but impossible.
"(Division II) will probably be the more interesting tournament when Europeans roll around," said D.C. McDonald, the girls coach of AFNORTH. "We just have to wait and see."
McDonald's squad took a 26-21 championship-game loss to SHAPE last season, and loses six seniors from that roster. The AFNORTH boys fell to Naples 68-46 in their own title shot, though Naples will seek a repeat without first-team All-Europe performers Jun Jun Gallardo and Nigel Alexander.
"It's a rebuilding year for us. We've got a lot of work to do," McDonald said. "I just hope everybody else is in the same boat I'm in."
Division IIIRota has dominated the small-school boys' division for three years running, cruising to a 50-34 victory over Bamberg in last year's European championship game.
But things are very different now.
Transcendent talent Tre'von Owens is stateside, a promising freshman at NCAA Division I University of California-Riverside. The departure of the two-time Stars and Stripes player of the year leaves Division III open to a new order atop the standings.
The Admirals, however, will have a lot to say about that. Rota was a contendor in the pre-Owens era and has the potential to remain one going forward. Bamberg, a runner-up for two consecutive years after a second-place Division II finish in 2011, will take advantage of its favorable geography to play a rugged schedule of upper-division opponents and gird for postseason play.
Bamberg's girls, meanwhile, enjoyed a stirring 2011-12 season, entering the European championship tournament as a humble fourth seed and emerging days later as Division III champion after a thorough 38-29 title-game upset of top seed Rota. Upstart no longer, the Barons now must defend their crown from a vengeance-minded Admirals squad and a strong Division III field.