Former Navy SEAL wins more gold with Paralympic ski relay team in Beijing
By
Stars and Stripes
March 14, 2022
---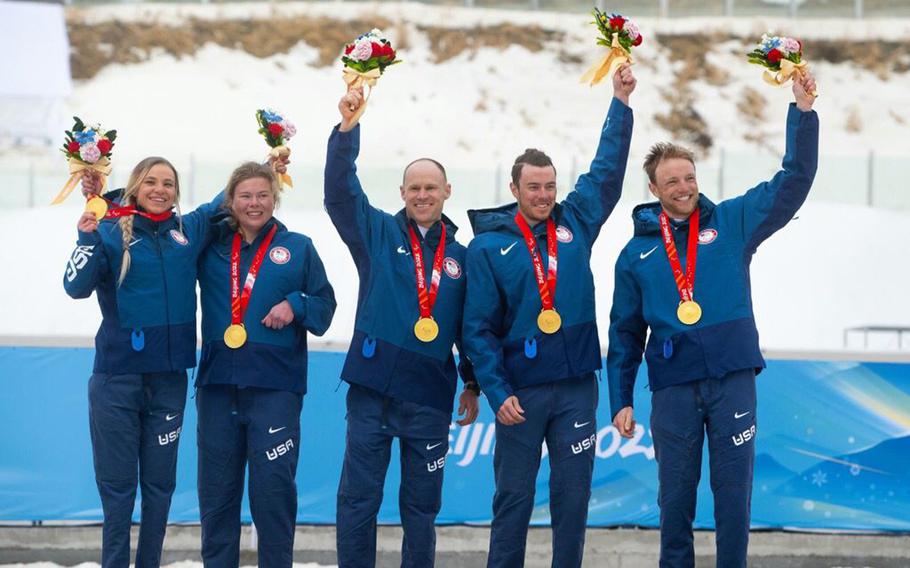 A retired naval officer who lost both legs to an improvised bomb in Afghanistan took home a second Paralympic gold medal as part of a winning U.S. cross-country ski relay team on Sunday.
Former Navy SEAL Dan Cnossen, 41, of Topeka, Kan., and three teammates had the fastest time in the mixed 4x2.5km relay on the final day of the Beijing 2022 Games at the Zhangjiakou National Biathlon Centre.
The team finished in 25:59.3, ahead of silver medalists China and bronze winners Canada, according to the Games' official website.
A veteran with deployments to Iraq and Southeast Asia, Cnossen was injured in September 2009 after stepping on a bomb during a nighttime assault in Helmand province, Afghanistan, he told Stars and Stripes by phone Saturday.
One of his relay teammates, six-time Paralympian Oksana Masters, 32, of Louisville, Ky., was born in Ukraine, with both of her legs damaged by in-utero radiation poisoning from the Chernobyl nuclear reactor incident, according to her Team USA biography.
The team also includes Sydney Peterson, 20, of Lake Elmo, Minn., whose left arm and leg are impaired, and Jake Adicoff, 26, of Sun Valley, Idaho, who has been legally blind since birth, according to Team USA.
"For me it's an honor to represent the U.S. on this international field," Cnossen said.
The former lieutenant commander spent two years in hospitals recovering from the loss of his legs but began cross-country skiing in West Yellowstone, Mont., during his rehabilitation and started training for the Paralympics in 2011.
He debuted at the 2014 Games in Sochi, Russia; in 2018 he won his first gold medal, in the 7.5 km biathlon, which involves skiing and target shooting, in PyeongChang, South Korea.
Cross-country skiing and biathlon are tough sports, both physically and mentally, Cnossen said.
"Sometimes the conditions are really cold, and the snow might be slow," he said. "It is all about pushing yourself and special athletes can dig a little deeper when it counts."
Navy SEAL training taught Cnossen to process pain, he said.
"For me what works best is to really drill into technique and the mechanics of skiing," he said. "That shifts my mind away from the pain."
While training for the Games, Cnossen found time to study at Harvard and work with other SEALS on mental and physical wellness workshops, he said.
A dozen veterans from the Army, Navy and Marines competed in alpine and cross-country skiing, snowboard, ice hockey and curling at the Winter Games, according to a list provided by Team USA.
Another cross-country skier, Josh Sweeney, 34, of Boise, Idaho, served in the Marine Corps from 2005 to 2010 and was medically retired as a sergeant. His best performance in Beijing was 16th place in the long-distance event on a course of just over 11 miles.
The former scout sniper deployed with 3rd Battalion, 4th Marine Regiment to Afghanistan and had been there for only a month and a half when he stepped on a hidden bomb in October 2009, he said by phone Saturday.
During rehabilitation in San Antonio after losing both legs, Sweeney started playing dodgeball and seated volleyball but gravitated to sled hockey and was a member of the gold-medal winning U.S. team at Sochi.
Cross-country skiing, which has a more flexible training schedule and fewer events to travel to, is now Sweeney's main sport. During races he sits in a chair attached to skis and propels himself with his arms using poles, he said.
"The biggest thing I missed after I was injured was the ability to go walking in the woods," he said. "Having that ability to put on my skis and take off and ski cross country trails. It's like trail running for someone in a wheelchair."
---
---
---
---