FEATURE REPORT
Cold War missileers refute Okinawa near-launch
by
Travis J. Tritten
December 23, 2015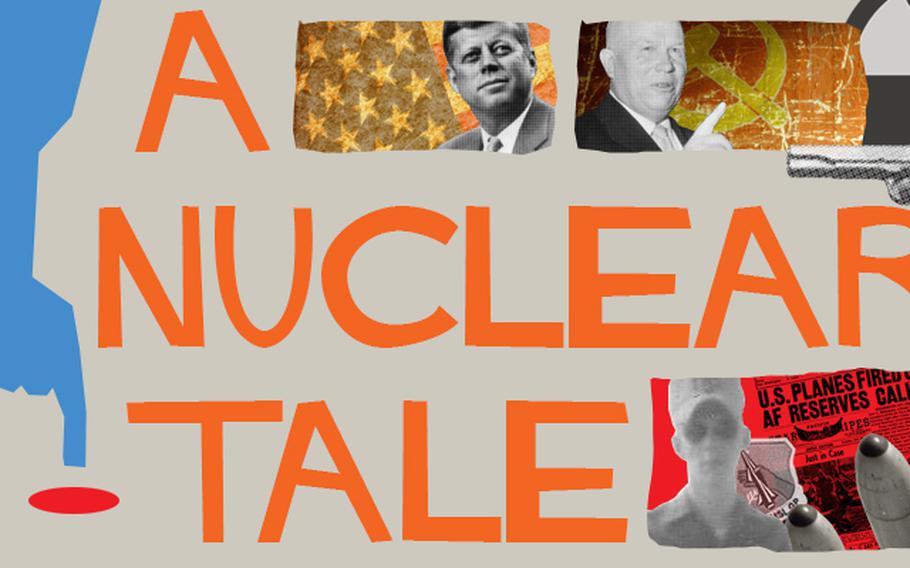 Two airmen were holding an Air Force nuclear missile crew at gunpoint deep in a top-secret bunker on Okinawa.
The crew had just been ordered to launch the island's missiles at targets in the Soviet Union and Asia, just as the Cuban Missile Crisis was reaching a harrowing climax in October 1962. But an Air Force launch officer was opposing the order.
The officer sent "two men over there with .45's and [they were] told to shoot anybody who tried to launch until the situation was resolved … so those two men kept that whole crew at bay while we made a decision of what to do," said John Bordne, a nuclear missile mechanic for the Okinawa-based 873rd Tactical Missile Squadron who was on duty Oct. 28, 1962.
An aerial view of the Bolo Point nuclear missile site at Yomitan, Okinawa, where John Bordne claims he received a launch order. (Courtesy of Dennis Fitzsimmons) Bordne's 53-year-old Cold War tale of a U.S. nuclear near-launch has emerged as another example of how close the world came to war as Washington and Moscow faced off over missile sites in Cuba. Experts and anti-nuclear advocates are trumpeting Bordne's account as new evidence and calling for an inquiry and disclosure by the military.
But surviving Air Force missileers, many of them interviewed for the first time, told Stars and Stripes the account is implausible. An investigation by this newspaper discovered their attempts to shoot down Bordne's claims were ignored or hidden.
The controversy unveils the little-known world of Air Force nuclear launch crews on Okinawa – many of them young enlisted men fresh from stateside training – who more than a half-century ago kept watch on the Soviets from reinforced bunkers during one of the most dangerous moments in human history.
'Good thinking'"I can't explain the feeling that I had. It's something that I only had once and haven't had since then, a bone-chilling numbing feeling," Bordne recalled in a video presented in October to a United Nations panel in New York City.
Bordne was an airman 2nd class on shift Oct. 28, 1962 with a crew of six other enlisted airmen and a launch officer. They were huddled in a bunker on the western side of Okinawa at Yomitan, their four nuclear-tipped Mace missiles at the ready.
John Bordne as a young airman with the 873rd Tactical Missile Squadron on Okinawa. (Courtesy of John Bordne)At least three other crews were manning the island's other nuclear bunkers – each with four missiles – and they also had received the order to launch from Kadena Air Base, according to Bordne, who confirmed his account with Stars and Stripes.
The last weekend of October 1962 was the climax of the missile crisis between the United States and the Soviet Union. The two nations were at the brink of nuclear war over sites in Cuba that would have put Soviet nuclear missiles in range of most of the continental United States.
Back on Okinawa, Bordne said an upset enlisted airman and the crew's captain confirmed the coded order from Kadena was correctly interpreted and they opened secured pouches used to initiate a nuclear launch.
The captain's pouch "contained the keys and the actual destination for each missile," Bordne said.
But the captain and the crew refused the order – and risked potentially being shot for treason – after seeing the target list, he said. The captain, William Bassett, is now dead, according to the veterans group TAC Missileers. No other officers on duty that day in 1962 could be found to corroborate the claims.
"We were told that we had to launch all the missiles but we only had one missile headed towards Russia, and we did not see why that we have to involve the other countries in a nuclear exchange between Russia and the United States," Bordne said in the video.
Veteran members of the group TAC Missileers hold an October reunion in Florida. (Courtesy of Randy Coppola) Amid the uncertainty, a lieutenant in charge of another Okinawa crew was proceeding with the nuclear attack. Bordne said his captain pulled rank, ordering two enlisted airmen to that launch center to hold the lieutenant and his crew at gunpoint and force them to hold off.
Bordne, a mechanic on the missile guidance systems, said he had an idea. He told his captain that the Air Force major who had issued the launch order did not seem upset and might have made a mistake. The captain told him "that was good thinking" and asked the major at Kadena to either confirm or rescind the launch order, Bordne said.
"And it wasn't very long, maybe 2 or 3 seconds later, that a very nervous major came over the intercom issuing the stand-down order and then we just kind of looked at each other, like, 'We could have exterminated the whole planet,'" he said.
'A task to track down people'John Bordne, 74, of Blakeslee, Pa., appears to be the only man recounting the story of a near-nuclear launch. Other members of his crew are either no longer alive or could not be accounted for despite searches by Stars and Stripes.
The tale was so extraordinary that he was invited to speak about it Oct. 28 to a panel at the UN headquarters in an event sponsored by an anti-nuclear group and Chile's UN mission. The Chilean ambassador described it as "an incident that could have changed the course of our civilization forever."
John Bordne (Photo from video courtesy of the United Nations)During a question-and-answer session, a participant asked Bordne, who appeared via Skype, whether he was in touch with other Air Force missileers who were backing his account. The TAC Missileers veterans group, which claims about 200 members, was holding its reunion that same day in Orlando, Fla.
"There was a fellow there that I am in contact with who is going to the reunion to ask around if anybody there can remember anything," Bordne said.
Just then, panel moderator Aaron Tovish jumped into the conversation. Tovish, who directs an international campaign to abolish nuclear weapons, had been working with Bordne for six months to record all the details of this near-launch story and his group, Mayors for Peace, helped bring Bordne to the UN.
"The others might have sensed that something happened but it was not revealed in any detail to the rest of the people on the missiles," Tovish said. "It is a bit of a task to track down people."
'We would have been neck-deep in it'"I'm as sure as I am of my name that this never happened," said Gene Stirewalt, 74, of Salisbury, N.C.
In interviews with Stars and Stripes, six other airmen who were assigned to the Okinawa missile sites with Bordne during the Cuban Missile Crisis disputed the truth of his account. Meanwhile, the Air Force said its historians have looked into the alleged incident but have been unable to find any record of it.
Stirewalt was among the young airmen who were assigned as nuclear mechanics to the newly established and top-secret 873rd Tactical Missile Squadron, under the 498th Tactical Missile Group, on Okinawa in late October 1962.
He was an enlisted airman in charge of nuclear warhead maintenance with another important duty – being a member of the nuclear missile squadron's standardization team, which performed quality control checks and reviewed the actions of the launch crews.
He said there was a squadron briefing Oct. 28 about the Cuba crisis and three alerts during his shift "but nothing near like what this guy [Bordne] is saying."
Top:A patch for the 498th Tactical Missile Group, the parent command of the Air Force nuclear missile squadron on Okinawa in 1962. (Courtesy of John Bordne)Bottom: Dave Cooper was an airman in charge of nuclear missile maintenance on Okinawa in 1962. (Courtesy of Dave Cooper)"I am positive that, if in fact there was a near-launch, then our crew as well as the other standardization crews would have been neck-deep in this because somebody would have had to find out how this could have happened with nuclear weapons," Stirewalt said.
When Dave Cooper first heard Bordne's account, he "thought it was crazy."
Cooper, 73, of Humble, Texas, was an airman in charge of missile propulsion systems maintenance on an 873rd launch crew. He said he might have shared a missile site with Bordne's crew, with each crew separately in charge of four missiles, though it remains unclear whether the two men worked the same shift that Sunday.
"The most glaring [error] is targeting info," he said. "There is no way John Bordne would have known that targeting information."
George Mindling, a former Air Force missileer, first heard Bordne's near-launch account about eight years ago. He investigated the claims in 2006 and 2007 while he and a co-author were writing U.S. Air Force Tactical Missiles 1949-1969, a book on the history of the nuclear missile programs.
Once top-secret, the missile programs on Okinawa and elsewhere are no longer classified and airmen are coming forward to recount experiences. But Mindling said interviews and available military records provided no evidence to support Bordne's tale.
In the end, it was "one of the stories we left on the table," he said.
A Mace nuclear missile is displayed at a launch site on Okinawa in the 1960's. (Courtesy George Mindling) 'I told him not to publish it'News of the alleged near-nuclear launch first broke earlier this year in Japan.
The country's largest wire service, Kyodo News, published a story March 14 reporting it as confirmed. It cited Bordne as the source and claimed "other former U.S. servicemembers also were interviewed and admitted the launch order was given."
Kyodo's award-winning senior reporter Masakatsu Ota had traveled to the United States tracking the story – a subject that taps into Japan's strong anti-nuclear sentiments from World War II and its mixed feelings over the American military presence on Okinawa.
During his trip, Ota met with Bordne in Pennsylvania and also Air Force veterans Larry Havemann in Nevada and Bill Horn in Tennessee. Both men served with Bordne on the 873rd during the Cuban Missile Crisis.
"I told him he should not publish it," Horn, 72, of Cookeville, Tenn., told Stars and Stripes.
Horn, an airman in charge of nuclear warhead maintenance, said Bordne approached him with the story several years ago and he was certain it was false.
Havemann, who had the same duties as Bordne, also doubted the near-launch.
"I was very concerned about that story because I didn't really believe it," he said. "I thought it [the launch order] was a message that could have been misinterpreted."
Stars and Stripes front page on Oct. 28, 1962, during the height of the Cuban Missile Crisis. An anonymous source Kyodo never reported the doubts over the alleged near-launch in its March story or in a follow-up story that it published on the Cuban Missile Crisis that featured Horn and Havemann.
"There is no objective counter-evidence we could find which can override Mr. Bordne's testimonies," Ota wrote in an email to Stars and Stripes.
Ota said the truth of Bordne's account depended on a fourth airman. The Kyodo story was "clearly confirmed by another unidentified former crewmember," Ota wrote.
Stars and Stripes identified the source, who served on Bordne's crew, through interviews and he spoke about Oct. 28, 1962 on the condition his name not be used.
"I was back in the power room and I missed all of what they were saying. I never knew that we had a launch order until John [Bordne] told me six months or a year ago and that was a surprise to me," he said. "I never knew anything about it."
'Bursting with questions'Aaron Tovish met Bordne in May for a three-hour lunch at a Pennsylvania Red Lobster restaurant.
Tovish had read Ota's reporting from Japan and was eager to see Bordne. The danger of nuclear missiles is a central focus of his job as international campaign director of the 2020 Vision Campaign for the group Mayors for Peace, which hopes to abolish the weapons in the next five years.
"The main source for that story was willing to meet with me, and I was bursting with questions I wanted to ask him," he wrote on his Facebook feed. "This is a story that everyone in the world has a right to know. It is shocking that it is only now seeing the light of day."
Airmen stand in the launch center of a secret nuclear missile site on Okinawa in the 1960's. (Courtesy of George Mindling) The two exchanged about 50 emails in the following six months and Bordne shared portions of his unpublished memoir with Tovish, who did not reply to multiple Stars and Stripes requests for comment.
On Oct. 25, Tovish published a column about Bordne and the alleged near-launch in the Bulletin of the Atomic Scientists, a journal that says it offers "fact-based debates" focusing on nuclear issues and disarmament.
The column, urging a deeper investigation, was picked up and republished by news outlets in the United States and abroad.
"I recognize that Bordne's account is not definitively confirmed. But I find him to have been consistently truthful in the matters I could confirm," Tovish wrote.
Questions emerged immediatelyQuestions over Tovish's column emerged almost immediately.
Bill Spitzer, 75, a former missile systems analyst for the 873rd during the Cuban Missile Crisis, and Dennis Fitzsimmons, who served as a missileer on Okinawa in 1965, notified Tovish and the Bulletin that they believed the story was fake and offered detailed rebuttals.
The Bulletin editor-in-chief, John Mecklin, told Stars and Stripes that he had not taken the missileers' complaints seriously. Mecklin reached out to Spitzer following an interview with this newspaper.
He said he vetted the column with Tovish and Ota before publication and both told him they could not find missileers to weigh in on Bordne's claims.
"If you or anybody else publishes or comes to me with substantive stuff that to my mind truly calls into question Bordne's account … We will then publish something to that effect," he said.
'Embarrassing events are sometimes covered up'"It is certainly worthy of further investigation," said James Hershberg, professor of history and international affairs at George Washington University in Washington, D.C.
On the face of it, Bordne's claim would not be unprecedented. Similar claims of near-nuclear launches and accidents during the Cold War have emerged, such as a Soviet commander who nearly launched a nuclear torpedo at U.S. targets during the Cuban Missile Crisis.
An Air Force launch crew uses a password to clear a reinforced security door and enter a top-secret nuclear missile site on Okinawa in the 1960's. (Courtesy of George Mindling) Hershberg said military records could provide valuable new pieces to the historical puzzle because the memories of veterans and other participants can be unreliable after decades have passed.
The National Security Archive at George Washington University is seeking the full history of the nuclear missile units on Okinawa from the Air Force. Bill Burr, a senior analyst at the archive, said he filed an information request over the summer but the service might take up to eight years to respond.
Still, even an accounting of all official military records might not settle the dispute over Bordne's claims, said Scott Sagan, a professor of political science at Stanford University who has studied and published a book about nuclear accidents.
"If the incident is mentioned in the [squadron's operational] history that would obviously be strong confirmation," he wrote in an email. "But if it is not, we can't assume that is a strong disconfirmation since embarrassing events are sometimes covered up."
'God's way of saying thank you'"I'm the only one who has been cleared to talk about it," Bordne told Stars and Stripes.
Other missileers who dispute him are either lying about being on duty during the Cuban Missile Crisis or are jealous of not receiving Air Force approval to discuss the near-launch, he said.
The patch for Bordne's nuclear launch crew, which was part of the 873rd Tactical Missile Squadron. (Courtesy of John Bordne) Now at the center of a Cold War controversy, the former enlisted airman has a thick manuscript, a memoir of the near-launch and his time in the Air Force, which he hopes to have published.
Bordne said he first envisioned writing about the alleged incident while coming out of the missile bunker on Okinawa in 1962.
"That morning is just as familiar to me and as clear as yesterday morning is – and this is 53 years later – and how clear blue the sky was and there just some very light clouds, and there was a perfect breeze blowing and perfect temperature," he told the UN panel.
In his telling, the missileers filed up from the bunkers into the sunlight, each in their yellow cap, forming a long yellow line. Bordne said he took in the beautiful smell of the sea and the land.
"I had often wondered whether that was God's way of saying, 'Thank you for preserving my creation,'" he said.
tritten.travis@stripes.com Twitter: @Travis_Tritten