Moral injury and moral recovery: Military leadership's role in healing the wounds of the Afghanistan withdrawal
By
Special to Stars and Stripes
July 13, 2022
---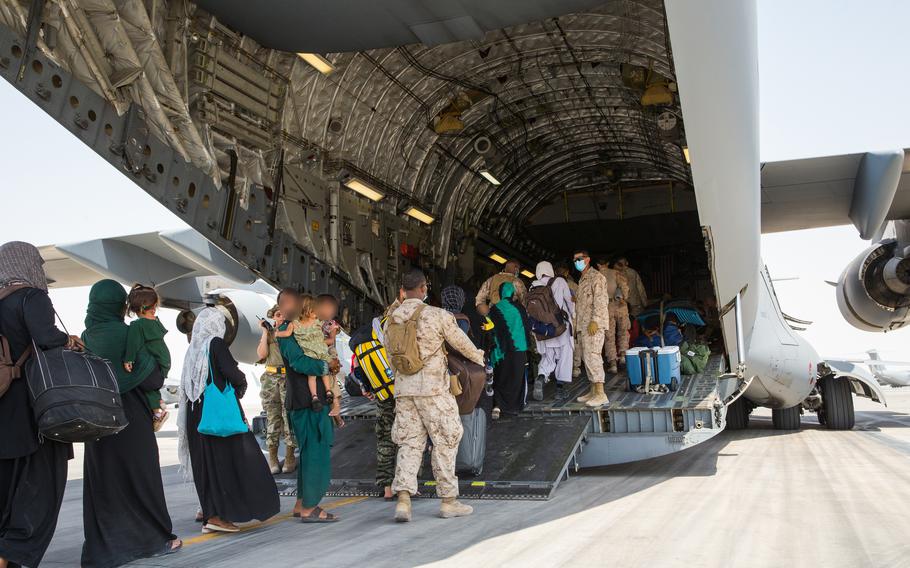 "Why aren't we doing more to help them? Surely, we aren't going to leave them," he paused, a tremble in his voice, "this isn't what the U.S. does … this isn't who we are." That is how one veteran described a sense of betrayal when recalling what he witnessed during the Non-Combatant Evacuation Operations (NEO) at the international airport in Kabul, Afghanistan, in August 2021.
Since that tragic two-week ordeal, many servicemembers have struggled with or are just coming to terms with the "moral injuries" they experienced -- invisible wounds that only grow deeper as time moves on and leadership fails to acknowledge their grief.
According to the Department of Veterans Affairs, moral injury is the result of traumatic or unusually stressful circumstances in which "people may perpetrate, fail to prevent, or witness events that contradict deeply held moral beliefs and expectations." The individual must also feel like a transgression occurred and that they or someone else "crossed a line with respect to their moral beliefs."
Indeed, those that participated in or witnessed the evacuation efforts in Kabul felt that transgression in a very deep way; haunted by what they saw and with the life-or-death decisions they were forced to make in that chaos. They wrestled with feelings of guilt, shame and failure all while watching two decades of U.S. presence in Afghanistan unravel. Many felt that they were asked by leadership to abandon every ethos to which they had sworn their lives – to train by, with, and through and to leave no one behind. Their distress has been undeniable and profound.
"In a time like [the withdrawal], leaders are supposed to provide context," said one field grade officer. The airman, who served as an air adviser in Afghanistan, continued, "You're asking yourself, 'Why did the evacuation happen like that? What am I supposed to think about this?' The theory is that our leaders are informed, that I may not understand why I'm being told to do something, but the military is predicated on the idea that the people telling me to do things know better than I, [that] they have access to intelligence or strategic advising that I don't, and those things serve to justify what actions we are taking.
"It would have been really helpful if the decision makers provided those answers or perspective. Sadly, there just didn't seem to be the national will to have that conversation."
That lack of transparency and acknowledgement left many troops feeling like a bond had been broken; that the "moral line" had been crossed.
In his 2015 memorandum on fostering professionalism within the Department of Defense, then-Secretary of Defense Chuck Hagel argued that leadership is a privilege that "carries with it tremendous responsibility, accountability, and transparency of decision and actions."
He emphasized the point by referencing the anecdote of Gen. Dwight D. Eisenhower, who had prepared a written note in case the World War II invasion at Normandy happened to fail, "If any blame or fault attaches to this attempt, it is mine alone." That sentiment of what Hagel called a "testament to uncompromising accountability" was one which many servicemembers and veterans were craving, but never received, following the end of evacuation operations in Kabul.
Likewise, in his research on moral injury, John Cullen found that leaders indeed have the unique capability to initiate the reparative process, i.e. "moral recovery," through words and actions that specifically honor their organization's ethical principles – in this case the principles a servicemember feels were violated.
To be clear, military leaders must explicitly acknowledge that although many troops felt like their oaths of service were compromised during the 2021 withdrawal, particularly those teams tasked with building relationships with Afghan partner forces, the values to which they swore an oath in the past will still be guiding principles in the future.
This point should not be taken lightly. The very reason the moral injuries from Afghanistan have cut so wide and so deep is due to the nature of fighting a war predicated on "winning hearts and minds." For two decades, the military asked troops to build rapport and gain the trust of Afghans as a crucial strategy for mission success.
For anyone to ask those troops to simply move on from the fall of Kabul, without stopping to acknowledge the human element of the relationships they built, and to which they still rightly feel obliged, only worsens the morale of those still struggling with feelings of guilt and shame.
Leadership must openly recognize their suffering and pledge to become educated on the causes, symptoms and treatment of moral injuries. Those in positions of authority to advocate for further research and allocation of resources to this effort need to do so. Finally, those with the courage to speak openly about moral injury, and to servicemembers dealing with it, must do so as well.
Losing a soldier to invisible wounds should not be viewed any differently than losing a soldier in the field of battle and should be prevented at all costs. Military leadership has the power, and obligation, to do just that in this moment: to be a beacon of light in the dark wake of moral injury; to be faithful stewards in the endeavor for moral recovery.
Joan E. Barker is a consultant specializing in military language and culture training. She has worked on educational contracts for U.S. Special Operations Command and overseas as a trainer with partner forces in the United Arab Emirates and Afghanistan. From 2017 to 2018 she worked on a defense contract in Kabul teaching English to members of the Afghan air force and special mission wing. After the fall of Kabul, Barker spent months advocating for the evacuation of Special Immigrant Visa interpreters, as well as vulnerable members of the SMW. This spring, she taught English to Afghan refugees that processed through Fort McCoy, Wis., as part of Operation Allies Welcome.
---
---
---
---