Opinion
Policies based on reality the last hope to avert war between Ukraine and Russia
By
Special to Stars and Stripes
February 3, 2022
---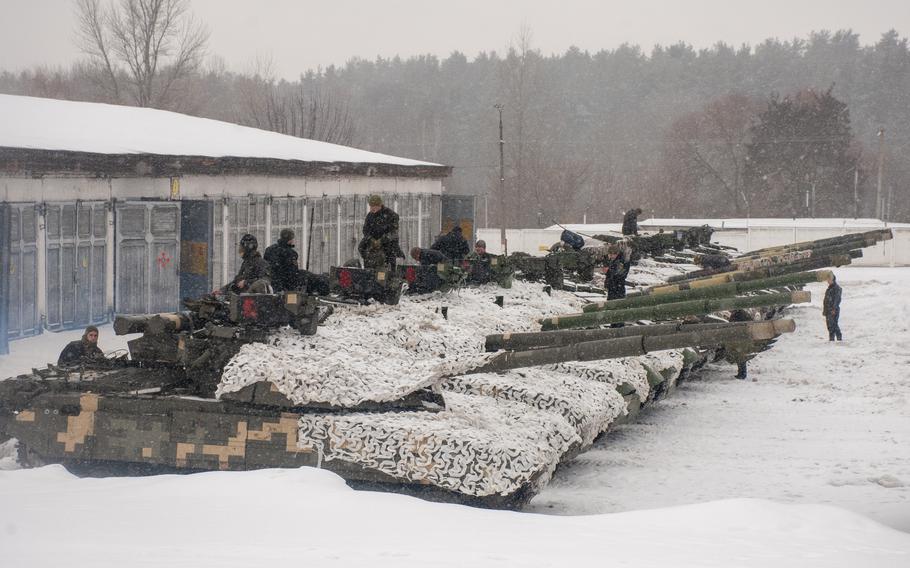 On Wednesday, the White House announced it was going to "forward deploy" 3,000 U.S. troops to Europe in light of the continued Russian military buildup of forces opposite Ukraine. A senior Biden administration official was quick to point out, however, that these "forces are not going to fight in Ukraine."
This announcement perpetuates a disturbing trend in American foreign policy that if not quickly reversed, could result in real harm to the United States: basing policies on the world we prefer instead of the one that exists.
The largest part of the 130,000-plus Russian troops deployed within striking distance of Ukraine are composed of units with heavy armor, rocket and heavy artillery, and ballistic missile launchers. Russian mechanized troops have demonstrated considerable and advancing capacity to engage in coordinated, complex and highly effective mechanized combat operations.
Announcing the deployment of 3,000 U.S. troops outside Ukraine, most of whom are parachute infantrymen without armor and armed mainly with rifles, would not represent so much as a speed bump to heavily armored mechanized units.
The hard reality is that Ukraine does not presently possess the capacity to prevent a concerted Russian drive to invade. It is also a harsh reality that no NATO country is going to send combat forces into Ukraine to help fend off a Russian onslaught. What is less clear, however, is whether U.S. and Western leaders are willing to admit this.
It is essential to understand the disparity in combat power and capability between the Russian and Ukrainian militaries if the White House is to enact policies that have a chance of accomplishing U.S. national security objectives.
To have even a chance of repulsing a Russian invasion the Ukrainian armed forces would have to be proficient at conducting expertly coordinated, large scale combat operations. They would need to provide fierce resistance at the line of contact, but more importantly, have the capacity to conduct mobile counterattacks and other cross-country division or corps level operations to cut off Russian penetrations. There is no evidence that Ukraine has this capacity, having only limited experience operating at the small unit level.
Russia, on the other hand, has spent considerable time and money since at least 2009 in reforming and modernizing its entire military. In the past five or six years, the Russians have conducted exhaustive, expansive military exercises that test and rehearse complex and coordinated maneuvers of large-scale formations over vast distances.
Russia has heavily invested in producing a strong core of professional soldiers and a cadre of experienced leaders. In short, the Russian armed forces have evolved into a near-peer of NATO militaries and represent a major overmatch against Ukraine, which has done little to advance beyond manning its trench lines since 2014. It is in light of these realities that Washington and Brussels must form policies that have a chance to produce positive outcomes for the U.S., the alliance and Ukraine. Fortunately, such a policy does exist.
First and foremost, Washington must recognize that Ukraine is militarily indefensible and there is little chance that Vladimir Putin is going to be deterred by economic sanctions. Ignoring this reality and implacably sticking to the premise that Ukraine will one day be extended a NATO invitation will likely result in a Russian invasion, significant loss of life, and a permanent loss of freedom to much of Ukraine.
Instead, NATO should place a moratorium on any consideration of alliance membership for Kyiv and encourage them to declare themselves to be a militarily neutral state. That would significantly reduce the chance of a Russian invasion, increase Ukraine's ability to remain a free and sovereign country, and boost NATO's security in the process.
Or, NATO can ignore reality, continue to pursue policies based on the world they wish existed, and likely condemn Ukraine to attack, NATO to increased vulnerability, and a world less secure for all. Now is the time to discard unwise policies based on preferences and embrace intelligent policies steeped in reality that can benefit us all.
Daniel L. Davis, a retired U.S. Army lieutenant colonel who deployed into combat zones four times, is a senior fellow for Defense Priorities. He is the author of "The Eleventh Hour in 2020 America."
---
---
---
---