STARS AND STRIPES OMBUDSMAN
In a suspect information world, Stars and Stripes measures up
By
Stars and Stripes ombudsman
January 19, 2022
---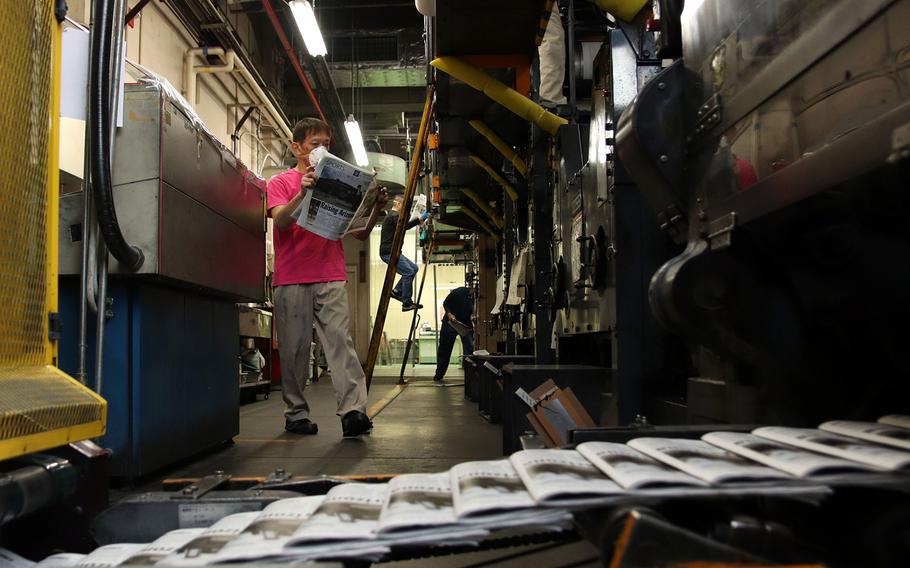 A few years ago, I inflicted a gloomy presentation on audiences who cared about the future of journalism. Digital economics and social media were dismantling traditional news sources. Clickbait was shredding credibility. As Gutenberg was to literacy, I said, Zuckerberg was to media illiteracy.
Since then, the information environment has only gotten more polluted. Displacing reliable information, Facebook, Twitter, YouTube and the explosion of online "news" sources increasingly amplify hot takes, paranoid babble and outright lies, unrestrained by the disciplines of journalism. Malignant bots and malicious trolls multiply.
Fighting this flood of junk information are efforts to help judicious readers select valid news sources, including the News Literacy Project (www.newslit.org) and the International Fact-Checking Network (www.poynter.org/ifcn/). Similarly, independent scorekeepers rank news sources by credibility. According to two such rankings, Stars and Stripes readers can have confidence that what they see reported here is trustworthy.
On Ad Fontes Media's annual Interactive Media Bias Chart, Stars and Stripes lands almost at the top in its "Most reliable for news" category and nearly dead-center free of left or right bias — the sweet spot for credibility. Check Stripes and your other favorite sources by exploring the interactive graphic at https://adfontesmedia.com/interactive-media-bias-chart/.
Media Bias/Fact Check summarizes its assessment this way: "Overall, we rate Stars and Stripes Least Biased based on balanced, low-biased story selection. We also rate them High for factual reporting due to proper sourcing and a clean fact check record." They also credit the Stripes opinion page with balancing liberal and conservative views.
Media Bias/Fact Check places media sources along a spectrum of most liberal to most conservative, but also identifies some as Conspiracy-Pseudoscience, Pro-Science, Questionable (the least reliable) and even Satire. See the explanation of ratings about Stripes, other organizations, and some individual journalists, cable personalities and podcasters in the searchable database at www.mediabiasfactcheck.com.
I should note that, for all the precision these rankings and categories imply, their criteria vary, their samples aren't comprehensive and the humans making the judgments are fallible. Nor is Stars and Stripes perfect. But these two assessments are strong independent testimony as to the Stripes newsroom's reliability and impartiality.
As a daily reader, I wasn't surprised. Stripes earns its credibility by living up to standards of good journalism.
In firsthand reporting from bases and deployments around the world, at the Pentagon, in the defense committees of Congress, and around the country on issues of concern to troops and families, Stars and Stripes reporters and editors are committed to the news disciplines of accuracy, fairness and impartiality. Enterprising coverage in Stripes doesn't shy from controversy, but it also doesn't take the tendentious tone common in the silos of left-leaning and right-leaning media.
Anonymous sources are seldom used in Stripes, with the notable exception of Japan and South Korea, where many police and other official sources customarily expect anonymity. Where anonymous sources are used, they are generally limited to information about which they can be expected to be knowledgeable. Opinion or criticism requires attribution by name. On Stars and Stripes' opinion page, columns are chosen to ensure balance over time.
Stories from wire services also demonstrate the newsroom's attention to credibility. On the Interactive Media Bias Chart, in fact, Stripes outscores its wire services — an indication that the editors are discerning in their selections. For example, many political stories come from The Associated Press, respected for informed, down-the-middle coverage. The AP's global reach also makes it a staple of foreign news, along with selected reports from The Washington Post and other large organizations. Bloomberg News tends to be off limits for politics because its owner is overtly political, but it remains a prime source about arms sales, military contracting and selected international issues.
For national news, in addition to the AP, Stars and Stripes taps Tribune News Service, an extensive network of local news organizations. Stripes editors sensibly look to Tribune for stories from news organizations whose reporters have proven depth and expertise about local bases, shipbuilders, aircraft manufacturers or other major contractors.
In a world increasingly flooded with questionable content, these and other journalistic practices make Stars and Stripes a gatekeeper against misinformation and propaganda.
Stepping back, the outlook for journalism may still be pretty gloomy. The economics remain upside down. Vulture acquisitions continue to eliminate newsroom jobs. And expecting people to put down junk news is like expecting people to put down junk food. But maybe they can stop sharing it so much. Individual readers could use the tools of media literacy to screen their news sources more critically. And social media giants could block misinformation — beyond their small steps to flag dubious content — or be made subject to the same liability as publishers for the consequences of spreading it.
For now, though, I'm glad to endorse the judgment of those media bias scorekeepers: Readers can trust Stars and Stripes.
Ernie Gates, Stars and Stripes' independent ombudsman, welcomes comments from readers, and can be contacted by email at ombudsman@stripes.com.
---
---
---
---