Episode 4: On the ground at the Battle of Kunduz
by
Brian McElhiney
Stars and Stripes
August 24, 2021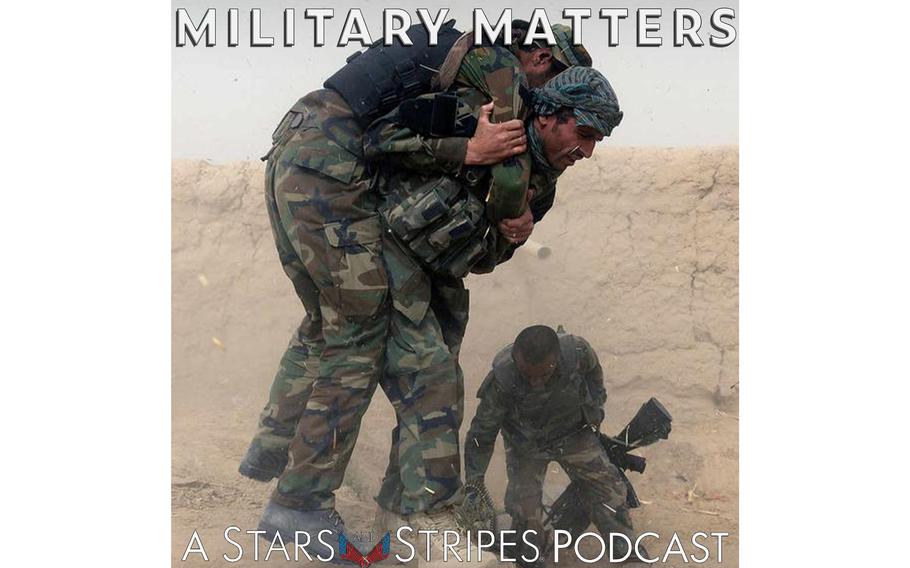 Weeks away from the 20th anniversary of the 9/11 attack, the Taliban have recaptured most of Afghanistan as the U.S. works to evacuate Afghans and Americans from the country before an Aug. 31 deadline to leave.
With the Afghanistan War drawing to a close, Military Matters co-host Jack Murphy examines one of the conflict's most controversial episodes: the closing days of the Battle of Kunduz in 2015 and the U.S. airstrike on a Doctors Without Borders hospital that killed at least 42 people. Special Forces Medical Sgt. Joshua Middleton was on the ground for the battle, and he shared his perspective on the incidents leading up to the airstrike.
Middleton was part of a team of nine assigned to train the new 10th Special Operations Kandak at Camp Pamir in Kunduz. When they arrived, they found the base "completely undeveloped," with no heavy weapons, walls or even running water.
"For the first about six weeks we were there, we were doing a lot of shuttling guys back and forth, you know, every couple of weeks to Mazar-i-Sharif, to try to help either bring supplies to Kunduz or try to figure out what our mission set would look like in Mazar-i-Sharif, what we could do to support 5th SOK," Middleton said. "Because, you know, 10th SOK, they were not — they weren't combat ready, and they — at that point, it didn't seem like we were ever going to do an op in Kunduz."
Middleton decided to outfit a few gun trucks and have them shipped to Kunduz, which turned out to be a wise decision. The Taliban took Kunduz, and his team was assigned to retake the airfield. Thirty Green Berets, two kandak units and the Ktah Khas special ops unit were brought in to help.
"I remember I got a tap on my shoulder and it was an old Afghan guy, a general I think at the time — I couldn't tell really at the time; I found out later it was the general and it happened to be the 209th Corps commander," Middleton said. "And he was like, 'Hey, I've got a helicopter waiting to take me back to Mazar-i-Sharif.' He's like, 'I recommend you guys just get out.' I was like, 'What are you talking about?' He was like, 'There's no chance that we can stop this. It's inevitable. They're going to take the airfield.' And he's like, 'I'm leaving. I'm taking my guys and we're going home.' And I was like, 'Ah, that's not an option for us, man.' You know, I was flabbergasted."
They managed to push their way onto the airfield and began a ground offensive into the city of Kunduz. American and Afghan forces captured several police stations and the city prison from the Taliban, having pushed their way into the middle of the city.
In the early morning hours of Oct. 3, a U.S. AC-130 airstrike hit the Doctors Without Borders, or MSF, hospital in the city. From Middleton's perspective, "a lot of where the enemy seemed to be coming from was towards that NDS (National Directorate of Security) headquarters and towards where the area was by the MSF hospital."
"I know what MSF says; I know what the Afghans have said in the past. I know all that stuff," Middleton said. "I've read all the reporting and all that stuff. All I know as a guy on the ground — that was our best, quickest way to end that fight in Kunduz was to send those guys in that direction. And unfortunately, that hospital was in the middle of that space."
You can find Military Matters on Twitter @stripesmmpod.
Follow Jack Murphy on Twitter @jackmurphyrgr and Rod Rodriguez @rodpodrod.
A transcript of the episode can be found here.
Go to www.stripes.com use promo code PODCAST and save 50% on your digital subscription.