Looking back at Military Matters' third season, and what comes next
By
Stars and Stripes
June 10, 2021
---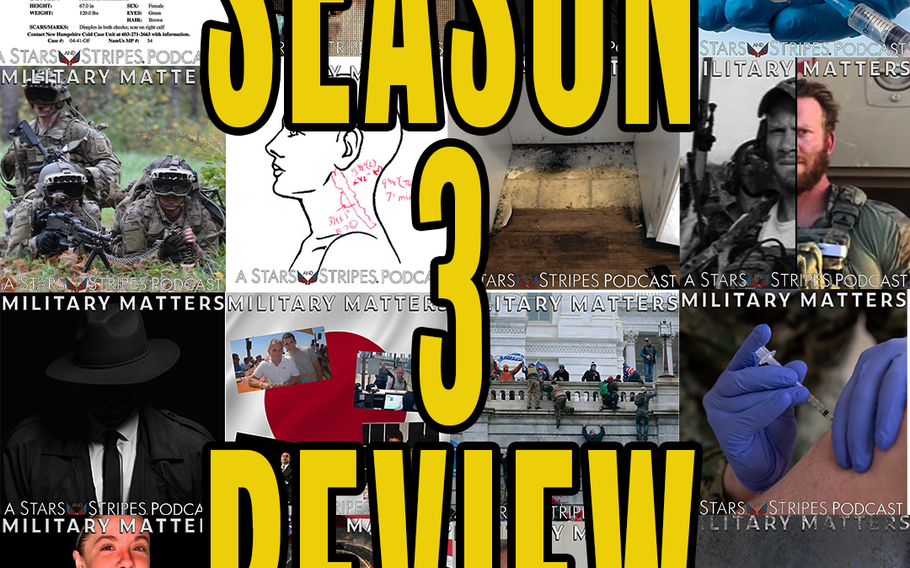 Military Matters hasn't shied away from controversy in its third season. With the addition of co-host and former Special Forces member Jack Murphy, the podcast tackled everything from extremism in the ranks, to mold and other issues in military housing, to the disappearance of former West Point cadet Maura Murray.
In this Season 3 wrap-up episode of Military Matters, hosts Rod Rodriguez and Murphy look back at some of these stories and revisit other popular episodes from previous seasons.
Season 3 opened with a look at extremism in the ranks, including QAnon conspiracy theories, in the wake of the Jan. 6 riots at the U.S. Capitol. The episode "got a lot of attention" from listeners, Rodriguez said, and not all of the reactions were positive.
"I love the United States military, I support the military," Murphy said. "I support us having these different military capabilities. … And there's a lot of awesome dudes out there, and girls also. But I am anti-rapist. I am anti-murderer. I am anti- extremism in the military. So yeah, I'm anti-Nazis in the ranks. (I'm) against housing that isn't up to snuff, isn't up to code and it's getting military families sick."
Murphy and Rodriguez discussed the importance of covering stories such as mold and other issues in military housing, which was addressed in a two-part episode, or from Season 2, the story of Vanessa Guillen, who was murdered by another soldier at Fort Hood, Texas, in April 2020. Her slaying led to Department of Defense investigations and legislation introduced in both houses of Congress in May, the I Am Vanessa Guillen Act, that would create a stand-alone military offense for sexual harassment and move decisions about prosecuting sex-related cases outside the chain of command.
"That story would have been buried, buried under miles of excuses and 'sorry's' and 'we're doing all we can's'," Rodriguez said. "If that family had not made that story public, it wasn't until they put the spotlight on Vanessa Guillen that Fort Hood and its command and the DOD were forced to take … a hard look at what they were, who they were and why they were doing what they were doing."
Looking ahead to Season 4, the hosts teased more episodes about true crime, as well as further investigations from Murphy into the world of special operations. In light of the report on unidentified aerial phenomena expected from the Pentagon this month, the podcast will revisit the Season 2 episodes about UAPs. And the military's withdrawal from Afghanistan is also on the hosts' minds.
"Each guy who served in the war on terror, particularly in Afghanistan, is having to ask themselves individually some very difficult questions about what it meant," Murphy said. "What did my experience mean? What did my service mean? And I think it's important to talk about."
Listeners can expect the first episode of season four in early July, Rodriguez said.
Follow Jack Murphy on Twitter @jackmurphyrgr and Rod Rodriguez @rodpodrod.
A transcript of the episode can be found here.
You can find Military Matters on Twitter @stripesmmpod.
Go to www.stripes.com use promo code PODCAST and save 50% on your digital subscription.
---
---
---
---