Try the Michelin-star ramen that's only 1,000 yen in an unassuming location in central Tokyo
By
Stars and Stripes
June 23, 2022
---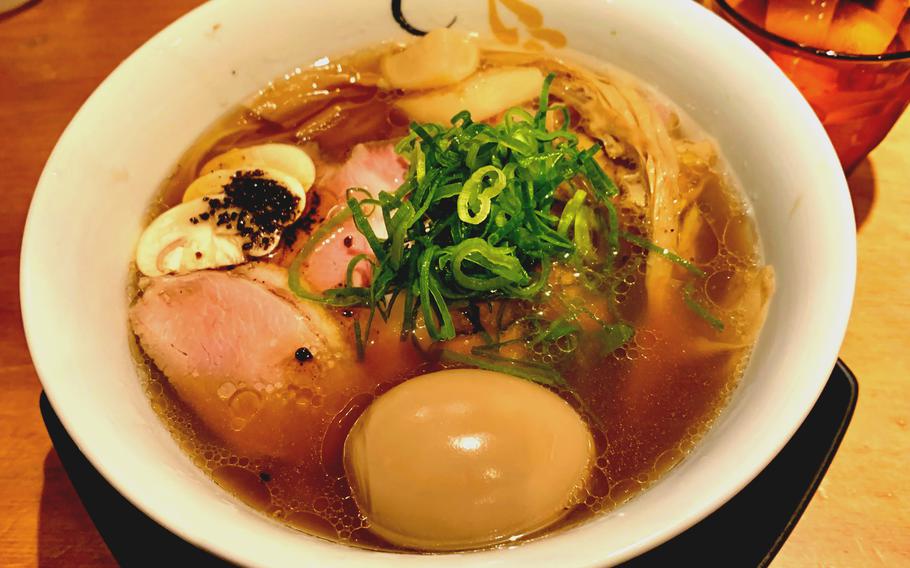 Right in the heart of Tokyo, you'll find some of the most prestigious ramen you'll ever try.
The soba restaurant that earned a Michelin star in 2018 isn't operating in one of the many impressive and glitzy skyscrapers that line the main street in Shinjuku. Rather, it's housed at an unassuming building in a dark alley off the main road, and the food is dirt cheap.
My friend and I took the train to Tokyo one Tuesday night to try Soba House Konjiki Hototogisu's Michelin-star ramen that sells for 1,000 yen, about $7.40 at the current exchange rate.
Even though we arrived 30 minutes before opening time, a few other people were already lined up — a fashionable young couple giggling over their phones and a man in a suit who looked like he'd just left work.
My friend and I were the only Americans, and likely the only moms who had left their husbands and toddlers on their own for dinner.
As we stood in line discussing which ramen we would try, a warm, wet, dirty-sock smell wafted out of the vent hood that was right next to the queue. It's a smell I associate with truffles. 
Having grown up in the U.S. when truffles became trendy, I remembered — and not without a slight feeling of disgust — when truffle flavoring was added to everything, from mac and cheese to french fries. Since truffles are notoriously expensive, most of the truffle flavoring used was likely synthetic. I didn't care for the overpowering taste then, so I felt a bit anxious because Soba House Konjiki Hototogisu uses black truffles in many of its dishes.
Once the restaurant opened, the line moved quickly. Ramen is like fast food in America: You pay, you eat, you leave. The whole process was expedited by a vending machine just within the entrance. Next to the vending machine was a helpful diagram with English translations, but my friend and I, self-conscious about how much extra time we were taking by matching the diagram's translations to the vending machine buttons, felt some pressure to quickly make a selection.
Soba House Konjiki Hototogisu offers a salt-based soup (shio), a soy sauce-based soup (shoyu), or a combination of the two. We both decided to order the combination, a tsuke soba with a shio and shoyu-based broth. I also added a marinated egg (ajitama) and pork char siu.
We sat at the counter in front of the chefs, and our food was ready in less than 10 minutes. I took a moment to admire the steaming, aromatic bowl in front of me, snapped a few pictures and then the race was on. I hurriedly slurped my noodles, trying to keep pace with the young couple that was doing the same at a nearby table.
Typically, ramen is served with ramen noodles. Soba House Konjiki Hototogisu specializes in tsuke soba, a ramen with soba noodles freshly made in-house. They had a great, chewy texture and were brown speckled with buckwheat flour.
The soup's familiar taste camouflaged its layers of complex flavors. Shiny bubbles of liquid fat floated on the surface of a broth just salty enough to season each mouthful of noodles but too saline to swallow alone. I sampled a few spoonfuls anyway, just to figure out its ingredients.
On its website, Soba House Konjiki Hototogisu says its chefs use a combination of "animal-based soup, duck soup, and Japanese-style dashi." I detected the piquant taste of poultry and the funky dashi, but I'm certain an element of pork lent a rich thickness to the soup.
And to my relief, there was no overpowering fake truffle flavor. Instead, black truffle had been carefully grated on top and was the perfect, earthy ingredient to cap the layered flavors in the bowl.
As soon as we finished our ramen, we put our bowls on the counter, said, "Gochisousama deshita!" to the chef, and freed our seats for the next waiting customers. We paid, we ate and we left, but I'll be back.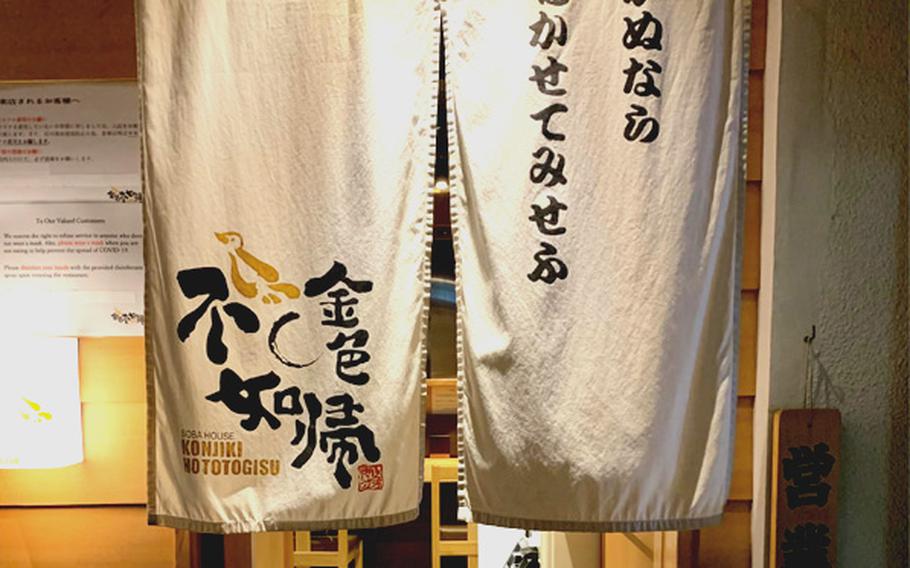 SOBA HOUSE KONJIKI HOTOTOGISU
Location: 2-4-1 Shinjuku, Shinjyuku-ku, Tokyo, 160-0022, Japan
Directions: A 2-minute walk from Marunouchi Line
Hours: Open 11 a.m. to 3 p.m. for lunch and 6:30 p.m. to 9:30 p.m. for dinner. Closed every Sunday.
Prices: Noodle dishes start at 1,000 yen and top at 1,500, with toppings extra. It's cash only.
Dress: Casual
Information: Online: sobahousekonjikihototogisu.com; Phone: +81 03-5315-4733.
---
---
---
---