French 'village of potters' creates handmade marvels that make holiday gifts and souvenirs
by
Karin Zeitvogel
Stars and Stripes
November 18, 2021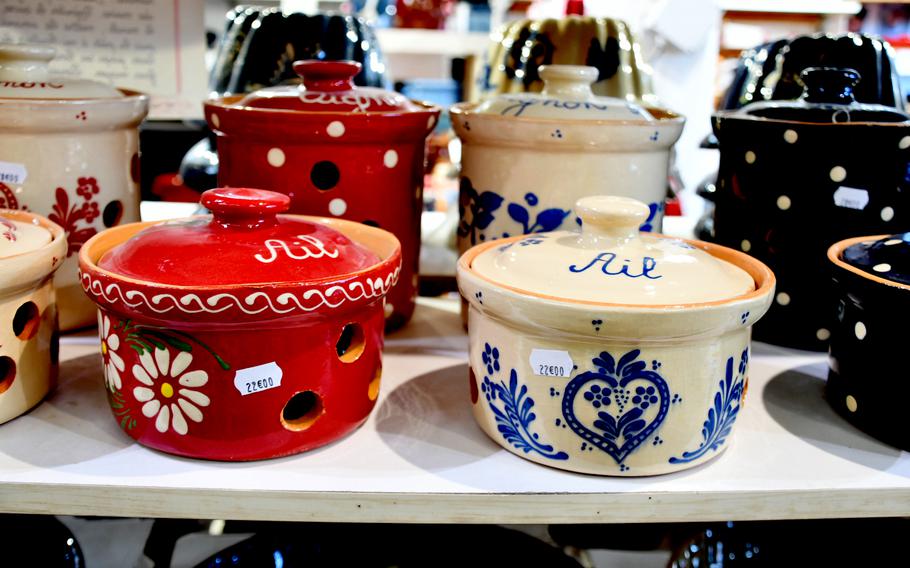 Soufflenheim is one of those European villages you'd miss if you blinked — and if you didn't know about the pottery that's made there.
Dubbed "the village of potters," it sits in eastern France on the edge of the Hagenau Forest, the source of the clay that artisans have shaped, fired and hand-decorated for centuries.
Emperor Frederick I, also known as Barbarossa, or Red Beard, gave the people of Soufflenheim the right to extract and use clay from the forest in the 12th century, and they've been doing so ever since.
Only about a dozen potters are still active in the village today, down from the heyday of the mid-1800s, when 55 potteries in and around Soufflenheim employed hundreds of people.
Today, many potters use a mix of clay from France and other European countries because the local clay, which is extracted once every 10 to 15 years and then stored until it's used, has become costlier.
But the way they work the clay to make molds for the traditional Alsatian gugelhupf cake, terrines, tea sets, plates, bowls and other culinary items has remained largely unchanged for generations.  
Soufflenheim is a 1½-hour drive from Kaiserslautern, through woods, over hills and past an abandoned border crossing at Scheibenhard.
Once in the village, which is just minutes from the border, we stopped at the tourist office, next to the church, to pick up maps and a booklet about a do-it-yourself tour of the pottery workshops. Even when the office is closed, the pamphlets and maps are available outside.
We planned the itinerary for our tour but then made a coin-flip decision to walk toward a sign pointing to Siegfried-Burger and Sons.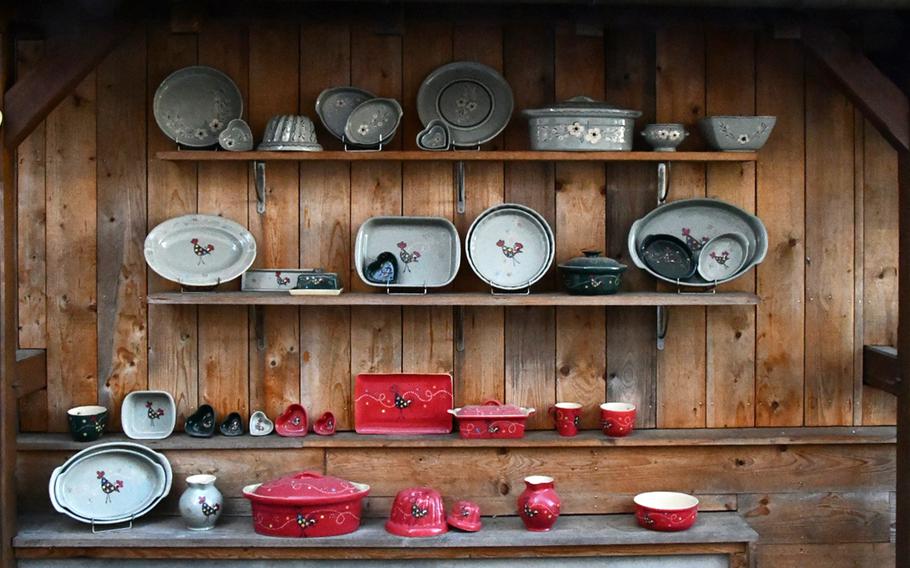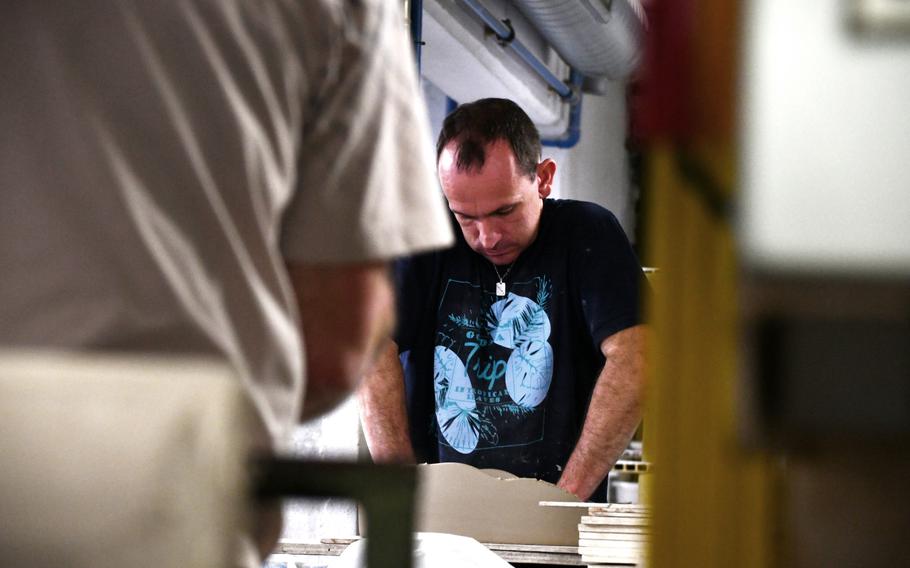 Minutes later, we entered a courtyard decorated with Alsatian pottery, and went up a few steps into the store.
There were terrines and gugelhupf molds of all sizes, tiny espresso cups, oversized teacups, dinner plates, Christmas ornaments, fluted pie dishes and more. All were stamped underneath to prove their made-in-Alsace authenticity.
The Siegfried-Burger family has been in the pottery business since 1842. At the back of the main display area is the workshop, where two men were creating large terrines.
Because of the pandemic, there were no workshop visits, but I stood and watched from a display area for slightly imperfect pottery as the men turned chunks of gray clay into bakeware, using some of the same methods that their ancestors did.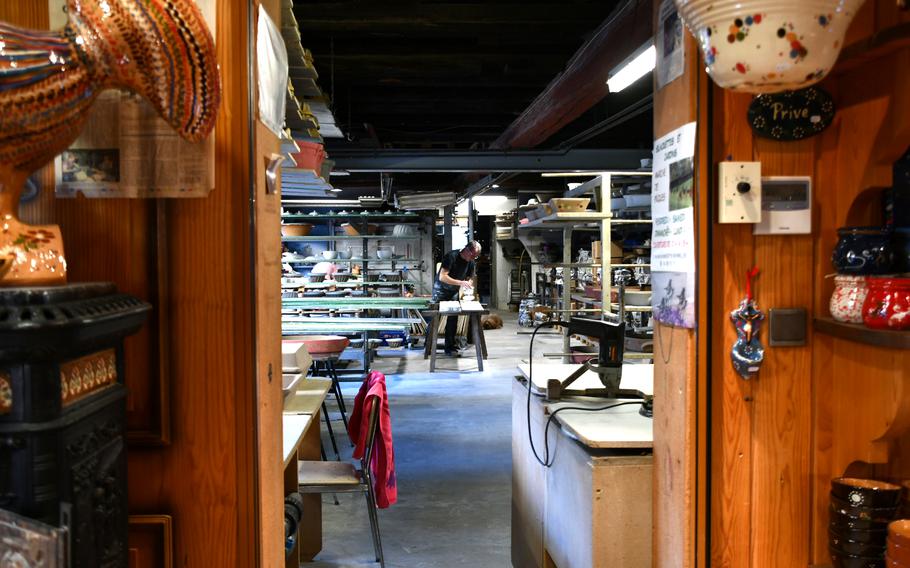 All of Soufflenheim's potters close for lunch, but in the afternoon, we visited five more pottery workshops. 
Beck was by far the biggest and had some innovative designs, including a Frida Kahlo collection.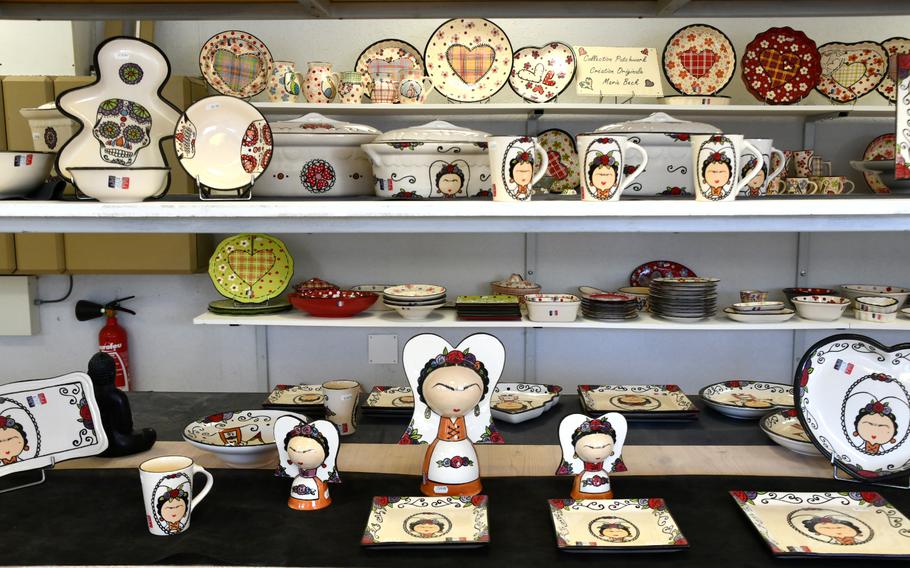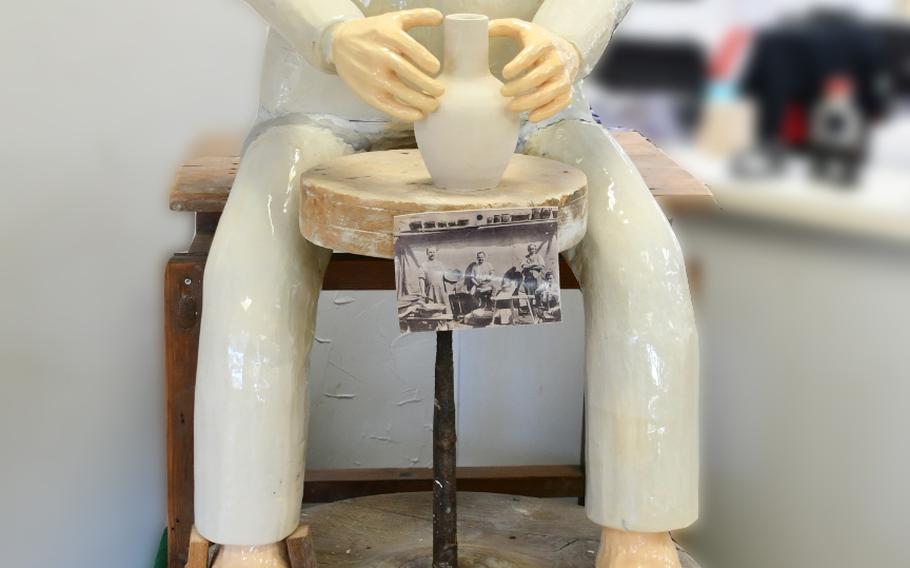 Entering Ignace Friedmann's shop, we were greeted by a stunning stained glass window with images of Barbarossa and a potter. The Friedmann family's workshop is the oldest in Soufflenheim, established in 1802.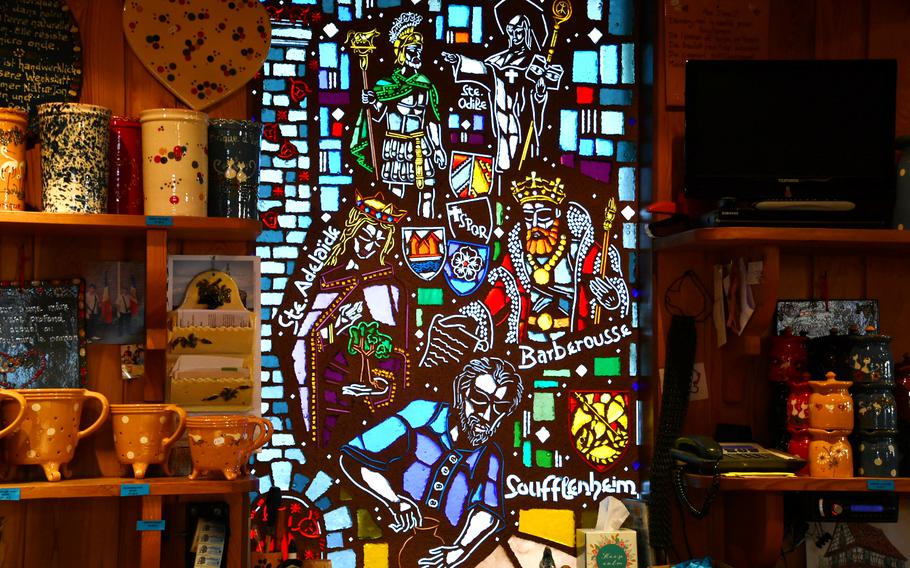 The potters at Ernewein-Haas, we learned, invented a baking dish that they say will roast chicken and vegetables to juicy perfection.
Beer, wine, lemon juice or another liquid is poured into a spout in the middle of the dish, a chicken is placed over it, vegetables are arranged in the circular dish, and everything is baked for 1½ hours, until roasted vegetables and chicken with the taste of whatever was in the spout are ready to be enjoyed.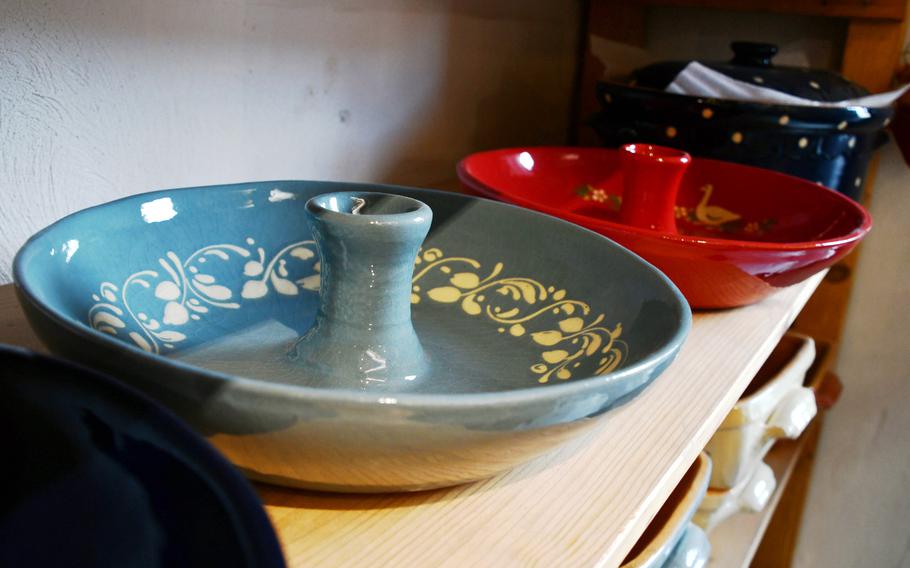 We didn't use the map from the tourist office but instead just followed signposts, strolling a few feet from one potter to the other and making a mental note of whose designs we liked most. Only Beck and Siegfried-Burger are not on Grand Rue. 
We ended up going back to Siegfried-Burger, where the slightly imperfect section had affordable, easy-to-ship items. Even shopping on the cheap, we spent more than 100 euros between us.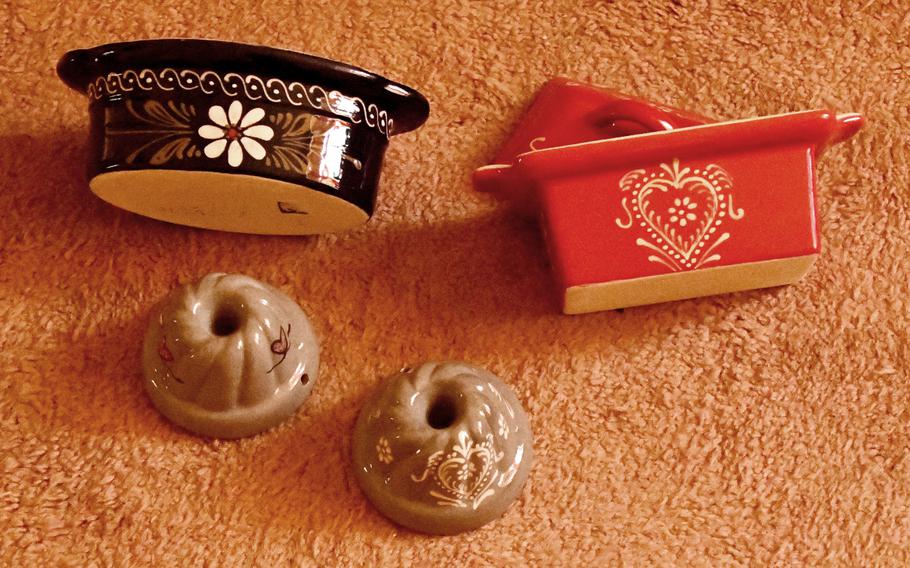 But our holiday shopping is pretty much done. Everyone's getting pottery from Soufflenheim.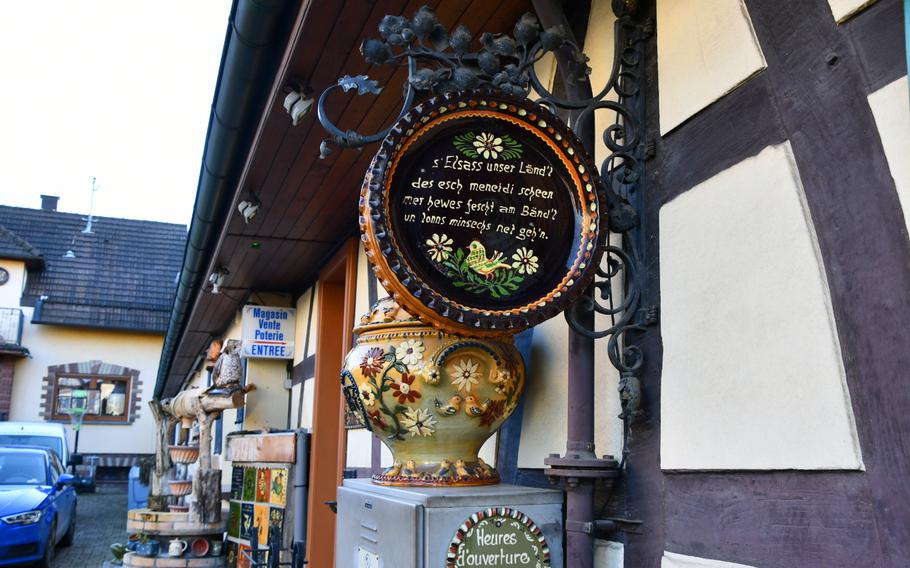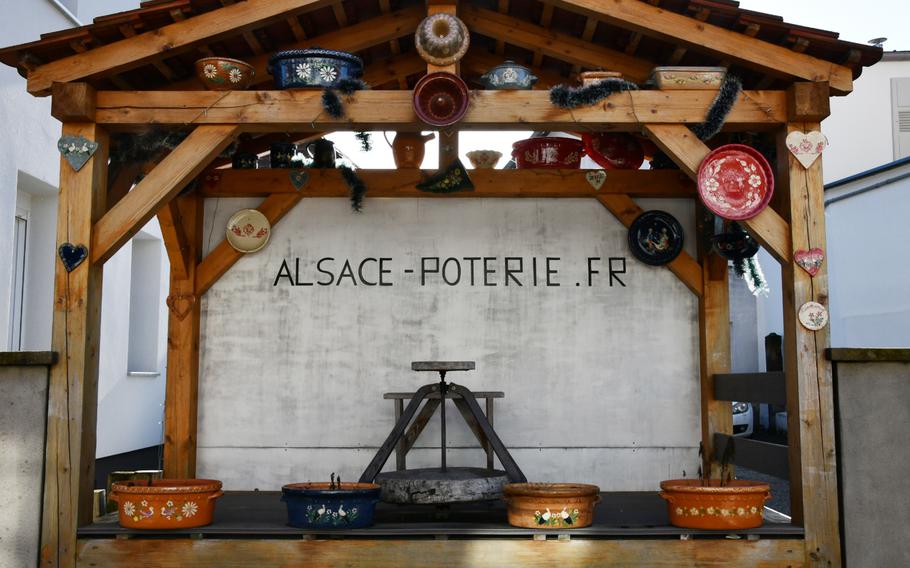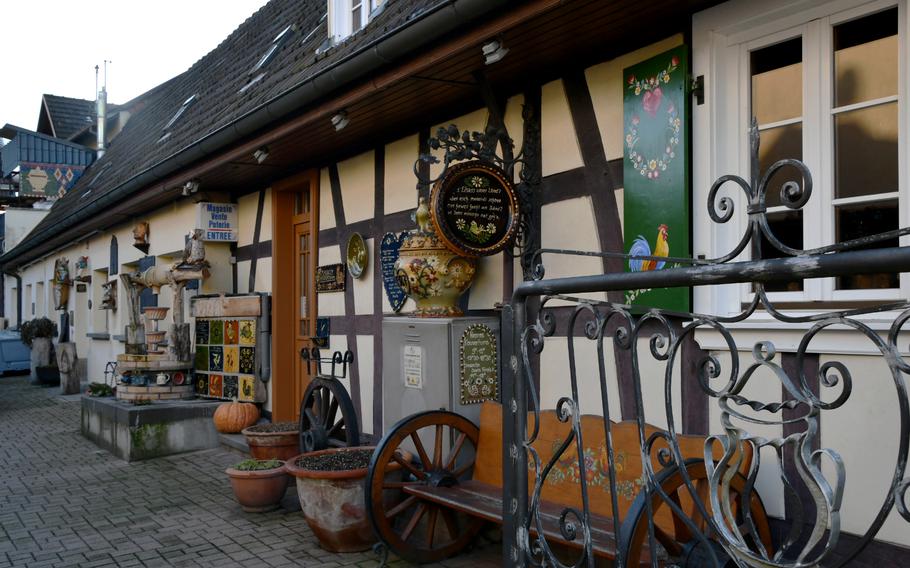 On the QT
Soufflenheim is 1½ hours from Kaiserslautern or Stuttgart, an hour and 45 minutes from Ramstein, two hours from Wiesbaden and three hours from Spangdahlem. Bring passports and vaccination records.
The tourist office is next to St. Michael's Church at 20b Grand Rue. A pamphlet showing a suggested walking tour of Soufflenheim's potters is available for free outside the office, which is open Tuesday through Saturday.
Parking: The lot diagonally across the street from the tourist office is free and well-placed to allow visits to at least half a dozen pottery-makers.
Hours: Most pottery workshops open at 9 or 10 a.m., close at noon for at least an hour and reopen in the afternoon until 5 or 6 p.m. A handful are open Sundays, but the best days to go are Tuesday through Friday.
Food: The village baker is open from 6 a.m.-noon. There are a few restaurants in Soufflenheim, including Au Boeuf, A L'Esperance, A la Couronne and a creperie next to the parking lot. At the LeClerc supermarket, a short drive away, there is a pizzeria.
Information: A list in English of pottery workshops is available online at visit.alsace/en/277001670-the-potteries-of-soufflenheim.