Masks no longer required indoors at several US Army installations in Europe
By
Stars and Stripes
March 16, 2022
---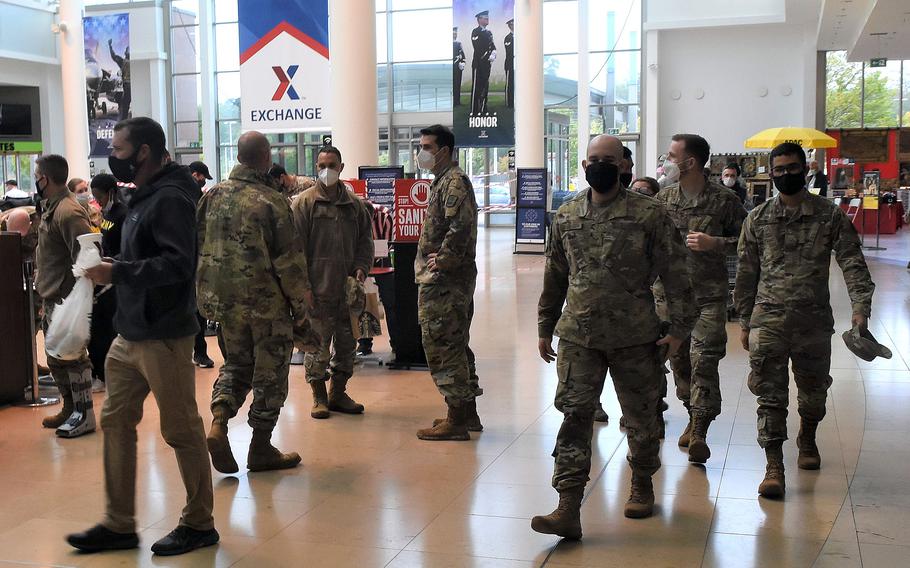 Stars and Stripes is making stories on the coronavirus pandemic available free of charge. See more stories here. Sign up for our daily coronavirus newsletter here. Please support our journalism with a subscription.
People fully vaccinated against COVID-19 no longer need to wear face masks inside buildings at several U.S. military installations in Europe, one of the largest Army commands on the Continent said Wednesday.
The new policy covers areas that fall under the Germany-based 21st Theater Sustainment Command, including U.S. Army Garrison Rheinland-Pfalz and U.S. Army Garrison Benelux, officials said Wednesday following statements posted on military social media pages a day earlier.
The policy includes areas where 21st TSC Commander Maj. Gen. James Smith is the senior responsible officer, such as Romania, Greece and Kosovo.
People will not be asked to prove their vaccination status under the new guidelines, Maj. Vonnie L. Wright, a 21st TSC spokesman, told Stars and Stripes.
"Commanders have the capacity to see who is vaccinated based off of their own personal rosters within the organization," Wright said.
The mask mandate had been in place for nearly two years and the policy change comes as Germany documented its highest rate of COVID-19 infections since the start of the pandemic, according to the Robert Koch Institute, the country's main disease control agency.
The command did not immediately say Wednesday what prompted the reversal. About 96% of the Army's active-duty soldiers have been vaccinated, according to Pentagon data released earlier this month.
Masks may still be required in clinics, schools, child care centers, commissaries and stores on installations, the 21st TSC said.
All U.S. service members and DOD civilians are required to be vaccinated, except in rare cases that may exempt them.
"We stay in lockstep with (Centers for Disease Control and Prevention) guidelines and DOD regulations and protocol," Wright said.
Mask mandates in shops, restaurants and schools in many parts of Germany are set to end this weekend. However, in the state of Rheinland-Pfalz, which is home to the largest U.S. military community in Europe, a planned relaxation of various COVID-19 restrictions was postponed until April.
---
---
---
---