Hong Kong braces for curbs as COVID cases double every three days
By
Bloomberg
February 7, 2022
---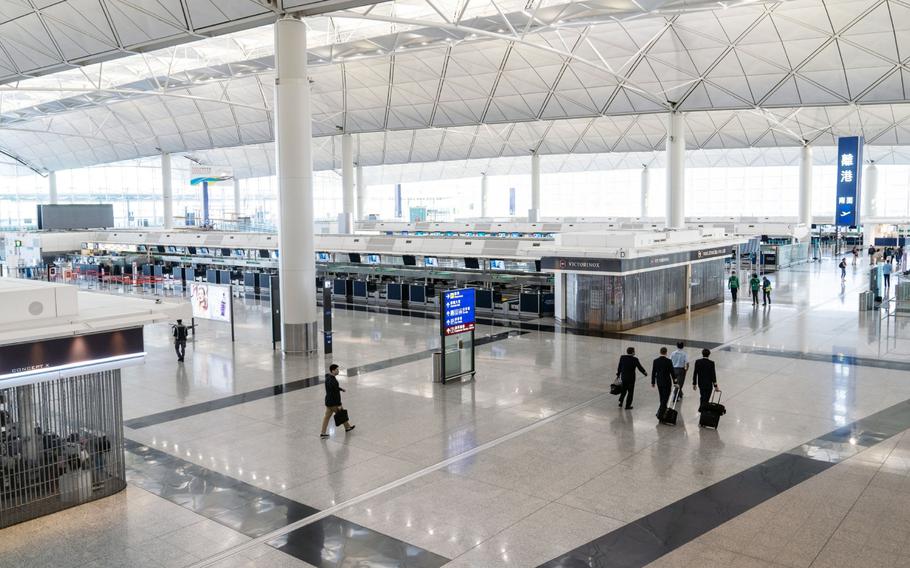 Stars and Stripes is making stories on the coronavirus pandemic available free of charge. See more stories here. Sign up for our daily coronavirus newsletter here. Please support our journalism with a subscription.
Hong Kong reported a record number of coronavirus infections, with cases doubling every three days putting pressure on the government to ramp up restrictions as it holds fast to its goal of eliminating the virus.
The city announced 607 locally transmitted cases on Monday. Only 150 infections can be linked, suggesting a significant number of silent chains of transmission in the community, and authorities have pinned the ballooning rate on gatherings during last week's Lunar New Year. About 600 preliminary positive cases have been detected.
The explosive outbreak has reached a level that's rarely been quashed by any other city. Mainland China, which deploys lockdowns and mass testing at a scale that Hong Kong can't match, hasn't faced a surge of this magnitude since it stamped out infection in Wuhan in early 2020. The same year, Australia's Melbourne contained an outbreak that reached similar heights with a strict lockdown that confined residents to their homes for three months. It saw 1,200 jobs lost across Victoria state each day — and that was of a less transmissible variant than omicron.
Hong Kong's pursuit of COVID Zero has seen its health-care infrastructure strained under the pressure of stringent tracking and isolation measures that have sent thousands of people into quarantine or hospital. The government has already signaled that it might tighten social-distancing measures and lowered the criteria for releasing patients from mandatory hospital stays to alleviate the burden on facilities.
On Monday, authorities said that some close contacts will be able to quarantine at home for 14 days, provided they have suitable living quarters, and household members of close contacts will be able to quarantine for four days. Penny's Bay, the main quarantine center, will from tomorrow start receiving low-risk COVID patients, including those who are young and have mild symptoms.
"At the current rate, we will be seeing over 10,000 cases per day after just 15 days," said Leung Chi-chiu, former chairman of the Hong Kong Medical Association's advisory committee on communicable diseases. He suggested a reversion to the tightest control measures to reduce social mixing by 70%.
"If the community response falls short of what is needed, we may need to consider the temporary closure of all unnecessary shops for one to two weeks as a last resort," Leung said.
Hong Kong Chief Executive Carrie Lam is set to discuss further measures during an Executive Council meeting on Tuesday. Local media have reported a range of potential restrictions may be considered including limiting the number of patrons allowed to dine in at restaurants, closing some businesses like hair salons and education centers, and placing restrictions on religious venues.
The government may also lower the public gathering limit to two people in a return to one of Hong Kong's strictest anti-virus measures in 2020.
The city should open up more vaccination and testing centers, and limit public gathering numbers — including at restaurants, shopping malls and supermarkets — to two people who have had at least one dose of the vaccine, said Ivan Hung, a University of Hong Kong professor who sits on a committee advising the government on vaccinations. He also suggested close contacts undertake five days of quarantine at home, and a further relaxation of hospital discharge criteria.
"With these measures, we could still get the current wave under control but it will take eight to 12 weeks," Hung said.
The city has struggled to lift its vaccination rate, which is one of the lowest in the developed world. The government has already said it will widen a vaccine bubble due to start on Feb. 24 and require shots for residents at elderly homes.
About 80% of the population aged 12 and above have received at least one dose, compared with the 90% goal set by the government in order for a relaxation of measures to be considered.
Hong Kong health authorities had predicted an exponential increase in virus cases after last week's Lunar New Year holiday, which typically sees people gather with friends and family indoors. Secretary for Food and Health Sophia Chan reiterated on Sunday a plea for residents to stay at home.
"We need the active cooperation of the public to stay at home to fight the epidemic, significantly reduce the flow of people, and the government's measures can stop the spread," she wrote in a blog post. The current situation is the worst since the pandemic began two years ago, she said.
---
---
---
---