Can't order your free COVID tests from the government? Here's what could be going on
By
McClatchy Washington Bureau
January 19, 2022
---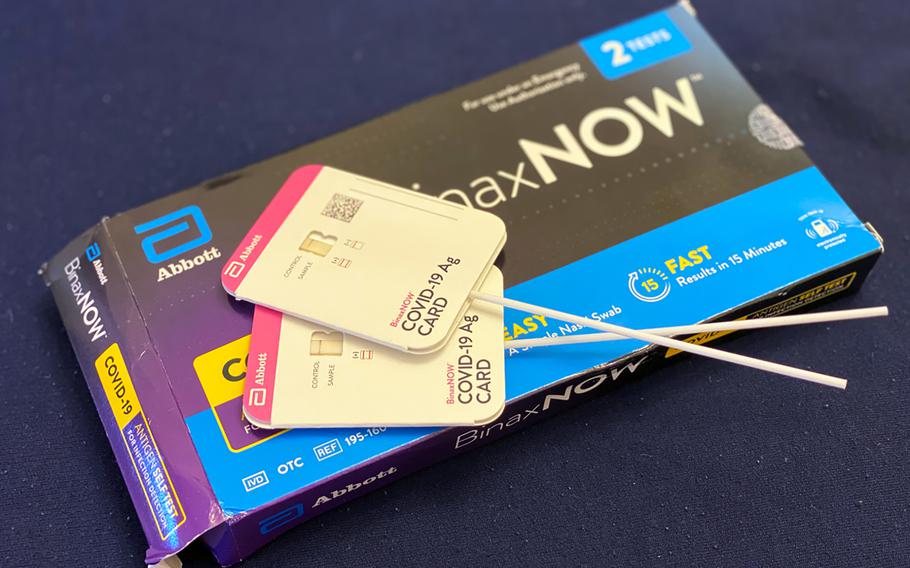 Stars and Stripes is making stories on the coronavirus pandemic available free of charge. See more stories here. Sign up for our daily coronavirus newsletter here. Please support our journalism with a subscription.
(Tribune News Service) — A website through which people in the United States can request free COVID-19 tests from the government launched Tuesday, Jan. 18. But some people have reported technical issues with ordering the tests.
President Joe Biden's administration is purchasing 1 billion rapid, at-home tests to be made available for free as the omicron coronavirus variant — which evades COVID-19 vaccines and transmits more easily — spreads throughout the country. The first 500 million of those tests are now available online at COVIDtests.gov.
Each household can place only one order, which includes four test kits. The White House has said it's limiting the number of tests each household can order to "ensure broad access." But since the site has launched, some people have been getting error messages when they try to order their tests.
White House Press Secretary Jen Psaki told reporters on Jan. 18 that the website is in the "beta phase" and that the White House can't "guarantee there won't be a bug or two." But she said technology teams within the administration and the U.S. Postal Service are "working hard to make this a success."
If you've been getting an error message when ordering your tests, here's what could be going on, according to the U.S. Postal Service, which is working with the Biden administration to deliver the tests.
'Tests have already been ordered' error message
The USPS notes that only one order can be placed per residential address regardless of how many people live there.
"Please check with others in the household to determine if someone else placed an order," the USPS said. "Once someone has successfully placed an order for a valid residential address, orders cannot be submitted again for that address. This increases the opportunity for others to access these free tests."
But some people who live in multi-family homes have said they are unable to order tests because others who live in their apartment complex or building, and therefore at the same residential address, have already ordered tests.
The Postal Service said if an address isn't registered as a multi-unit home, it could lead to problems with placing orders, CNBC reported. A spokesperson for the USPS told WCVB that "this is occurring in a small percentage of orders."
The USPS said service requests for these issues can be filed on its website.
Your address is listed as a business
Some people trying to order tests may be getting an error message that says "the address you entered is listed as a business address in our system."
The USPS notes that tests are only available for residential addresses or residential PO boxes.
But some people who rent their home or live in an apartment complex have also said they've been getting this message when they try to order tests.
People who believe they are getting the message in error can also file a service request with the postal service.
Dr. David Magnus, a biomedical ethics professor at Stanford University, told KGO that it could become an inequality problem if the issues with multi-family homes don't get fixed soon.
"Logistics of this are leading to the same thing we have seen over and over again in the pandemic," he said, according to the outlet. "Which is most likely these tests will wind up in single family homes, and not homes that actually have a higher chance of catching COVID."
He told KGO that the government should focus on making sure lower-income communities get the tests and that every resident should get a test instead of every household.
The White House has said it will prioritize orders to households that are "experiencing the highest social vulnerability and in communities that have experienced a disproportionate share of COVID-19 cases and deaths, particularly during this omicron surge."
Trouble validating your address
The Postal Service said other possible error messages include "we couldn't validate your address" and "we couldn't validate your address as complete."
If you're getting the first message, the USPS says that the address typed in is not recognized as a delivery address. It recommends checking that the correct information is in the correct fields or confirming your address on its website.
"Once you validate your address, you may attempt ordering your tests again," it said.
If you're getting the second error message, the USPS says the address is missing a suite or apartment number. It says to check that you included the number in your address or to "confirm your address on USPS.com and try again."
Those who can't validate their address can file a service request.
Website difficulties
For those experiencing general difficulties with the website, the USPS says to try switching browsers or clearing your cache or cookies.
"For further information and other common browser troubleshooting, see the FAQ USPS.com® Website Support - Browser and Download Issues," the Postal Service said.
Those who need help placing an order should refer to COVIDtests.gov, the Postal Service said.
Those who can't place an order online can find other testing options at findahealthcenter.hrsa.gov, on the Department of Health and Human Services website, or through a local or state health department.
©2022 McClatchy Washington Bureau.
Visit mcclatchydc.com.
Distributed by Tribune Content Agency, LLC.
---
---
---
---