'It feels like 2020 all over again': As COVID cases climb, DC-area residents take extra precautions
by
Marissa J. Lang
The Washington Post
December 19, 2021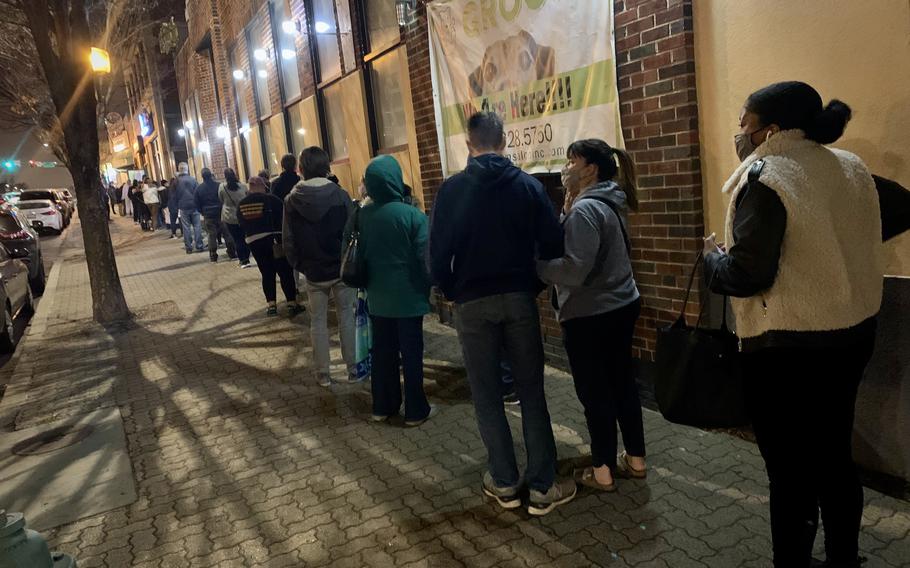 A week before Christmas at a holiday market in downtown Washington, the air was thick with music, the smell of roasted candy-coated nuts and a growing dread over the latest surge in coronavirus cases.
Conversations orbited around vaccination dates and test results — a who's who of relatives who had tested positive for the coronavirus over the past week. Children were chided for taking off face masks or venturing too close to high-touch surfaces. Merchants answered questions about ornately embroidered face coverings and prominently displayed Christmas tree ornaments adorned with the face of Anthony Fauci, the director of the National Institute of Allergy and Infectious Diseases. Shops that would in years past have allowed samples of edible products instead shielded them behind walls of plastic.
"Don't put that near your mouth," one woman yelped near a display of South American pan flutes.
"Why?" asked the little boy who was with her.
"Why?!" she said incredulously, gesturing at the crowd of people hovering nearby, masks fastened over their noses and mouths. "You know why."
Coronavirus cases are spiking in the District and the Maryland and Virginia suburbs as the nation grapples with a winter surge in cases, the arrival of the highly transmissible omicron variant and continued vaccine resistance among large swaths of the population. In the absence of government mandates, merchants, individuals and families have been left to erect their own guardrails in an effort to stay safe from another worsening wave of infections.
On Friday, D.C. reported 844 new coronavirus cases — the highest single-day total at any point since March 2020. The seven-day average of new cases in the District had reached 360 by Friday, setting another record. Mayor Muriel Bowser, D, suggested Friday that reinstating a Districtwide mandate is "on the table," as other officials urged her to take more decisive action to combat the rapid rise in cases. (The District does not report case numbers on Saturdays.)
Hospitalizations have been steadily climbing and a rolling wave of school closures have shuttered classrooms across the District and neighboring counties. Prince George's County in Maryland on Friday became the first school system in the region to announce that all of its schools would return to remote education, citing exploding numbers of coronavirus cases. Montgomery and Howard counties halted extracurricular activities, including sports games, concerts and plays.
Vendors in downtown D.C. on Saturday said the number of shoppers they've seen opting to wear a face mask — or two — even while browsing outdoor stands at the annual holiday shopping village has grown noticeably over the last two weeks.
For Mallory and Bori Oludemi, both 29, double-masking seemed like the responsible thing to do to protect themselves and their families, a small group of which plan to gather around Christmas. Though the couple has received full doses of the coronavirus vaccine, the Oludemis' booster shot appointments aren't for another two weeks.
"It feels like 2020 all over again," Bori Oludemi said. "Even though we've been fully vaccinated, it feels like we're at risk again."
"I don't think I would have worn a mask out here even a month ago," added Mallory Oludemi, whose office recently sent workers home to work remotely amid rising case counts. "But now, with omicron, we're being extra cautious."
The omicron variant, potentially more transmissible than other strains of the deadly coronavirus, has been detected throughout the region. President Joe Biden in a White House address to the nation has said the variant is a "cause for concern, not a cause for panic."
The coronavirus was weighing heavily on holiday plans this weekend. Several people said they had scrapped large gatherings and decided to keep celebrations small and intimate. Some had canceled trips that required flights. Others said they were keeping track of exactly which friends and family members had been vaccinated and boosted — and only inviting those people over for the holidays.
Barbara Howard, a senior from North Bethesda, said performing risk analyses on everyday activities like going out to lunch with a friend or roaming a holiday market has become second nature. She has no qualms about asking people whether they have been fully vaccinated and, now, whether they have received a booster shot. It's how she will be determining her holiday guest list.
"That's just the way it is now," she said. "I'm not anxious. I'm cautious."
Several shoppers said that despite the region's worsening coronavirus numbers, it still feels safer to be here than other American cities, like New York where an all-time high of 21,000 daily cases prompted Broadway theaters and the high-kicking Radio City Rockettes to cancel holiday shows.
Jessica and Eileen Abel, a mother and a daughter from Baltimore, were supposed to be roaming the galleries at the Metropolitan Museum of Art and wrapping up their holiday shopping out in the Big Apple on Saturday. They had booked a hotel room, bought tickets to see the Rockettes and the hit Broadway musical "Company," and filled up the gas tank of Jessica's car when on Friday morning they had a change of heart.
"I woke up and my phone was just lighting up with headline after headline of how bad New York was getting hit with this omicron wave," said Jessica Abel, 38. "I texted my mom, like, 'Are we crazy for trying to go to New York right now?' "
"Yes," came Eileen Abel's reply.
Instead, the two decided to take a day trip down to D.C. They donned face masks and roamed the National Portrait Gallery. At the holiday market, they snagged a table away from the crowd and ate a midafternoon meal. They joked about their bungled vacation and recounted posing for a photo in front of a painting of Central Park.
"We took a selfie in front of it since we couldn't see the real thing," Eileen Abel, 69, said.
Then she rapped her knuckles on the wooden table, hoping that maybe in 2022 the pandemic's deadly hold on the nation would loosen and, maybe, they could safely take that mother-daughter trip.
---
---
---
---