New York sets record for most COVID cases in a day since the pandemic began as omicron variant surges
by
Tim Balk
New York Daily News
December 18, 2021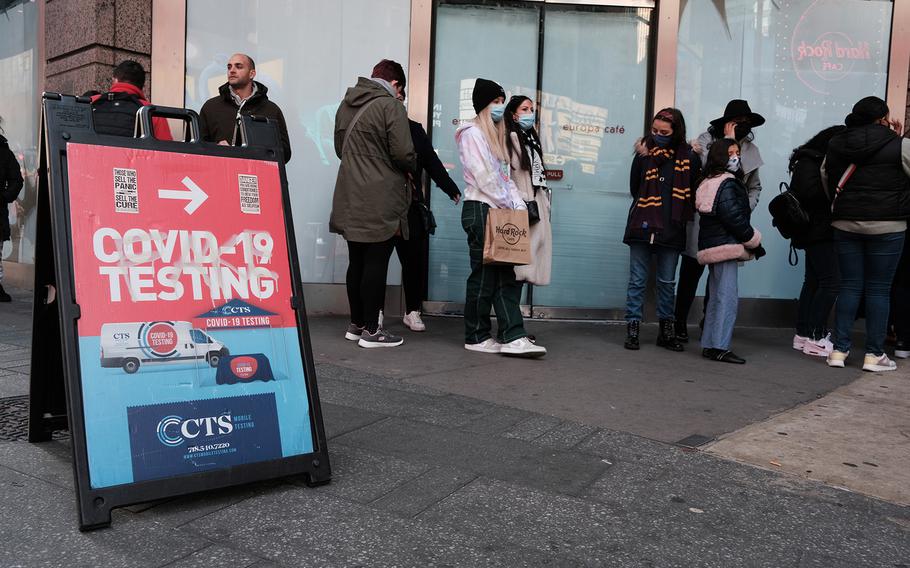 NEW YORK (Tribune News Service) — New York state recorded more coronavirus cases on Friday than any other day in the 21-month-old pandemic, according to data released by Gov. Kathy Hochul's office, as a vicious virus surge whipped the state.
The state logged 21,027 cases, according to the data, and the daily test positivity rate skyrocketed to nearly 8%. As recently as last Saturday, the statewide daily positivity rate was lower than 4.3%.
The Christmastime wave, which has led to long lines outside overwhelmed testing sites, has reminded the pandemic-weary state of March 2020, when the virus first rocked New York. But tests were not widely available then, making a comparison in cases between now and earlier periods complicated.
Still, the latest numbers served as a jarring expression of the increased threat. The recent spike is believed to be driven by the hypercontagious omicron strain, which has spread rapidly across Europe in recent days and was discovered in southern Africa last month.
In hard-hit London, omicron is already the dominant strain.
About half of the New York state cases logged Friday — 10,286 — cropped up in New York City, where a sense of dread and deja vu was growing.
Case counts in the city have taken a sharp vertical turn in recent days, and Mark Levine, chair of the City Council's health committee, said the five boroughs were heading into a "perfect storm."
"Regular New Yorkers need to start thinking differently about their daily routines and avoiding — as much as possible — gatherings where people are likely to be unmasked," Levine told the New York Daily News. "That's a tough thing to grapple with as we're heading into the holiday season."
Only 32 omicron cases had been confirmed in New York City as of Friday, according to government data. But its spread may be vastly underreported; a small fraction of cases are sequenced by labs to determine their mutations.
"Even people who are vaccinated really should be still wearing a mask right now, because we are seeing more breakthrough cases," Hochul said on CNN.
Under an order from Hochul, masks are now mandatory across the state in indoor businesses that lack full proof-of-vaccination rules. But some Republican-led counties have resisted enforcing the directive, which took effect Monday.
The governor, who at times has appeared visibly frustrated by upstate resistance to the mandate, suggested that some local officials were failing to uphold "an oath of office which we all take, which is to protect the people of our state."
Scientists are rushing to determine the threat posed by omicron. The heavily mutated strain appears to spread far faster than previous variants, dodging vaccine immunity as it bounces around communities, but it may cause less severe symptoms.
The strain's virulence, however, remains an open question. Some research has found little evidence that it packs a gentler punch than the long-dominant delta strain.
Health officials, meanwhile, are bracing for already filling hospitals to face yet another test.
Hochul said it is not clear how much of the stunning wave is attributable to omicron.
"We don't have a real handle right now," she told CNN. "Nobody does, on those numbers, other than they're going up exponentially."
The seven-day moving test positivity rate in New York state stood at 5.7% on Friday, according to state data. New York City had a lower weeklong test positivity rate than any other region, according to the figures, but seemed to be experiencing the most dramatic spike.
In recent weeks, western and northern reaches of the state had been experiencing a vexing case surge while New York City enjoyed comparatively low test positivity rates. But omicron appeared to be rearranging the picture.
The seven-day moving positivity rate in the city climbed by 39% from Tuesday to Thursday, according to Hochul's office.
The governor said she remains wary of any moves that will shut down the economy. And she expressed optimism about the state's accelerating booster shot campaign, saying that more than 100,000 New Yorkers got an extra jab on Thursday.
"Get that booster shot," she said on CNN. "And then if you wear your mask you'll be fine to gather over the holidays."
———
©2021 New York Daily News. Visit at nydailynews.com.
Distributed by Tribune Content Agency, LLC.
---
---
---
---