Vaccine mandate canceled by Oklahoma National Guard adjutant general despite Pentagon order
by
Caitlin Doornbos  
Stars and Stripes
November 13, 2021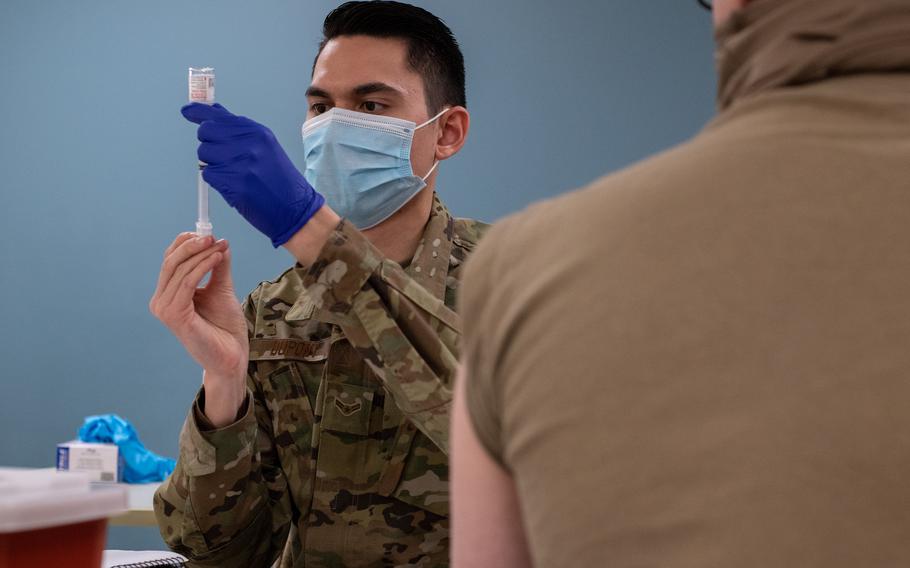 WASHINGTON — The new leader of the Oklahoma National Guard issued a memo Thursday ordering no troops will be required to take a coronavirus vaccine despite a mandate from the Pentagon requiring it, according to a news report.
Oklahoma Adjutant General Thomas Mancino updated the Oklahoma National Guard's vaccination policy as one of his first acts in the job, noting "no negative administrative or legal action will be taken" against Guard members who decline the coronavirus vaccine, The Oklahoman reported Friday.
The decision comes after Defense Secretary Lloyd Austin in August issued a mandate requiring all service members to get the vaccine or be separated from the military for failing to obey a lawful order.
The Oklahoma National Guard declined to release Mancino's memo to Stars and Stripes on Friday.
However, it was unclear Friday whether the Oklahoma National Guard can override the National Guard Bureau's federal mandate that requires all Guard members to be fully vaccinated by June 30, 2022, said Air Force Maj. Matt Murphy, a bureau spokesman.
"It's a legal gray area that would have to be reviewed by our lawyers," he said.
The National Guard serves in state and federal capacities, which complicates the issue, Murphy said.
"This is where the difference between Title 32 and Title 10 becomes a real becomes an issue," Murphy said. "In most instances, the guardsmen are in their Title 32 capacity, which means they're on state duty. In order to be federalized, they have to be on Title 10."
Title 10 of the U.S. Code gives the National Guard Bureau authority to issue its mandate for Guard troops activated for federal missions, while Title 32 gives individual state's the power to issue rules when Guard troops are operating under the state's authority.
The National Guard Bureau's vaccination deadline is different than the deadlines set by the Air Force and Army. The Air Force and Army require Guard airmen and soldiers to comply with their Nov. 2 and Dec. 15 respective vaccination deadlines to be mobilized on federal orders – more than six months before the bureau's deadline.
"We have requirements in order to meet readiness standards," Murphy said. "We have to comply with whatever the active-duty Air Force and active-duty Army requirements are."
The Air Force does not separate the vaccination rates of service components, though about 92.8% of all Air Force, Air Force Reserve and Air National Guard airmen were vaccinated as of Tuesday, according to the service. Army National Guard vaccination rates were unavailable Friday.
Mancino's memo came on his second day as adjutant general. On Wednesday, Gov. Kevin Stitt, a Republican, replaced Maj. Gen. Michael Thompson, who had been a vocal proponent for coronavirus vaccinations, with the 35-year National Guard veteran, according to The Oklahoman.