US Forces Korea leader requests vigilance after COVID-19 clusters appear at two bases
by
Matthew M. Burke
Stars and Stripes
June 28, 2021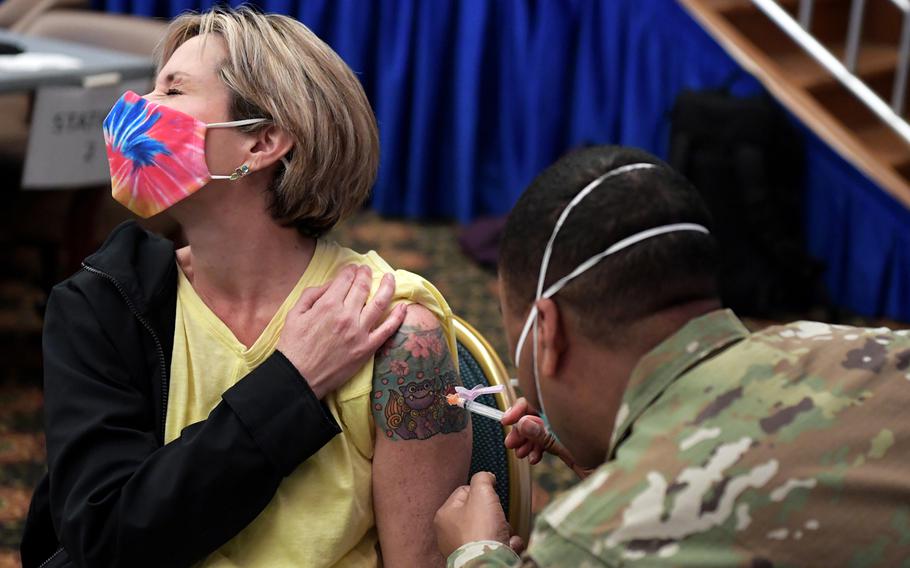 Two small COVID-19 clusters have emerged at U.S. bases in South Korea while cases of the coronavirus respiratory disease continue to decline in neighboring Japan.
U.S. Forces Korea had 13 people — 11 service members and two family members — test positive between June 22 and Thursday, the command announced in a statement Friday evening.
Nine service members and one family member at Camp Humphreys became infected after coming into contact with a positive individual, the statement said. Meanwhile, two service members stationed at Camp Casey and a family member of a service member assigned to Humphreys tested positive after developing COVID-19 symptoms.
All 13 individuals are in isolation at Humphreys, the statement said.
"We are currently experiencing two small COVID-19 clusters on Humphreys and Camp Casey," U.S. Forces Korea commander Gen. Robert Abrams said in the statement. "Even though we are close to achieving an 80% vaccination of our community, now is not the time to become complacent. We must adhere to the USFK core tenets and remain vigilant as we stamp out these recent clusters."
South Korea added 501 new cases at midnight Sunday and two deaths, according to the Korea Disease Control and Prevention Agency's Central Disease Control Headquarters.
The government has counted over 150,000 COVID-19 cases during the pandemic and 2,000 deaths, the WHO said.
In Japan, Kadena Air Base had one person test positive for COVID-19, according to a base Facebook post Saturday morning. The individual was identified before traveling to the United States.
Kadena, on the southern island prefecture of Okinawa, has recorded 35 cases so far this month. It reported 17 in May.
Japan reported 958 new infections on Monday, 329 fewer than the same day last week, according to public broadcaster NHK and the World Health Organization. There were 35 deaths nationwide.
The government has counted more than 790,000 cases during the pandemic and 14,500 deaths, the WHO said.
Tokyo on Monday reported another 317 coronavirus infections and four deaths, according to NHK, which cited metropolitan government data. That's 81 more than the same day last week.
Okinawa prefecture, home to most U.S. troops in Japan, reported another 25 infections Monday, the fewest number of daily cases the prefecture has reported since 18 on March 22, according to NHK. There were two deaths.
Okinawa remains in a state of emergency until July 11.
Twitter: @MatthewMBurke1