Defense Department opens new, improved school at Navy base in Japan
By
Stars and Stripes
September 21, 2022
---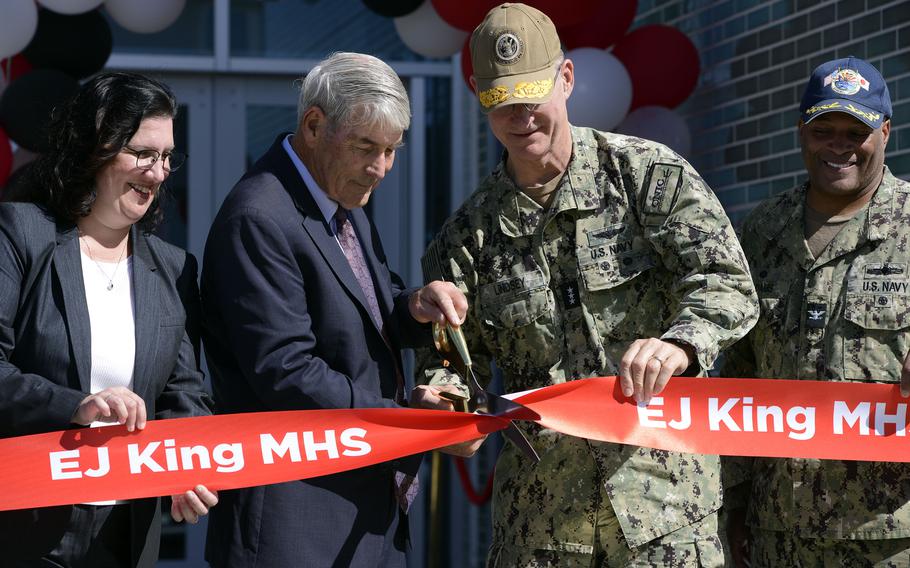 SASEBO NAVAL BASE, Japan – The latest in a round of new school construction at U.S. military bases in Japan, a $54.5 million project at this naval base in the country's southwest, officially opened Wednesday.
The new and improved E.J. King Middle and High School at Sasebo took nearly three years to complete. The project included new construction and renovation of an existing structure.
Approximately 350 children of service members and Defense Department civilians attend sixth through 12th grades at E.J. King. Sasebo, one of the Navy's busiest bases in Japan, is homeport for an amphibious ready group organized around the amphibious assault ship USS America.
Doors opened in January for limited use of E.J. King. Wednesday's ribbon-cutting was attended by students, parents and teachers along with Thomas Brady, director of Department of Defense Education Activity, DODEA-Pacific school district superintendents, and Navy officials, including Vice Adm. Yancy Lindsey, head of Navy Installations Command.
E.J. King junior Maliwan Schinker said she's excited to spend her remaining high school years in a new facility.
"I was here when they had the older building, too, and it's really nice to see that I will have this for the next two years that I'm here," Schinker told Stars and Stripes on Wednesday. "I think overall having nicer classrooms and more room is the biggest improvement I noticed."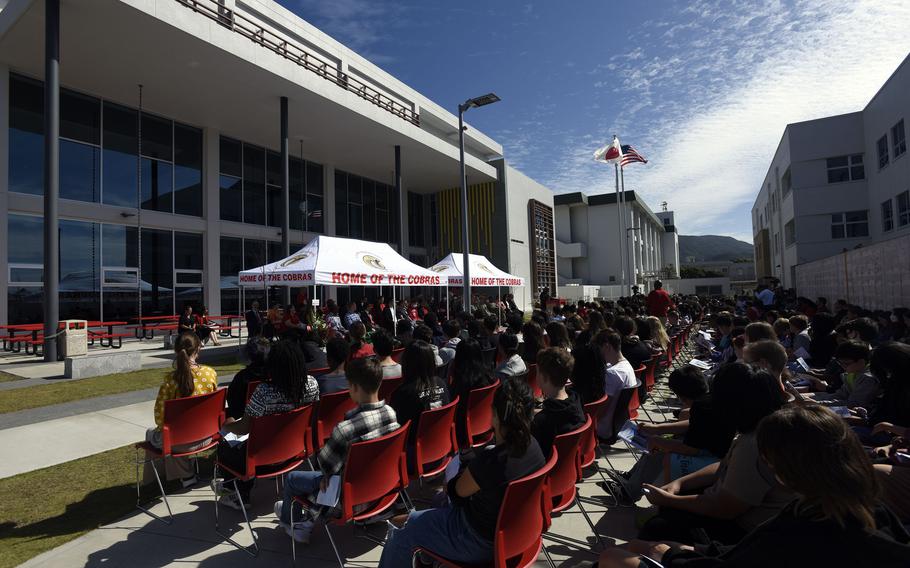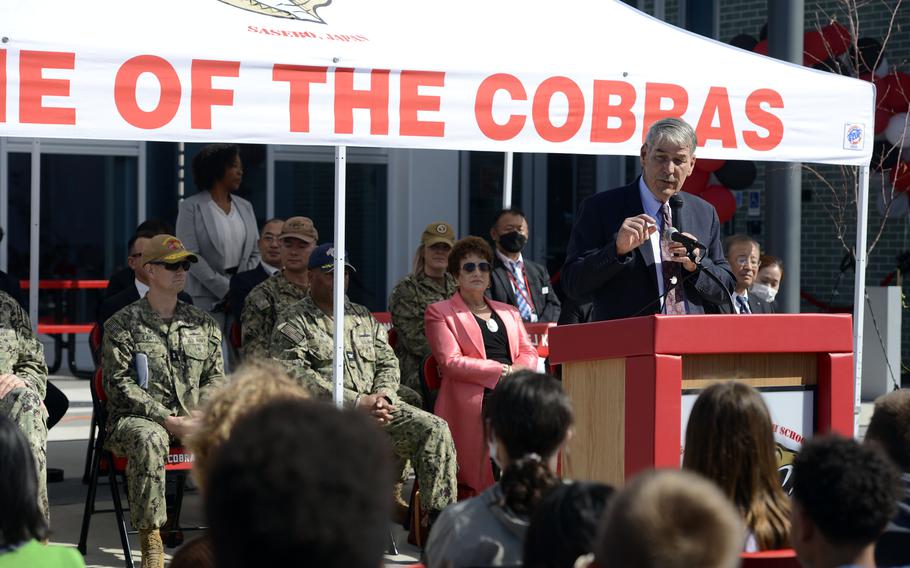 A new school is a bonus experience for students from military families who move frequently into new surroundings, DODEA director for student excellence Lois Rapp said during the ceremony.
"You know it's kind of hard to be a military child. A lot of you moved around a lot of times, you've been in a lot of different schools, you've made lots of new friends," she said. "But we want to make sure that this facility, [E.J.] King High School, is welcoming for you so that you can have a wonderful experience."
E. J. King joins a list of schools in South Korea and Japan on which DODEA has spent hundreds of millions of dollars to improve, some as "21stcentury" schools, in the past several years.
Major projects in Japan include a $150 million high school replacement at Yokosuka Naval Base south of Tokyo and $95 million on an elementary school at Camp McTureous on Okinawa.
Over the past five years in Japan, DODEA has also built, renovated or added on to Zama Middle-High School, Sasebo Elementary School, Kadena Elementary and High schools, Bob Hope Elementary School, Killin Elementary School, Edgren Middle School, Yokota High School and Zukeran Elementary School.
The E.J. King project included a new, three-story high school building as well as renovations to an existing three-story classroom building. A new commons area and information center were completed, as well as outfitting the facility with new furnishings, according to a factsheet provided to Stars and Stripes.
E.J. King High principal Lorenzo Brown during the ceremony said the new school is worth its long, arduous construction.
"We were originally scheduled to move in January of this year, full tilt," he told Stars and Stripes on Wednesday. "But construction got behind and there were also issues with the supply chain and we couldn't get all the materials."
---
---
---
---