Naval Academy midshipman found dead in Chile is second student to die in last two months
By
Stars and Stripes
July 18, 2022
---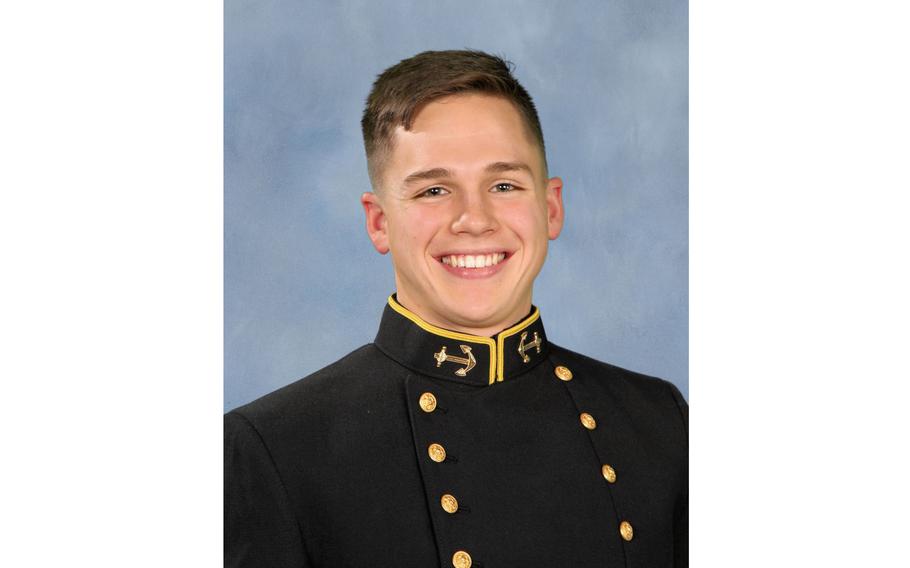 WASHINGTON — A U.S. Naval Academy midshipman was found dead in a lagoon in Chile on Sunday after reportedly falling over a waterfall during a hike with a friend a day earlier, the school said Monday.
Midshipman 2nd Class Luke Gabriel Bird, 21, was found dead at about 10:30 a.m. "in a lagoon of the Salto El Agua waterfall in Placilla in the Valparaíso region of Chile," according to a statement for the academy in Annapolis, Md. Foul play is not suspected.
"The U.S. Naval Academy, U.S. Naval Forces Southern Command/U.S. 4th Fleet, U.S. Southern Command, and the U.S. Embassy in Chile are grateful to the Chilean firefighters, police and armed forces for their tireless efforts to locate our midshipman," the academy said.
Bird, a junior and native of New Braunfels, Texas, had been in the country as part of a semester abroad program at Chile's Arturo Prat Naval Academy.
"He reportedly lost his footing and fell over the waterfall at approximately 11 a.m. on July 16, 2022, while hiking with a Chilean Naval Academy student near the waterfall," according to the statement.
Bird was an ocean engineering major, a member of the U.S. academy's 20th and 2nd companies and an active member of the school's Semper Fi Society, which trains midshipmen in Marine Corps "culture and values in order to graduate ready and competent leaders," according to the academy.
He was authorized to wear the National Defense Service Medal and had earned the Marksman Rifle Qualification Badge and Sharpshooter Pistol Qualification Badge, the academy also said.
Friend and fellow Texan Midshipman 1st Class Travis Delgado called Bird an "unfathomably smart midshipman" who mentored and tutored him in their shared courses and spent "much of his free time" helping others.
"[Bird] greatly exemplified the hard-working midshipman who helps anyone at the drop of a hat," Delgado said in the statement. "He was a great man and will be dearly missed by all those in 20th Company and throughout the brigade."
Bird came to the academy after becoming the battalion commander of his high school's Marine Corps Junior Reserve Officer Training Corps. In November 2018, he was one of five Marine Corps JROTC cadets nationwide to receive a Legion of Valor Bronze Cross for Achievement, which recognizes "outstanding achievement in both scholastic and military subjects and outstanding leadership demonstrated in both school and in the community," according to the statement.
He was also a member of his high school's wrestling team, active in student government and vice president of the National Honor Society club, according to the statement.
Bird is the second midshipman to die in the last two months. Midshipman 1st Class Taylor Connors of Pleasant View, Utah, died while on leave in Philadelphia on June 7.
Before Connors' death, the last publicly announced midshipman death happened in June 2021 when Michael Myles James, 22, also died while on leave.
"The Naval Academy is supporting the midshipman's family, friends, and loved ones during this time of grief. Counseling services and support are available to midshipmen, faculty and staff through chains of command, our chaplains and the Midshipmen Development Center," the academy said.
---
---
---
---