Navy Week, Thunder Over Michigan airshow return to Detroit area
By
Maureen Feighan and Kaitlyn Luckoff
The Detroit News
July 12, 2022
---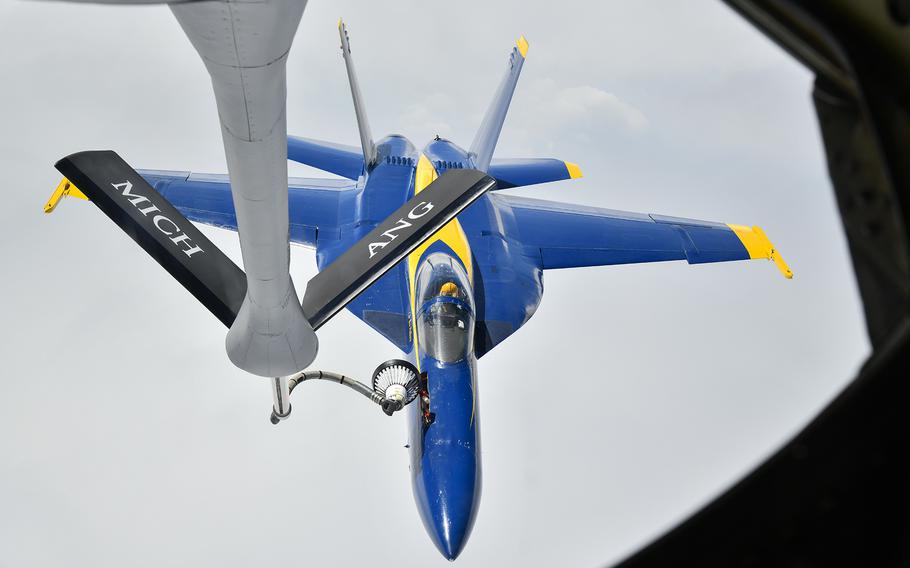 (Tribune News Service) — Move over, "Top Gun: Maverick." The real deal will be in Ypsilanti, Mich., this weekend.
Thunder Over Michigan returns Saturday and Sunday to Ypsilanti's Willow Run Airport for four shows, two featuring the U.S. Navy Blue Angels and two with the U.S. Air Force's F-16 Demo Team.
The F-16 Demo Team has participated in Thunder Over Michigan in the past, said Thunder Over Michigan Spokesman Scott Buie, but this year's show will be the first time the F-16 "Viper" Demo Team will perform with female pilot, Captain Aimee "Rebel" Fiedler in the cockpit. The same team just performed July 2-3 at the National Cherry Festival in Traverse City.
Thousands flock to see Thunder Over Michigan every year, an annual fundraiser for the Yankee Air Museum in Ypsilanti. Approximately 30,000 are expected to attend.
After being canceled in 2020 because of COVID, the air show returned last year but with a drive-up format where patrons purchased tickets per car rather than per person and can spread out on the grass around their car. That format will continue this year with $225 car passes, up from $185 last year.
And while capacity was capped at 1,800 cars last year, that won't be the case this weekend. Buie said they're expecting 7,000 vehicles this weekend.
And leading the F-16 Viper Demo Team will be Fiedler, who was installed as the team's commander and pilot in early March. The team, which will perform morning shows Saturday and Sunday, has been crisscrossing the country for its 2022 show schedule since March. After Ypsilanti, it'll do shows in Dayton and Cleveland.
The Blue Angels, meanwhile, which started in 1946, will perform Saturday and Sunday afternoon. Gates open at 1 p.m. each day for a 2:30 p.m. show. Separate tickets are required for each show.
Besides the high-flying acrobatics at Thunder Over Michigan, there will also be displays, a chance to meet Warbird pilots, Huey helicopter rides, and a special KidZone area. There will be food on site.
Detroit Navy Week
Also, Navy Week is taking place now through Sunday, July 17, bringing sailors to Detroit to share the significance of the Navy to the area.
Since 2005, the Navy Office of Community Outreach has hosted Navy Weeks across the country, giving American citizens the chance to learn about the importance of the Navy. This program has been the Navy's flagship outreach effort in parts of the country, similar to Detroit, that do not have a strong Navy presence.
This year, Detroit's Navy Week will be one of 13 Navy weeks across the country.
The organizations that will participate in the week-long program are USS Detroit (LCS 7), Navy Band Great Lakes, Naval Oceanography Operations Command, U.S. Navy Parachute Team, Navy Talent Acquisition Group Heartland, U.S. Fleet Forces, Unites States Naval Academy, Naval History and Heritage Command, Naval Reserve Center Detroit and University of Michigan NROTC.
Lt. Andrew Johns is the navigator aboard USS Detroit (LCS-7). In this role, he ensures safe navigation for the ship by creating all of the navigation plans. He explained the importance of Navy Week in educating cities without a strong Navy presence.
As a Detroit native participating in Navy Week for the first time, Johns shared that he is most looking forward to the tour of Little Caesars Arena and being back home.
"I am excited to see the new arena, because they broke ground after I had left," Johns said. "I'm really excited to see how that looks, and then also just being back home, seeing family, and seeing ow the city has changed in the last six years since I've been gone."
mfeighan@detroitnews.com, kluckoff@detroitnews.com
(c)2022 The Detroit News
Visit at www.detnews.com
Distributed by Tribune Content Agency, LLC.
---
---
---
---