Lockheed Martin was Tom Cruise's wingman for pivotal 'Top Gun: Maverick' scene
By
Fort Worth Star-Telegram
June 22, 2022
---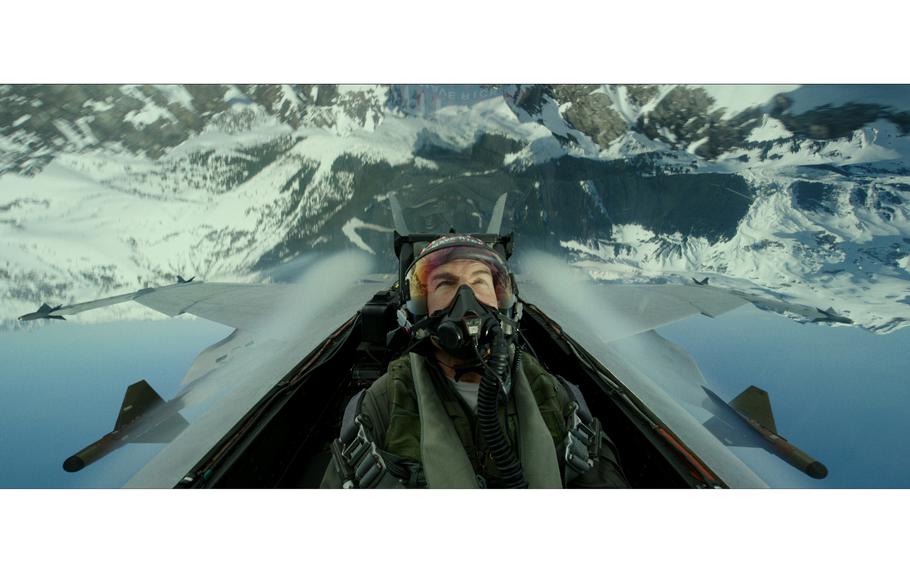 FORT WORTH, Texas (Tribune News Service) — A team at Lockheed Martin is proud of "Top Gun: Maverick."
And there are good reasons for that joy.
A Lockheed Martin group, many of them in the aerospace company's Fort Worth location, helped Tom Cruise and the creators of the story about Navy pilots establish one of the hottest films this summer.
Just last weekend, "Top Gun: Maverick" zoomed past the $800 million mark for global box office, ranking it as the highest-grossing film in Cruise's career, according to Variety.
"The team who did a lot of the work watched it and it brought tears to their eyes," said Brian Hershberger, a project manager at Lockheed Martin, in a telephone interview with the Fort Worth Star-Telegram.
Negotiations for the movie began in 2017, and Cruise visited Lockheed Martin in Fort Worth — the epicenter of the company's F-35 production — in August 2018.
Cruise even flew his own P-51 to Tarrant County in 2018.
"It was an opportunity for us for a good business reason and recruiting," said Jen Eller, a public relations leader for Lockheed Martin, in a telephone interview on Monday. "It was also going to be a way to get our brand out there."
After landing in Tarrant County, Cruise spent hours researching for the film. He came to Fort Worth for an F-35 immersion to highlight the plane's capabilities, tour the flight line and meet with mechanics.
Cruise even signed one of the bulkheads on one the F-35Cs (U.S. Navy version) that was in production. That aircraft is at the Naval Air Station in Lemoore, Calif., home of "Top Gun."
"(Cruise) loves to fly," said Al Norman, a Lockheed Martin test pilot, in a telephone interview. He was a fighter pilot adviser during the film's production. "He got here late, and so the second shift got to see him. I was very impressed with him because he was a good aviator."
Cruise researched the pilots, the planes and all phases of the program. In no time, Skunk Works, Lockheed Martin's advanced development program, got called to get involved in the production of the movie.
Lockheed Martin designers, engineers and aircraft model developers in Palmdale, California, worked on creating the model for the Darkstar hypersonic aircraft featured in the film.
Lockheed Martin's website says that all the work related to Darkstar was done in secret, with Skunk Works working with the "Top Gun: Maverick" production team to understand their needs and then quietly working on the design and build until the concept was revealed to the world in the film.
Lockheed Martin officials said that the stories were true that China rerouted one of its satellites to get imagery of the full-size model of the fictional plane at Naval Air Station China Lake.
It was a project that took five years as the movie was first scheduled to open in the summer of 2019, then during the Christmas holiday in 2019.
"'Star Wars' came that month, so there was another delay," Hershberger said.
COVID arrived in 2020, continuing the delay for Cruise's movie until this year.
But this wasn't going to be Lockheed Martin's first go at the movies. Through the years, Lockheed Martin employees have been involved in about 500 movies, television shows and documentaries.
The company, which has about 114,000 employees, is an American aerospace, arms, defense, information security, and technology corporation with worldwide interests. It was created in March 1995 by the merger of Lockheed Corporation with Martin Marietta. It is headquartered in North Bethesda, Maryland.
About 50 employees of Lockheed, Skunk Works and another agency contributed to "Top Gun: Maverick."
Once the movie made its appearance last month, Lockheed Martin employees praised the outcome.
The sequel to 1986's "Top Gun," has surpassed Cruise's "Mission Impossible-Fallout" which had previously been the actor's most successful film, according to Variety. "Top Gun: Maverick" is the highest-grossing film of the year in North America.
"It was very good," Norman said. "The flying scenes made it look real."
Hershberger said there were some days that employees worked 17 hours.
"Seeing everyone recognized for this was great," Hershberger said. "Skunk Works gave everyone in the world a chance to see the cool stuff."
©2022 Fort Worth Star-Telegram.
Visit star-telegram.com.
Distributed by Tribune Content Agency, LLC.
---
---
---
---