Navy pilot killed in California crash dreamed of mining in space
By
Stars and Stripes
June 16, 2022
---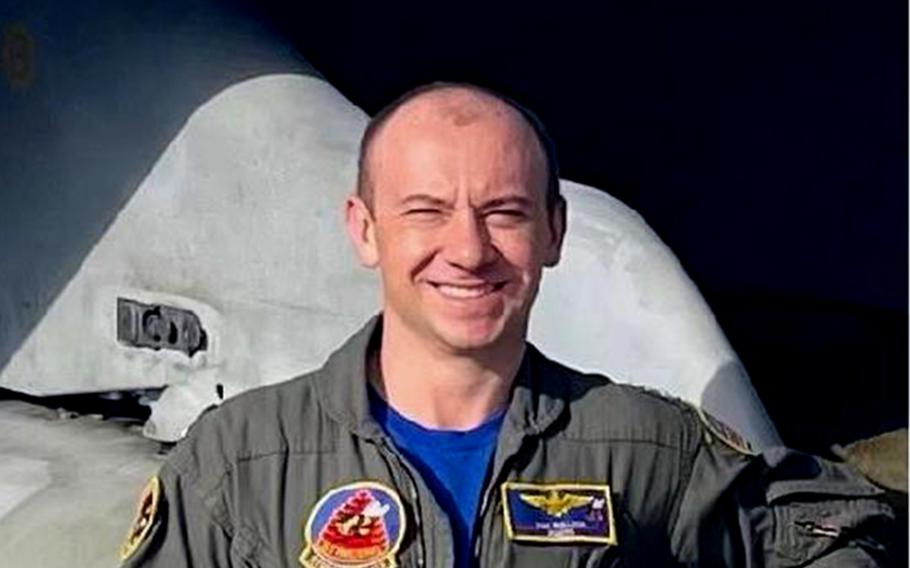 The fatal crash of Navy Lt. Richard "Max" Bullock's F/A-18E Super Hornet two weeks ago cut short his dream of one day mining asteroids in space, his family said in an obituary published Wednesday.
"He would dream of ideas that seemed crazy to most people but would shock them again when he presented a step-by-step solution to achieving them," the obituary said. "He joined the Navy … to become a pilot … to become an astronaut … to get into space … to fulfill his dream of mining asteroids."
Bullock crashed on June 3 near Trona, Calif., a remote town in the Mojave Desert, while flying a routine training mission in his Super Hornet. The cause of the crash remains under investigation.
Bullock, 29, was working toward degrees in engineering from Embry-Riddle Aeronautical University in Florida and space mining at the Colorado School of Mines, the obituary said.
A celebration of his life is planned for June 25 at the Montana National Guard Army Aviation Support Facility, 3333 Skyway Drive in Helena, Mont.
Bullock was the first of six fatalities within a week in military aircraft crashes in Southern California. On June 8 five Marines perished when their MV-22B Osprey tiltrotor crashed in the desert east of El Centro, Calif. The next day a Navy MH-60S Knight Hawk crashed during flight training in El Centro. The crew survived.
The Navy and Marine Corps on June 13 ordered one-day safety standdowns, or pauses, at their aviation units in June following Bullock's crash and the deaths. 
Bullock's wingman, Lt. T.J. Hall, in the obituary said his fellow flyer would have wanted a send-off that would be "fast, loud and awesome!"
Bullock spent his youth in Butte, Mont., and was fearless when it came to heights, according to his obituary. To better view the stars, he built a 60-foot-high platform that few others had the nerve to ascend.
"To this day, most of his family are still too afraid to make the climb, which Max called the 'Ladder of Destiny,'" the obituary said.
Bullock was commissioned an ensign after completing Officer Candidate School at Naval Station Newport in Rhode Island. He learned to fly the Super Hornet at Naval Air Station Lemoore, near Fresno, Calif. He logged more than 600 flight hours and more than 125 carrier landings, the obituary said.
"While taken far too soon, Max packed more into 29 years than most could ever imagine," according to his obituary. "He would start everyday with an intent on figuring out how to make the world a better place."
---
---
---
---