Sailor rescues pregnant soldier from flooded Okinawa underpass
By
Stars and Stripes
June 10, 2022
---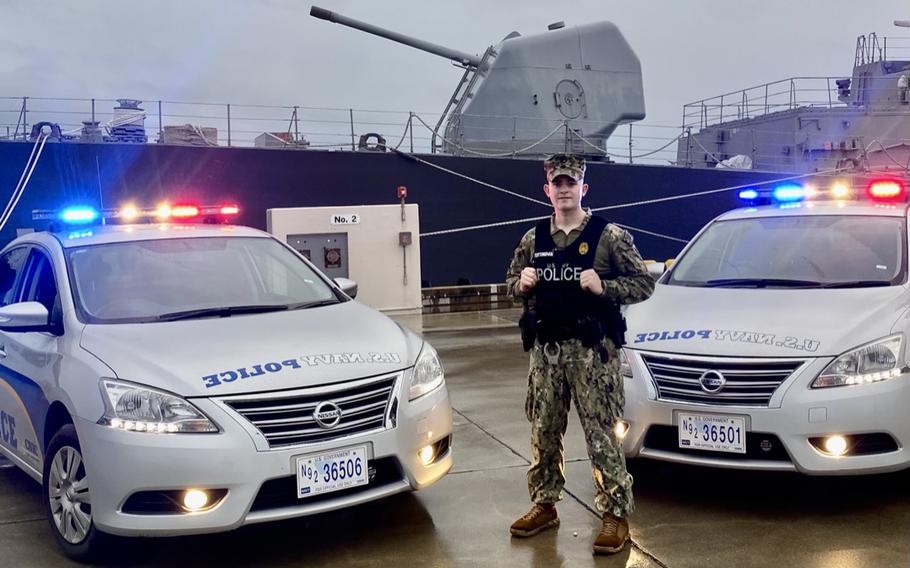 CAMP SHIELDS, Okinawa — A U.S. Navy sailor rescued a pregnant soldier from potentially drowning as her car sank in a flooded underpass at this naval installation on Okinawa.
The soldier drove her white, four-door sedan through the underpass around 5 p.m. June 2, the military police patrol supervisor that day, Petty Officer 2nd Class Romeo Barcelon, 29, told Stars and Stripes on Thursday. The car began to float and then to sink.
Petty Officer 3rd Class Ryan Tottingham, 23, had just finished his last watch and had two days left in the Navy, but intuition told him to check the tunnel for flooding on his way home, he said. He was a master at arms, the military police of the Navy.
"That particular tunnel, it floods often during typhoon season," Tottingham, of Ortonville, Mich., said Wednesday. "Everyone knows, for the most part, not to cross it."
The tunnel links Camp Shields with the O'Donnell Gardens housing area and has a history of flooding during heavy rainfall.
Rainy season arrived a month early on Okinawa this year, according to the Japan Meteorological Agency. A heavy rain and flood advisory was issued that day, and more than twice as much rain fell on Shields than any day this year.
At the entrance to the underpass, Tottingham saw the soldier's car taking on water and heard her screams. He said he ran into the water to help.
"By the time I made it to her she was in the back seat, so I just pulled her out through the back door," Tottingham said.
He moved her to an adjacent embankment, but onlookers were photographing the scene, so he moved her to his patrol car, he said.
"She was in shock and very traumatized. She was hysterically crying and screaming on the phone for her husband to come home," Tottingham said.
The 18th Security Forces Squadron at Kadena and the Naval Military Police at Shields declined to identify the soldier or provide further information about the incident.
Barcelon arrived at the underpass after hearing Tottingham's radio call.
"He is upstanding. Probably one of our best patrolmen we've had," Barcelon said. "He proved his worth with the team and he is proven his worth as an asset for sure. He will be highly missing since he's now out of the Navy."
Tottingham completed 3 ½ years in the Navy but was released early from active duty two days after the ordeal to attend a police academy in Michigan in August.
"It has been my lifelong dream to be a police officer," he said. "I always had a desire to help people. I was a Navy Sea Cadet at 9-years-old; that started my drive for public service."
"There needs to be more positivity in the world especially with law enforcement," Tottingham said. "I feel like I could be that positive change."
Stars and Stripes reporter Mari Higa contributed to this report.
---
---
---
---