USS Ronald Reagan departs Japan for a routine mission in a complicated region
By
Stars and Stripes
May 20, 2022
---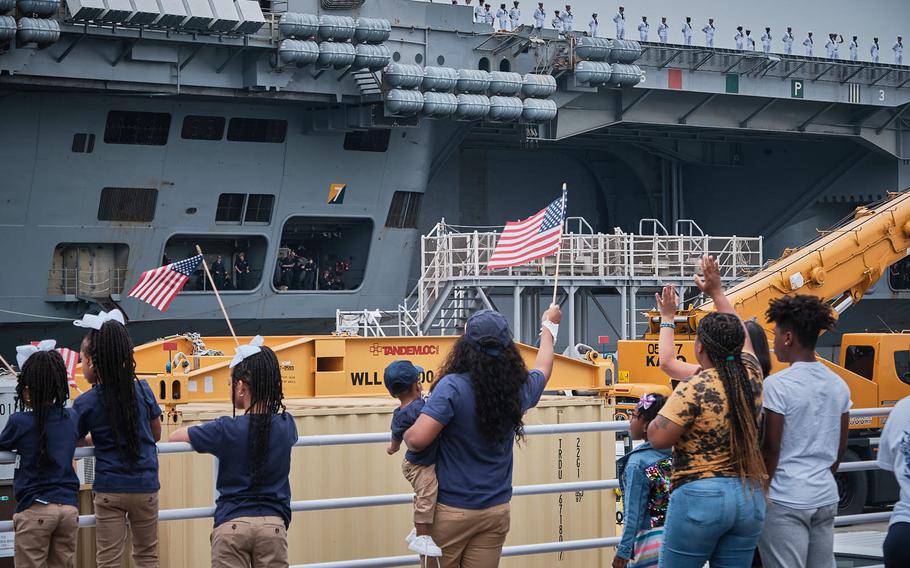 YOKOSUKA NAVAL BASE, Japan – Sailors manned the rails in their white uniforms as the aircraft carrier USS Ronald Reagan pulled away from its berth on Friday to start its annual patrol.
Approximately 120 people – sailors and family members – gathered pierside and waved goodbye to those aboard the massive warship. The Ronald Reagan, escorted by its carrier strike group, is America's show of force in a region not without risk.
"As this crew gets ready to go to sea, we are looking forward to continuing to work with our allies and partners as a continued demonstration to our nation's commitment to ensure peace and stability throughout the region," the carrier's skipper, Capt. Fred Goldhammer, told reporters at pierside news conference.
The Ronald Reagan and its air wing typically deploy for about six months and train alongside Indo-Pacific allies. This "routine" patrol displays U.S. resolve in the Indo-Pacific, Rear Adm. Michael Donnelly, a former Ronald Reagan skipper who now commands Carrier Strike Group 5 , told reporters on the pier.
That mission is complicated by a more assertive North Korea, China's reaffirmed goal of reclaiming Taiwan, and its broader territorial claims in the South China Sea.
"The Indo-Pacific region is the most consequential region to U.S. security and foreign policy, and the United States Navy plays an important role in the military capability provided to ensure options for maintaining stability and security," Donnelly said. "The sailors understand the importance of that mission, that role and the commitment that they have is what enables us to do that important mission."
At sea, the Ronald Reagan will rendezvous with Carrier Air Wing 5 bringing aircraft, sailors and Marines from Naval Air Facility Atsugi and Marine Corps Air Station Iwakuni. Once embarked, the air wing brings the total crew aboard the ship to around 6,000.
Donnelly did not detail the carrier's upcoming plans, citing operational security concerns. It's expected to return to Yokosuka for a port call before concluding its patrol.
The guided-missile cruiser USS Antietam accompanied the Ronald Reagan as the deployment kicked off. Guided-missile destroyers from Destroyer Squadron 15 are expected to join them, although the names of those ships were not available Friday, group spokesman Lt. Cmdr. Joe Keiley told Stars and Stripes.
The annual deployment coincides with the imminent arrival of President Joe Biden's in Japan and the expected arrival of the aircraft carrier USS Abraham Lincoln in Yokosuka.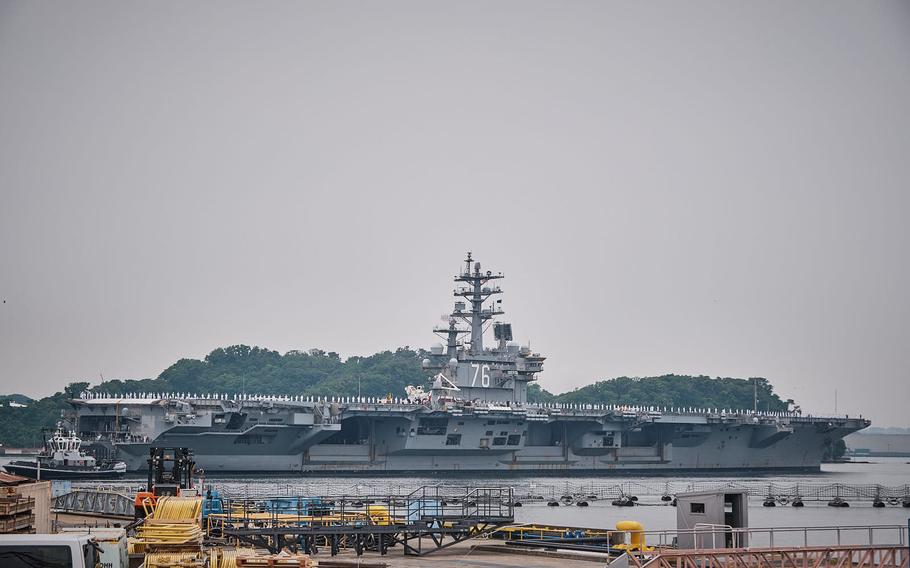 The timing may not be a coincidence, according to Lyle Goldstein, director of Asia engagement for Defense Priorities, a Washington, D.C-based think tank. He said the Biden administration is eager to prove that it can "walk and chew gum" by handling the complex Ukraine-Russia situation while maintaining a focus on the Indo-Pacific.
"For well over half a century, American Presidents have attempted to use the symbolic power of U.S. Navy aircraft carrier battle groups to demonstrate U.S. might and determination around the world," Goldstein told Stars and Stripes in an email Thursday.
Biden departed the White House for South Korea on Thursday, beginning a tour of the Indo-Pacific in which he'll meet with key leaders of allied nations in the region. He's scheduled to continue to Tokyo to meet with Japanese Prime Minister Fumio Kishida ahead of a Quad summit, a meeting of leaders from the U.S., Japan, Australia and India.
"One of the key messages of President Biden's visit to East Asia is that Russia's war in Ukraine has in no way reduced the attention or resources that the US commits to the Indo-Pacific," James Brown, an international affairs expert at Temple University's Japan campus, told Stars and Stripes by email Friday. "The annual deployment of the USS Ronald Reagan conveniently provides a visible demonstration of this commitment."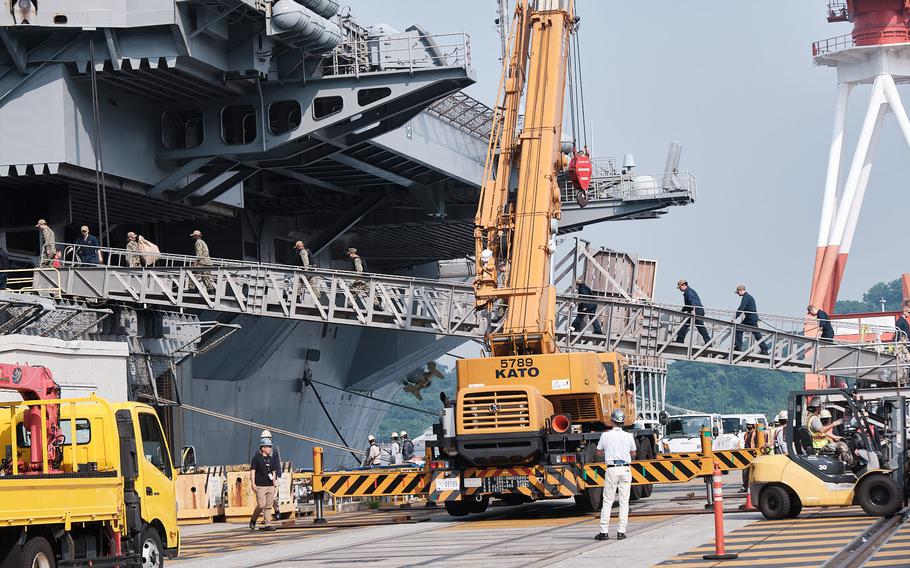 The Abraham Lincoln has been active in the region since January, when it departed San Diego. The Navy has not announced when the carrier will show up, but facilities at Yokosuka were preparing Friday for its arrival.
As the Ronald Reagan's crew steamed out into the wider world, their families stood by as reminders of what they leave behind.
Samm McArdle, wife of Petty Officer 1st Class Heath McArdle, of Florida, said being there was important for her and their 2-year-old daughter Charlee.
"I would say it's tough for kids and it's tough for us because of the kids," Samm McArdle said Friday. "But, you know, bringing them out here to watch it go has helped my daughter realize what's happening and understand that daddy's leaving and then coming back."
---
---
---
---