US Navy team departs St. Louis, Mo., hospital as COVID-19 admissions decline
By
St. Louis Post-Dispatch
March 3, 2022
---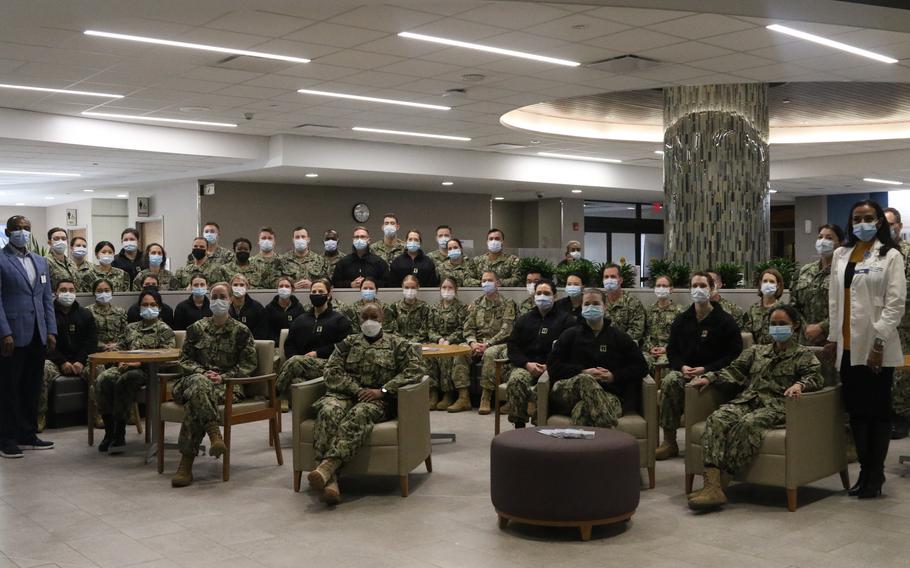 Stars and Stripes is making stories on the coronavirus pandemic available free of charge. See more stories here. Sign up for our daily coronavirus newsletter here. Please support our journalism with a subscription.
ST. LOUIS COUNTY, Mo. (Tribune News Service) — A U.S. Navy medical team ended a one-month mission at BJC Christian Hospital on Wednesday, and average daily COVID admissions in the region's hospitals tumbled past a key threshold, both signs of the coronavirus' continued recession here.
Sarah Droege, an emergency room manager at Christian Hospital, said that before the Navy arrived, the hospital was in "probably one of our darkest moments." At one point, the emergency department even took over a waiting room from the radiology department.
"Our volume just skyrocketed," said Droege, from Troy, Ill. "We could not keep up with the volume of patients that were coming in."
At the peak in January, the state reported almost 4,000 COVID-19 patients in its hospitals — 1,000 more than last winter's peak and 1,500 more than the delta-variant-driven summer wave. Hospitals across the region were scrambling. Eleven requested emergency aid from the federal government in January. But the U.S. Department of Health and Human Services told area officials then that it could only send help to one.
The team of 44 doctors, nurses and therapists arrived at Christian, off Interstate 270 between Spanish Lake and Black Jack, in the midst of a snowstorm. After training over the weekend, they started work on Jan. 31 in the COVID-19 ward, intensive care unit, the emergency room and throughout the hospital, said Lt. Cmdr. Josh Corbridge.
Corbridge, 40, a 10-year Navy veteran from Utah, was working as a health care administrator in Monterey, Calif., when he was called to St. Louis County. Most of the team came from Washington or California and had never been to St. Louis before, Corbridge said. On days off, some went to the Gateway Arch, St. Louis Blues games or visited the aquarium.
It made permanent staff feel good, Droege said, for outsiders to come in and recognize how hard they were working and validate the difficulty of the situation. Patients were more severely ill than some of the Navy personnel were used to, Droege said. Many patients in the area have underlying issues like diabetes or heart conditions that put them at risk of more serious illness.
"They came at a good time," said Droege, the emergency room manager. "Things were starting to dwindle down, but it was just such a breath of fresh air."
Kelly Wesley, a charge nurse in the emergency department, said usually the department sees about 120 patients per day. During the surge, including patients with COVID-19 and those with other ailments, it saw about 200. Casey Ballard Jr., a travel nurse from Lawrence, Kan., who is working in Christian Hospital's emergency department, said he has "never, never come close to seeing that volume."
But by February, case numbers were dropping precipitously. On Wednesday local hospitals reported a seven-day average of 38 new COVID-19 admissions, down from more than 200 in mid-January — the first time in three months that the daily average fell below 40, a threshold at which officials warned hospitals could get overwhelmed.
And total virus patients tumbled on Wednesday to 203 across area BJC HealthCare, Mercy, SSM Health and St. Luke's Hospital facilities — down from 1,444 in mid-January. The data, which is provided by the St. Louis Metropolitan Pandemic Task Force, lags two days.
That all made early Wednesday morning something of a celebration at Christian Hospital. Dozens of U.S. Navy doctors, nurses and respiratory therapists gathered in a room off the hospital lobby for a sendoff by hospital leadership. Later, hospital staff lined one of the front hallways of the hospital and applauded as the Navy personnel departed.
"You've gone through a couple ice storms," said Rick Stevens, the hospital's president. "You have completed your mission."
In Missouri, 55% of the population is fully vaccinated, compared with 65% nationwide, according to the U.S. Centers for Disease Control and Prevention.
On Wednesday, the state reported 779 new cases on average each day over the past week and 72 deaths, according to a Post-Dispatch analysis of state data.
(c)2022 the St. Louis Post-Dispatch
Visit the St. Louis Post-Dispatch at www.stltoday.com
Distributed by Tribune Content Agency, LLC.
---
---
---
---