Navy's newest aircraft carrier hits major milestone as Newport News shipyard completes Ford work
By
Daily Press
March 1, 2022
---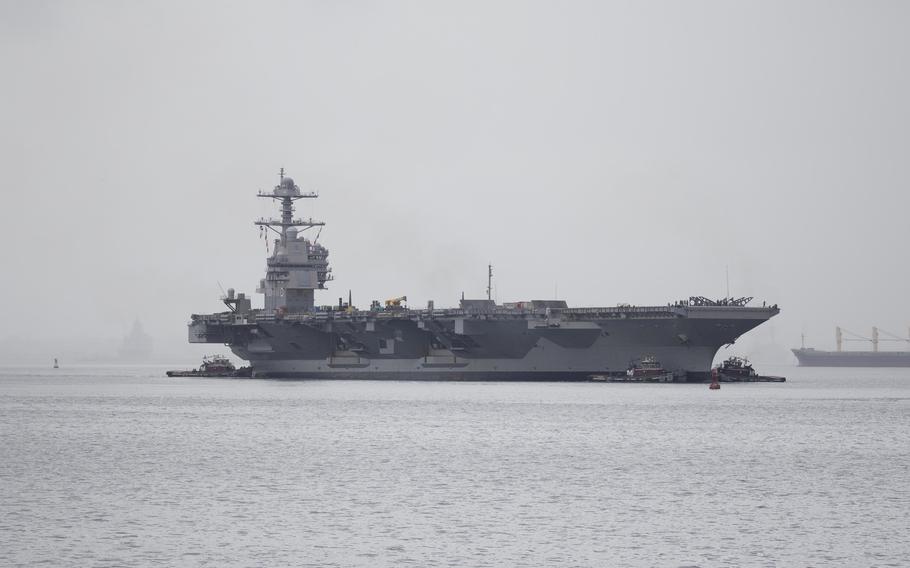 (Tribune News Service) — The carrier USS Gerald R. Ford has completed sea trials that tested recently-completed modernization and maintenance work done at Newport News Shipbuilding.
The milestone kicks off a period of training and intensive exercise to prepare the Navy's newest aircraft carrier for deployment. That deployment is scheduled for the fall.
The Ford went into the yard in September, after completing shock trials — at-sea tests that see how it weathers nearby explosions — during the summer. The last such tests with a carrier were on USS Theodore Roosevelt in 1987.
"Ford required only 20% of the repair work we saw with TR," said Rear Adm. James P. Downey, program executive officer for aircraft carriers. He added that 85% of repairs required after the shock trial were completed by Ford's crew, as opposed to needing shipyard facilities.
A key design change on Ford class carriers, including reconfigured command and control spaces, also sped modernization work at the yard, Downey said,
"Historically, about 40% of modernization work on Nimitz-class carriers goes into rip out, which involves cutting and welding," he said. "The Navy specifically designed Ford with a flexible infrastructure, so you can build in new capabilities."
In the months ahead, Ford will embark its air wing and begin system qualification tests, flight deck certification, three phases of air warfare training and evaluation of its combat systems readiness.
"Sea trials demonstrated, without a doubt, that the [modernization and maintenance period] was successful, enabling live interaction on the high seas with hundreds of upgraded systems and processes," said Capt. Paul Lanzilotta, Ford's commander.
Ford class aircraft carriers incorporate new technologies, including electromagnetic catapults and weapons elevators, a redesigned flight deck and island, and more than twice the electrical capacity of the Navy's other carriers.
The shipyard is currently building three more Ford-class carriers: John F. Kennedy, Enterprise and Doris Miller. It is also working on refueling and overhauling USS George Washington and USS John C. Stennis.
"We look forward to folding what we learned into the entire Gerald R. Ford class," said Lucas Hicks, who oversees work on the Ford and Kennedy for the shipyard.
Newport News Shipbuilding did the modernization and maintenance work on the Ford under a $687 million contract awarded in 2019.
©2022 Daily Press.
Visit dailypress.com.
Distributed by Tribune Content Agency, LLC.
---
---
---
---