USS Kearsarge group pre-deployment exercise tests NATO control, work with Coast Guard
By
Daily Press
February 17, 2022
---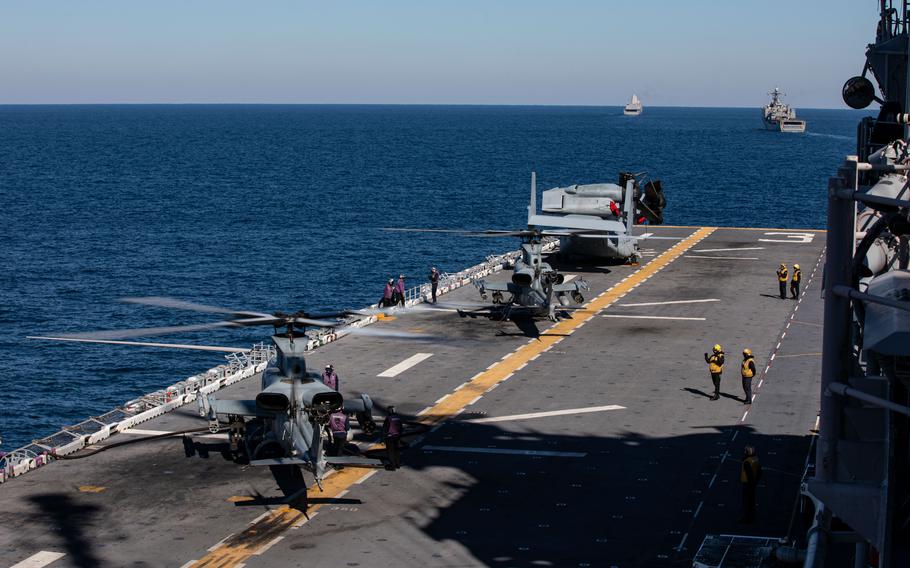 (Tribune News Service) — When the USS Kearsarge Amphibious Ready Group heads out for a pre-deployment Composite Training Unit Exercise, the aim of sharpening multi-ship and aircraft operations means opening its sailors' home to strangers: Marines.
But the group's February COMPTUEX — a first for an amphibious group and its Marines to practice operating under the control of Naval Striking and Support Forces NATO — involved still more hospitality. There was time for sailors and Marines on a U.S. Coast Guard cutter, as well as hosting staff from Expeditionary Strike Group 2, the Little Creek-based command of 15 amphibious ships as well as landing craft, hovercraft and beachmaster units.
"To maximize the training, we cross-decked sailors and Marines to the cutter," said Capt. David Guluzian, commander of the Kearsarge Amphibious Ready Group and Amphibious Squadron Six. It was the first time an amphibious group's COMPTUEX included a U.S. Coast Guard Cutter.
Sailors, Marines and Coast Guardsmen teamed up for joint planning and execution of key elements of the COMPTUEX, ensuring clear lines of communication during each step, he said.
In addition, a junior aviation boatswain's mate from the group headed over to the cutter to help with repairs.
The group's other junior sailors and Marines also played critical roles, Guluzian said. On one of the group's own ships, an information systems tech figured out a fix to communications equipment that would normally need the specialized skills of a contractor's technician. A 2nd class petty officer briefed senior staff and operational planners on changing battle-space issues through the COMPTUEX.
"The Kearsarge ARG-22 MEU junior sailors and Marines are some of the most hard-working men and women I have seen," Guluzian said.
While spending time on a cutter was new for some of those sailors and Marines, a key task in any amphibious group COMPTUEX is focusing on how members of those two different military services coordinate.
"A ship's crew views their vessel as 'home.' When troops move onboard to live and work, a natural friction occurs," Guluzian said.
"Onboard the ship, sailors and Marines work together to support daily life: they operate the ship's galley, maintain the gym, collect and process laundry, run the medical and dental clinic, man the coffee shop, perform maintenance on aircraft, conduct joint planning on assigned missions, and properly secure vehicles and cargo for sea."
"It is deeply satisfying to watch these disparate teams, ship's crew and embarked Marine troops bond."
The Kearsarge group's sailors and Marines of the 22nd Marine Expeditionary Unit tested every core operation they could be called on to do during deployment, including flight operations, landing craft and hovercraft operations and small boat exercises, Guluzian said.
Marine Corps Col. Paul Merida, commanding officer of the 22nd MEU, said those exercises were a chance to practice and refine expeditionary Marines' role as a primary crisis response force.
Sailors drilled, too, on challenging seagoing operations including receiving supplies and fuel while their ship and the supply vessel were in motion, as well as transiting narrow straits, Guluzian said.
The exercise involved extended periods of electronic warfare maneuver; and a higher-than-usual emphasis on ship-to-shore movement, Guluzian said.
While Norfolk-based carrier strike groups' recent COMPTUEX exercises have included drilling on NATO strike force operations, Kearsarge's was the first for an amphibious group and its Marines.
"The experience will help us integrate more quickly into any NATO operation," Guluzian said.
It showcased a number of other firsts, too, adding extra ships to the group, including the Norfolk-based destroyer USS Forrest Sherman and the Portsmouth-based cutter USCGC Forward, Guluzian said.
Royal Navy Commodore Tom Guy, deputy director of NATO's Norfolk-based Combined Joint Operations from the Sea Centre of Excellence, said the exercise was vital to the alliance's continued efforts to ensure NATO navies can work as one team.
The Kearsarge group includes Norfolk-based USS Kearsarge and USS Arlington, and Little Creek-based USS Gunston Hall. In addition to the 22nd MEU, Little Creek-based Assault Craft Unit Two, Assault Craft Unit Four, Naval Beach Group Two, Beach Master Unit Two, as well as Helicopter Sea Combat Squadron 23, Tactical Air Control Squadron 22 and Fleet Surgical Team Two embarked with the group on the COMPTUEX.
©2022 Daily Press.
Visit dailypress.com.
Distributed by Tribune Content Agency, LLC.
---
---
---
---