USS Wyoming exchanges command, crew at sea
By
The Brunswick News
February 1, 2022
---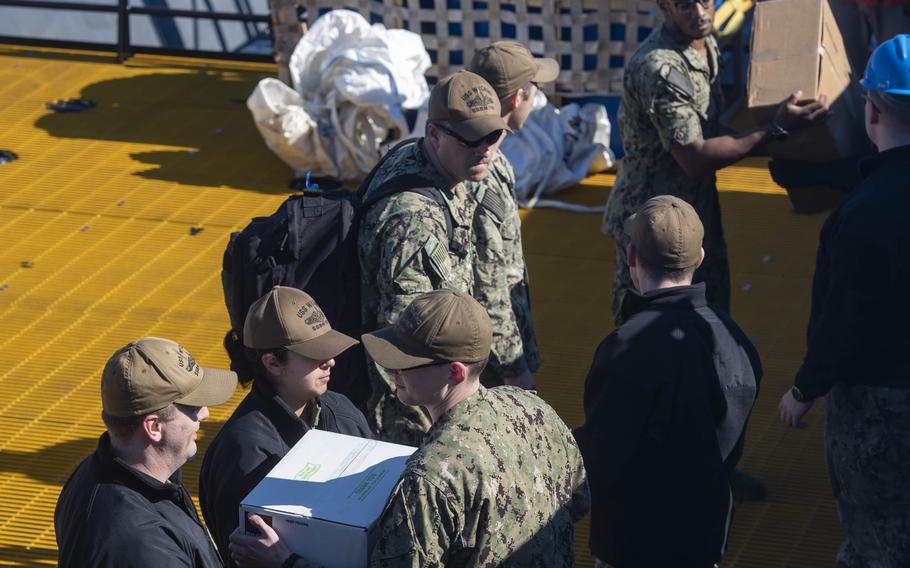 (Tribune News Service) — Ballistic missile submarines home-ported at Naval Submarine Base Kings Bay, Ga., deploy for about 80 days before returning to swap crews and resupply the boat with enough food to feed the sailors.
The quick turnaround is necessary because the boats are a key deterrent to nuclear war.
They remain submerged nearly the entire time they are deployed, undetected and poised to retaliate in the event of a nuclear attack.
But there could be a time when a submarine cannot return to Kings Bay, and the crews aboard the boats train for that possibility.
The USS Wyoming, home-ported at Kings Bay, successfully completed a crew swap while at sea on Jan. 24. The crew exchange also included a fresh supply of food during the deployment.
"This regularly scheduled exchange of command at sea demonstrates the continuity and operational flexibility of our sea-based nuclear deterrence operations and our ready, reliable ballistic-submarine force," said Lt. Stu Phillips, public affairs officer for Commander, Submarine Group Ten.
"The efficiency of exchanges of crews at sea allows sailors to reunite with their families and provides a ready, resilient submarine force."
The crew was transported by Military Sealift Command supply vessels USNS Black Powder and USNS Westwind at a location that cannot be disclosed, Phillips said.
"As a matter of operations security, it is U.S. Submarine Forces policy not to discuss future exercises, operations or ship movements," he said. "It is also policy not to disclose specific operational or readiness details of units.
"Submarines remain operationally ready to support any tasking and are currently operationally deployed around the world today."
(c)2022 The Brunswick News (Brunswick, Ga.)
Visit The Brunswick News (Brunswick, Ga.) at www.thebrunswicknews.com
Distributed by Tribune Content Agency, LLC.
---
---
---
---